When you are buying a high-priced item like a 1 Carat Diamond Engagement Ring, you want to make sure you are getting the maximum value for your money and the most beauty.
A wide range of 1 Carat Diamonds exists both in online markets and local diamond jewelry stores. Not only are there significant differences in beauty among these diamonds, but there are also significant differences in price as well.
 A natural diamond's value will usually increase over time with inflation. The larger a diamond the more rare it is, and this usually results in a good investment. The same applies for finding a diamond with perfect clarity and color.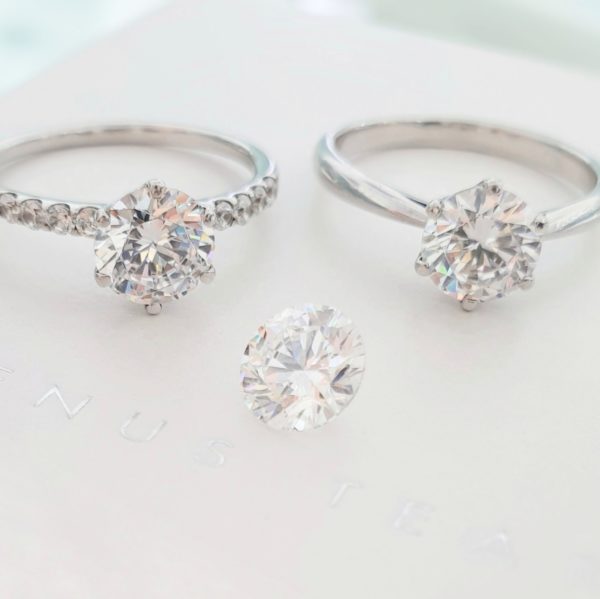 We provide accommodating prices for customers who are keen in engagement rings and will earn you the beneficial opportunity to have your perfect ideal diamonds and rings with our great deals to offer.
The diamonds that we carry are natural mined diamonds that are made from carbon and is the hardest natural known substance on earth. Once a diamond has been created in these underground conditions, it travels via molten rock to the earth's surface, where it is mined and refined.
Our GIA Certified diamonds ensure that you know exactly what you are buying. A report from GIA provides an expert analysis of the quality of a diamond based on the 4Cs of diamond grading: color, cut, clarity and carat weight. The GIA Diamond Grading Report also includes a plotting diagram that depicts the diamond's unique clarity characteristics, such as inclusions. In addition, since GIA is not affiliated with any commercial enterprise, the public is assured the world's most impartial and accurate analysis of a diamond.
In Venus Tears, we deliver sophisticated and well-tailored customer services. Our friendly staffs will assist you along in your journey of choosing your dream rings! Visit us today to find out more. Each and every ring is custom-made and crafted to your finger ring size, with desired materials and specially made in JAPAN just for you.
Feel free to inquire with us through WhatsApp. VENUS TEARS WhatsApp: 8553 8363 and Facebook page is available too! We are looking forward to seeing you!
Check out our website : https://venus-tears.sg/reserve
Staff Blog : https://venus-tears.sg/blog/
Follow us on Facebook :https://www.facebook.com/VenusTears.jp/
Follow us on Instagram : https://instagram.com/venustears/
All VENUS TEARS bridal and fashion shops locations are shown below:
Wisma Atria Outlet
435 Orchard Road, #B1-28 Wisma Atria,
Singapore 238877
Tel : 6694-1663
Bugis Junction Outlet
Bugis Junction #01-22/22A, 200 Victoria Street,
Singapore 188021
Tel : 6250-9962
Jem Outlet
50 Jurong Gateway Road, JEM #01-54,
SINGAPORE 608549
Tel : 6659-6100
TAMPINES ONE Outlet
10 Tampines Central 1, Tampines One #01-35
SINGAPORE 529536
Tel : 6481-2042