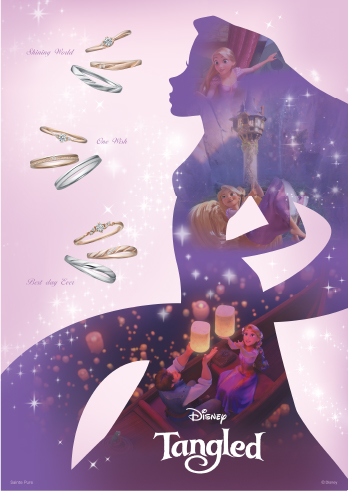 Disney's animated feature film
'Tangled'
The Tale of Rapunzel's Tower
---
Disney's animated feature film 'Tangled' - The Tale of Rapunzel's Tower A collection of bridal rings for couples who are about to embark on a new page of life together. May two of you as Rapunzel will always have the determination and positivity that lead to happiness.

Tangled is the 50th Disney animated feature film. 'Tangled' means tangled or entangled thread, hair, etc. in English.

'Tangled' refers to Rapunzel's magical blonde hair, which plays an important role in the story. When the film was released in Japan, it was given the Japanese title 'Rapunzel in the Tower'.

The Rapunzel collection offers a wide range of textures to match the world of Rapunzel, inspired by her character, passions, and sceneries. The texture of the design gives it a touch of character that is simple yet distinctive.

'Rapunzel' animation
The queen of a kingdom is critically ill while pregnant with the princess, Rapunzel. The people of the kingdom begin to search for a magic flower, which could cure any illness or injury. A witch, Mother Gothel, discovered the flower and decided to hoard its healing power to keep herself young. One day, however, the flower is found by a soldier and bought it back to the queen. The queen drinks the magic flower and is fully healed. The power of the flower is passed to her unborn princess. The witch, Mother Gothel, greed for the healing properties of the magic flower so she kidnapped the princess and locked her away in a tower hidden deep in the forest.
show more
---