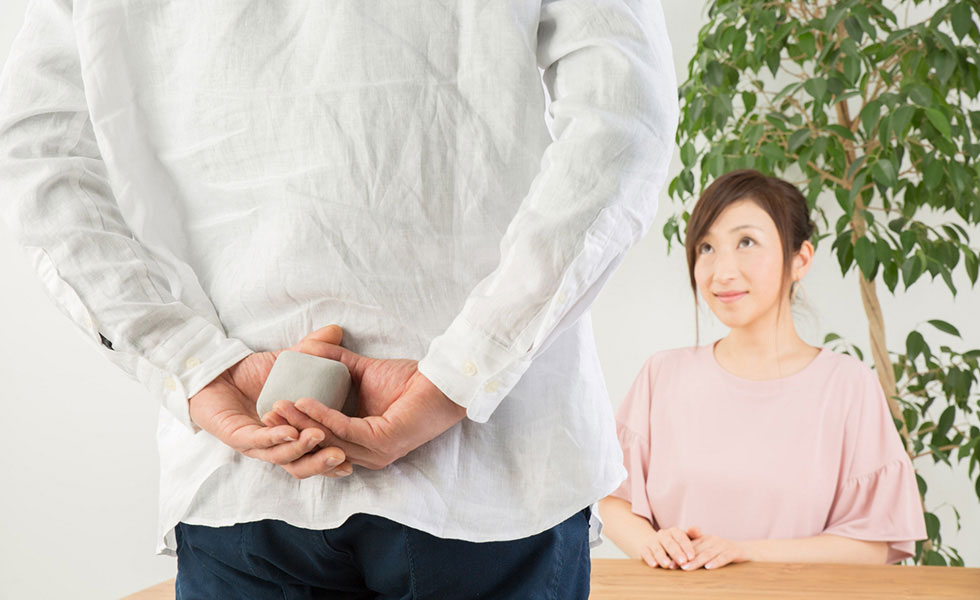 Isn't it romantic when you watch a proposal scene in dramas and movies, the man would go down on one knee and present the beautiful diamond to the woman for her hand in marriage? The woman would be moved to tears, nod her head, and say, "Yes!", the ring would then be slipped onto her left finger. There is hardly ever a case of the ring not fitting unless it is a comedy. So, we are here today to reassure that you can still propose even without knowing the size of her finger or what kind of ring you should get.
Troubles faced during a proposal
When you propose, you might think of the above scene right? However, there are some who would tell you that things may not go the way you expected to go.
Reason number one is that you face the problem of not knowing the exact size of her left ring finger. If you try to measure the length with a string or ribbon over her finger, she will definitely know that you are about to propose to her and ruin the surprise. Even if you try to get the size from a mutual friend, they may not be able to tell you the exact size too.
Also, she may not always like the design of your chosen ring. It can be disappointing if it looks significantly different from what she had dreamed of. Given that there is a risk that it will affect the outcome of the proposal, you have to be cautious about selecting an engagement ring.
What is the diamond proposal?
You need to have considerable courage to buy an engagement ring considering the risks it may carry. There was a time when it was said that the diamond for a marriage proposal was 3 months' worth of men's salary. It would be unbelievably disappointing in the event that she did not like the ring that you have chosen for her. Also, even if she does like the ring, some people might overthink and feel that she doesn't like the ring. Therefore, in recent trends, attention has been focused on new forms of proposals that do not involve such risks.
It is called "Diamond Proposal" and it is a revolutionary way that respects her feelings and is risk-free for men. In other words, at the time of proposal, you will only present the diamond stone, not the completed diamond engagement ring. After the proposal is successful, the two can then choose the ring of their favorite design and order the right size engagement ring. By accurately measuring the size at the store, people who did not know the size of their left ring finger or those who had misunderstanding can make the right size.
In addition, men tend to pay attention to diamond prices and carats, but for women, the shape and design of the ring are equally as important. If you have thick or short fingers, you can choose a ring with a design that covers them. Depending on how frequent you want to wear it and on what occasions, the design you choose will be different, whether it is simple or cute. Others, on rare occasions, would like to process diamonds into pendant tops rather than rings. That means there are more opportunities to wear it than a ring. In this way, the diamond proposal can fulfill her tastes and wishes. The fun of going to a jewelry store and choosing your engagement ring together can be a memory to remember for both of you.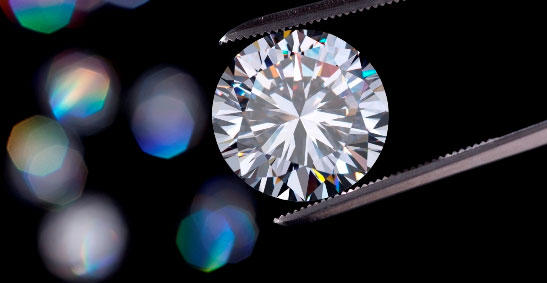 Three advantages of diamond proposal
The reason diamond proposals are so popular is that they can be broadly divided into three advantages. Due to these advantages, this diamond proposal, which gives only diamonds before giving a completed ring, is likely to become the standard.
Easy to make a surprise proposal.

It won't ruin the surprise proposal
It is a well-known fact that women have great instinct, their gut feeling are rarely wrong. When you are worried about the size of the engagement ring, that frustration can often be felt by the woman. However, they will still pretend to be surprised when you proposed to her as not to disappoint you. With a diamond proposal that only gives you diamonds, it will not be known to her because she will not have such a gut-feeling and the surprise proposal will be able to succeed.
Completion of the engagement ring after proposal
Until now, in the usual way of proposal, it was indispensable for a man to select an engagement ring and make it in advance. The men do not know what the women would like, so they tend to refer to the salesperson's recommendations and choose the safest design. However, with the diamond proposal, both parties can slowly discuss their likes and dislikes and choose a ring that satisfy both of them, the size of the ring would be properly measured to fit your finger comfortably. You can spend the best time in the atmosphere of happiness around you at the jewelry store.
There's no worry of her not liking the ring
I am sure that there are times where the gift that you have given your girlfriend is a "miss", even if she does like the gift, she may not have the occasion of ever wearing the gift. Therefore, men have to take that into consideration when purchasing the ring. If both parties style and taste are way too different, there is a high chance that she would not even like that expensive engagement ring that you have given her. It would be the worst-case scenario especially if both parties have been looking forward to this once-in-a-lifetime opportunity of receiving a marriage proposal from their significant other. To prevent this from happening, men are starting to propose with just the diamond they have selected, and then allowing the women to choose their favorite design from the Jewelry store.
Things to take note when embarking on the Diamond Proposal
Proposing with diamond does not guarantee 100% success. In some cases, it may feel like a failure. The following are points to note when making a diamond proposal.
Plan from her perspectiveProposals are not just about presenting diamonds. It is a memory that will last a lifetime, so you'll need to think about a proposal that will surprise her, please her and moved her to tears. Those who are normally involved in such surprise planning will be accustomed to it, but those who have no connection with such things should consider the best surprise production in the proposal scene. There are also people who publish surprise proposals in front of a large number of people on social media. It depends on her personality whether or not it will be a success. It is important to plan from her perspective, giving priority to her feelings, not your own intention.
Find out what kind of rings does she like
Most ladies already have an image or an idea of what their proposal ring would be like, therefore the disappointment will be immense if the proposal ring that they have received is utterly different from what they have imagined. You can start to take note of her likes and dislikes when you have decided that this is the woman that you want to marry and live together for the rest of your life. Take into consideration whether she is ready to marry and settle down, talk about the life you would have after marriage and judge from her reaction to it. If her face lights up and she is excited to share with you her thoughts and feelings, she is ready. Likewise, if she looks away in discomfort, or try to change the subject then she is not ready.
Consider timing
Many women tend to value anniversary. You'll know that from your everyday relationship, so you need to be careful about the timing of your proposal. Rather than proposing on a date that doesn't make sense, choosing a date that is commemorative for the two will increase your chance of success. It is the best choice to pick a special day, such as her birthday or the day when the two started dating. You should choose and buy diamonds in good time to make it in time for the day.
Consider venue
If the place where you propose is a place that you often go to on a daily basis, you may find that some women might feel a little shy. Proposals are memorable and romantic memories, so it's better to choose a special place that suits your proposal. Imagine a place with a beautiful view, a fine restaurant with a night view, a place to remember when you two first met, or a place she wanted to go. However, if you want a strong sense of surprise, you cannot be overwhelmed by choosing a special place. In that case, you may decorate your home to create a special feeling and propose.
How to choose a diamond for a proposal
Not all diamonds are of equal quality, only certain diamonds are suitable for engagement rings, so it is important to choose the best quality that fits your budget. So, we will explain how to choose a recommended diamond for your engagement ring.
Budget and carat
Large diamonds are not always expensive. The diamond rating is determined by 4C. Some stores have set a standard of 6C, but basically, it is called 4C after taking the initial C for Carat, Cut, Color, and Clarity. In addition to this, 6C has Character and Confidence.
Diamonds vary not only in size but also in brilliance depending on the cutting technique. Beautifully cut pieces shine with a very strong light. In addition, the color is subtly different depending on the quality, such as from colorless and transparent to yellowish. Clarity expresses transparency, but transparency with a lot of natural inclusions becomes dull. The clear one is an expensive diamond with high purity without inclusions or scratches. It is recommended to select the best quality engagement ring without judging it only based on size alone. The average market price is 0.3 carats or more, and the price is around 350,000 yen, so it is a good idea to use that as a guide.
Heart & Cupid
Cut, which is one of the criteria for evaluating diamonds, has a great influence on bringing out the unique strong brilliance of diamonds. No matter how high-quality a rough stone is, if the cutting technique is bad, the diamond would not have the luxurious feeling that it originally has. A cut that is often used in engagement rings is called a round brilliant cut. It is a method of cutting that has been thoroughly researched to obtain the best brilliance of diamonds. The finest-polished diamond has a perfect shape with precise proportions. Round high-quality diamonds with brilliant cuts show the shape of the light in beautiful eight hearts and arrows. Since it is called "Heart & Cupid", it is widely used as an engagement ring because it is the most suitable diamond for an engagement ring.
If you want to give a ring, you can also use the proposal ring
Some people may be particular about wanting to give a proposal in the shape of a ring. If so, there is also a way to give a proposal ring. A proposal ring is not a finished product, but a make-up ring that is a reasonably priced ring that is used exclusively for proposals. After you give her a ring with a proposal, you can change it to her favorite design and make it fit your fingers. You can buy a cheap case and ring for about 10,000 yen. It's perfect for anyone who has a dream of putting an engagement ring on her left ring finger on the spot where he proposes.
Be Successful in your Once-in-a-Lifetime Proposal
Proposals are a once-in-a-lifetime experience, so it is recommended that you purchase them at a store that will give you the best experience. You can rest assured that VENUS TEARS has extensive after-sales services such as resize and design changes.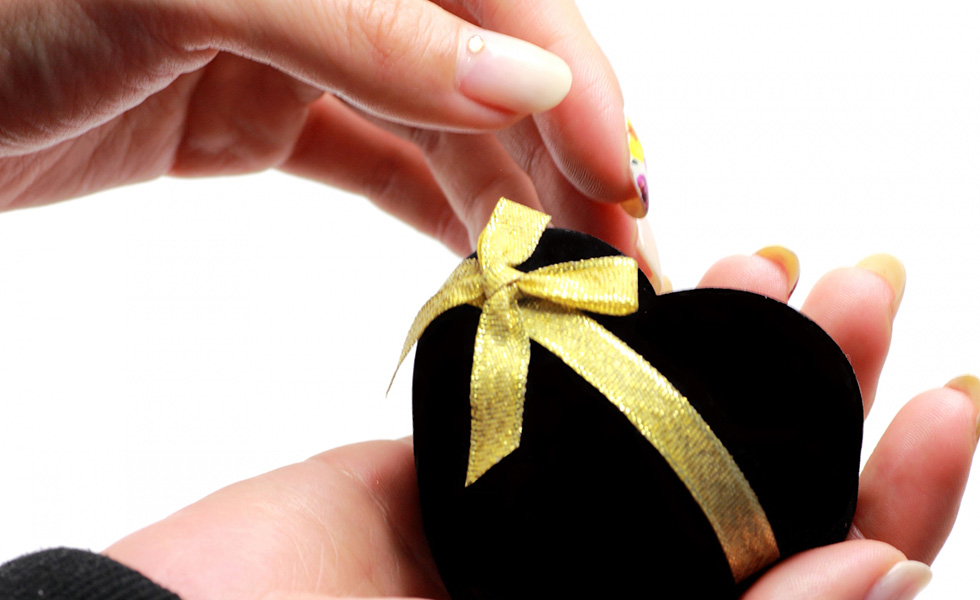 Store Information
VENUS TEARS <Wisma Atria>
435 Orchard Road, #B1-28 Wisma Atria,
Singapore 238877
Tel: +65 6694 1663
VENUS TEARS <JEM>
50 Jurong Gateway Road, JEM #01-54,
Singapore 608549
Tel: +65 6659 6100
VENUS TEARS <Tampines1>
10 Tampines Central 1, Tampines1 #01-35,
Singapore 529536
Tel: +65 6481 2042
VENUS TEARS <Bugis Junction>
200 Victoria Street, Bugis Junction #01-22/22A,
Singapore 188021
Tel: +65 6250 9962
VENUS TEARS <AMK Hub>
53 Ang Mo Kio Avenue 3,   AMK Hub #B1-70
Tel: +65 6481-8943