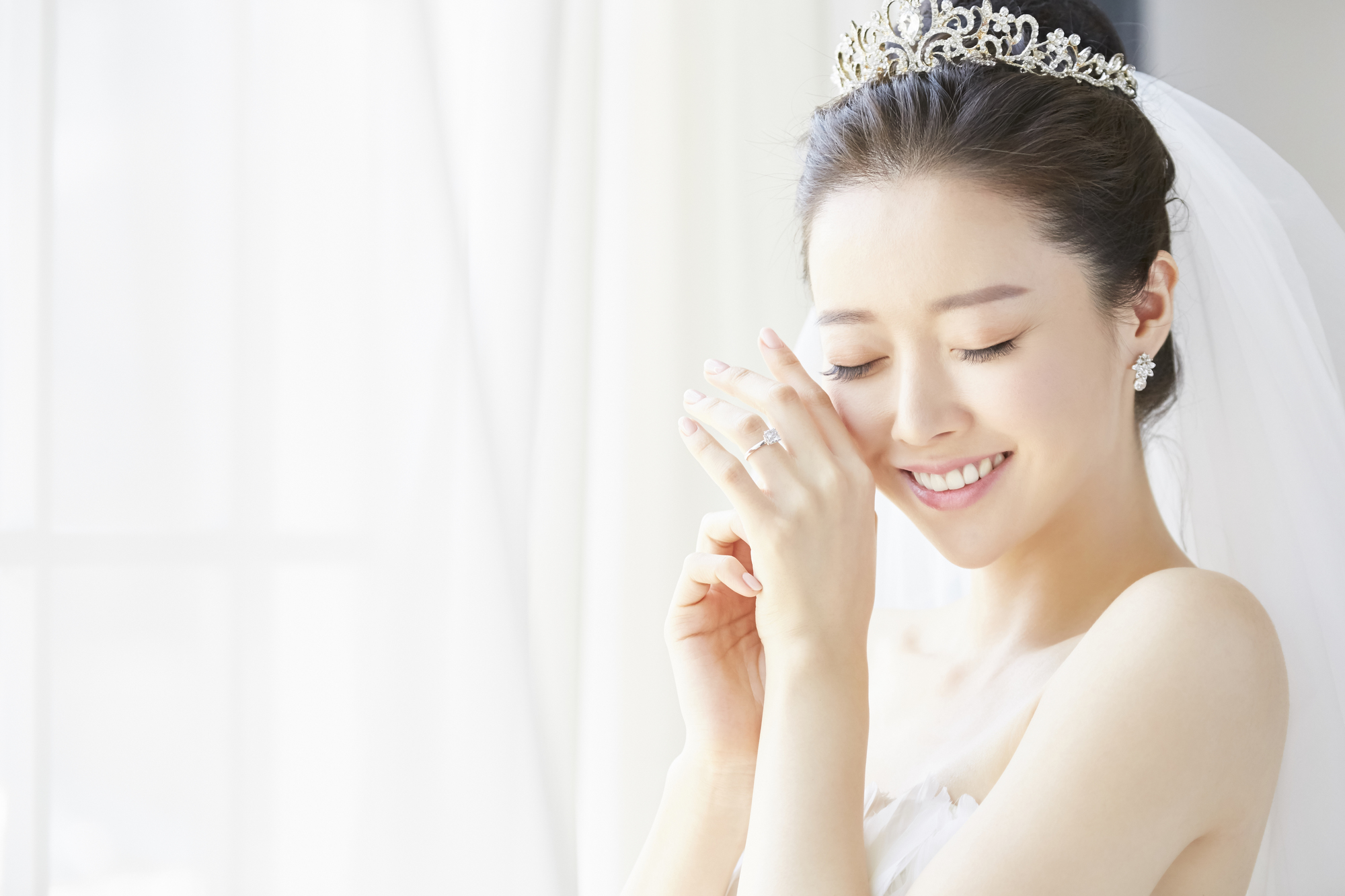 Choosing the perfect engagement can be a daunting task with so many different designs, styles, and other factors to look out for. From vintage-style rings such as Princess Diana's Blue Sapphire Engagement Ring to the classic and timeless Solitaire ring that many men will choose to propose to their significant other, there are countless designs to choose from and we understand that it can be very confusing. Like clothing fashion, there are trends with regards to engagement rings that change with time.
It is not good to blindly follow such trends as an engagement ring is an accessory that you will be wearing for the rest of your life. The trending style of engagement rings may not be something that you necessarily like, and you would be paying much more than usual for that design that is in trend. It is best to choose an engagement ring that matches your style and lifestyle. A surgeon will possibly choose an engagement ring that will not interfere with their work compared to a regular office worker.
An engagement ring is a sign of love, commitment, trust, and faith. When you think about an engagement ring, the beautiful image of a man and woman against the backdrop of a gorgeous sunset with the man going down on one knee and asking the woman the fated question: "Will you marry me?".
It can be made from Silver, Gold or Platinum, depending on one's preference. The fateful proposal day is a once in a lifetime event that one will never forget, the engagement ring plays an equally important role in the success of a proposal. Let us help you make things easier by introducing the different Engagement Ring settings you can choose from.
Classic Solitaire Engagement Ring
The most elegant-looking, popular choice for an engagement ring is, without a doubt, the classic Solitaire engagement ring. The solitaire ring features a single diamond elevated above the band; it does not feature any pavé or channel-set diamonds, which means it is one of the most affordable settings. Your budget can be spent on getting a bigger, more transparent, higher quality diamond that will be the centre of attention. Below are several Solitaire engagement rings that you can consider:
Classic Six-Prong Engagement Ring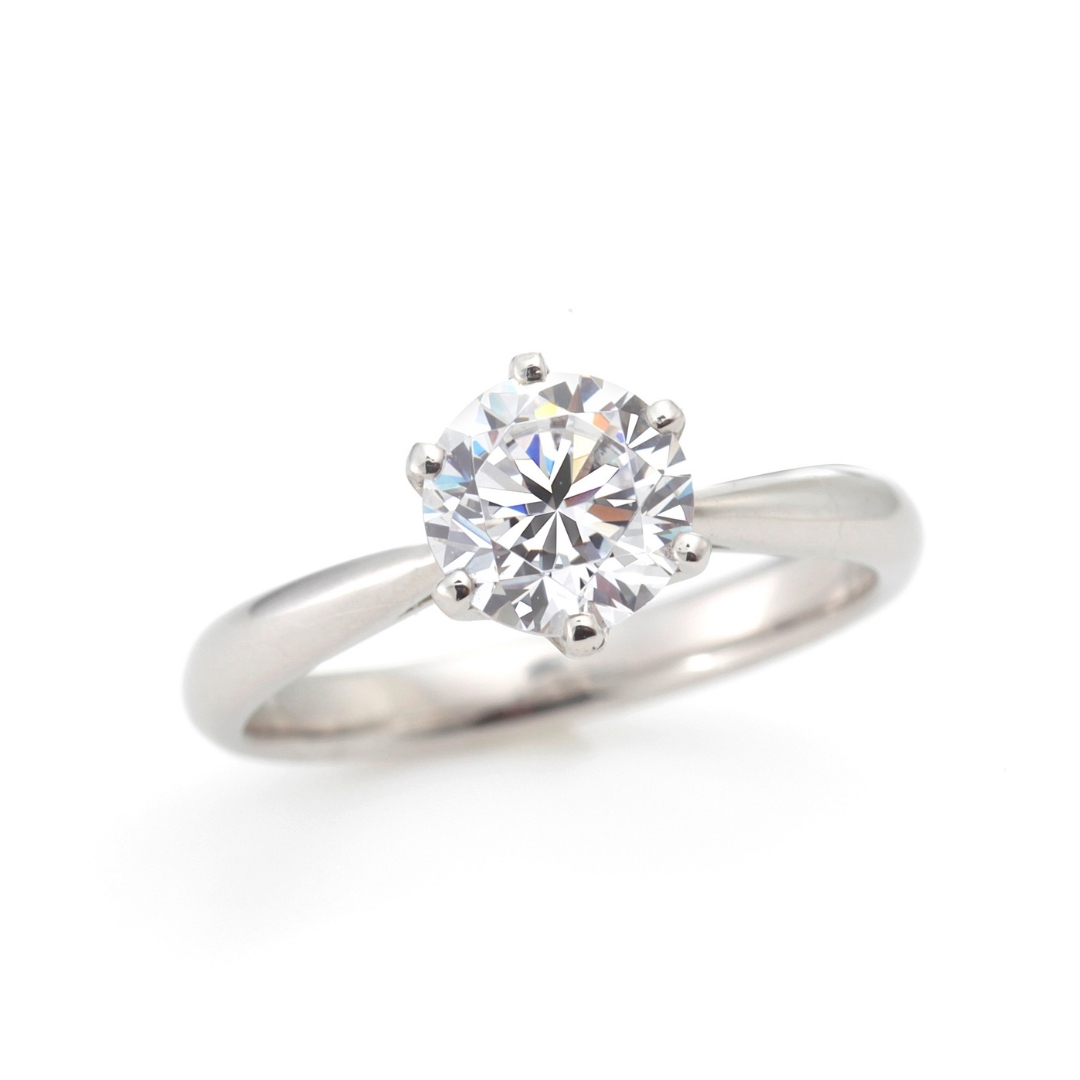 Classic, simple, timeless perfection. Crafted in the precious metal of your choice, this sleek design features a brilliant diamond set in a six-prong setting. With a rounded band tapered to meet the center diamond, this diamond engagement ring is all she had ever dreamed of. Celebrate your love for each other with this beautiful ring and be reminded of the vow and commitment you have made to each other on the day of the proposal. Diamonds can be set up to 1.5ct.
Four-Prong Solitaire Engagement Ring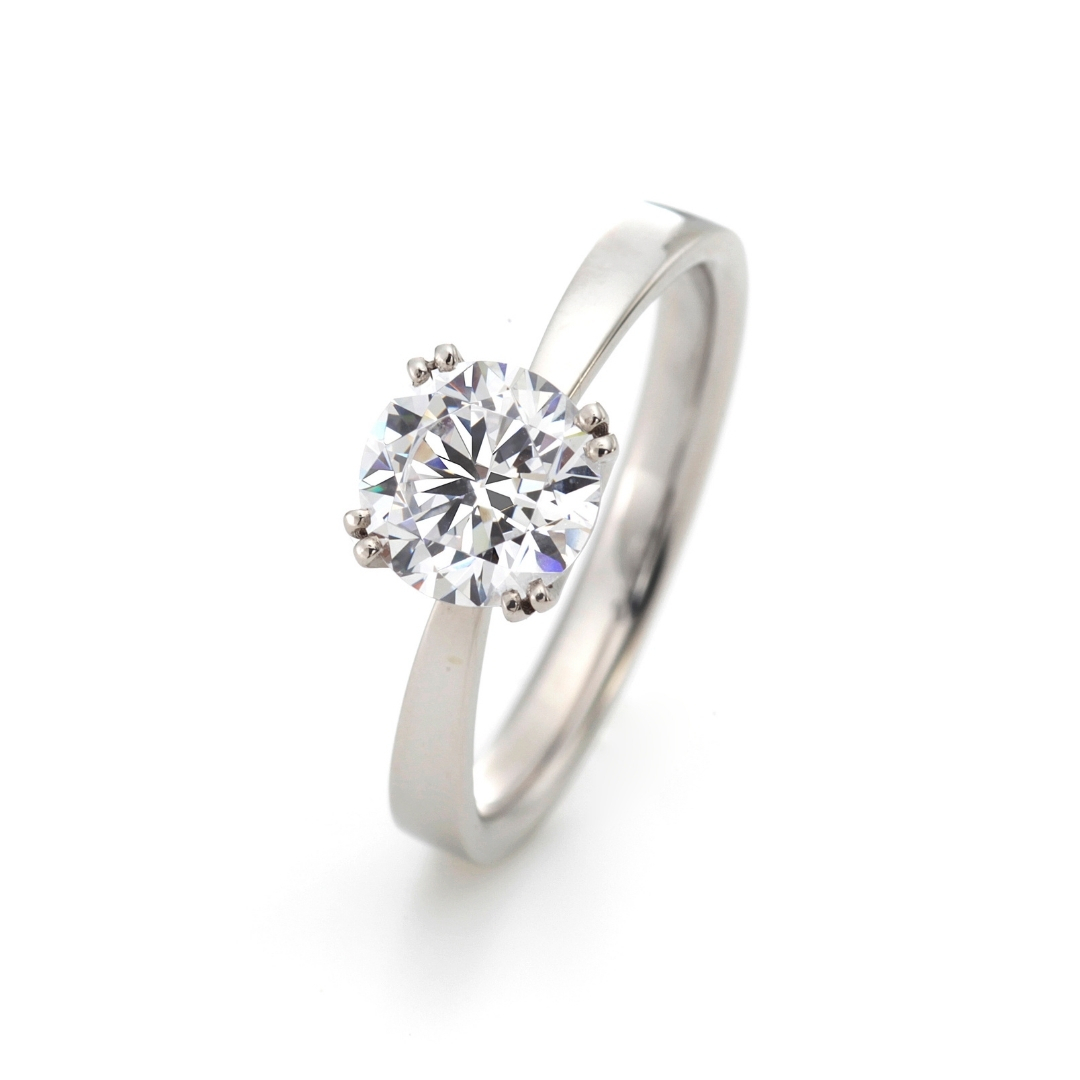 Suppose you are looking for something that is more subtle. In that case, our Lugar Bonito ER-8 classic solitaire engagement ring showcases a diamond set in a timeless four-double prong setting atop a flat-shape polished band. Simply perfect, this engagement ring will shine for a lifetime. Diamonds can be set up to 1.5ct.
Crown Solitaire Engagement Ring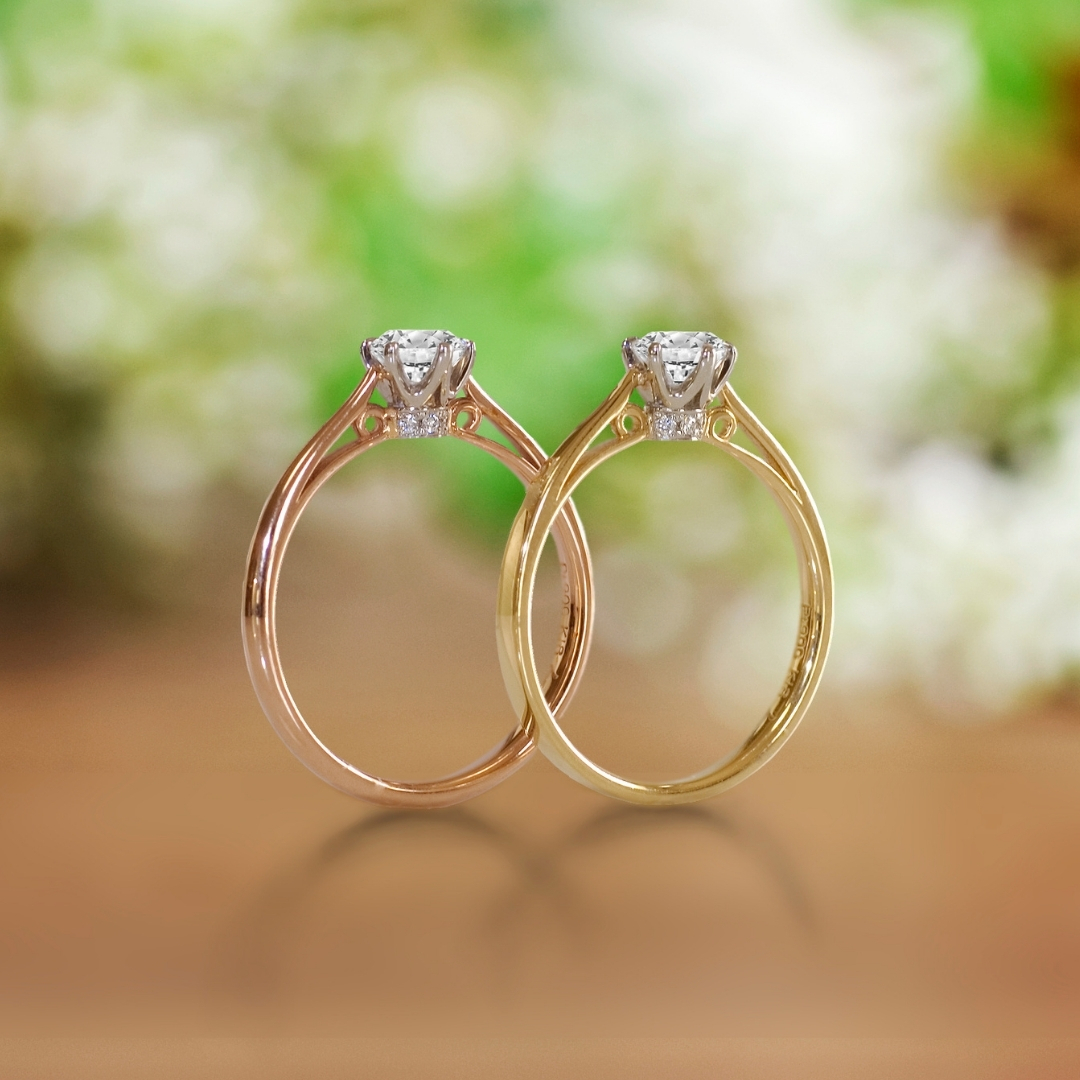 Another simple but unique Solitaire Engagement Ring is our "Pont de Sully" engagement ring from Lapage. The thin, rounded, coloured bands create a beautiful contrast with the centre diamond. The setting of this ring is slightly elevated, with melee diamonds set beneath the centre diamond.
Halo Engagement Ring
Halo Rings are becoming increasingly popular as it creates the illusion that the centre diamond is larger and brighter than what it actually is. In a halo ring, smaller melee diamonds are set around the larger, centre diamond creating a "halo" effect. This type of setting brings out the brilliance and sparkle of the diamond. Below are three different Halo Engagement Rings for your reference:
Round Pavé Halo Engagement Ring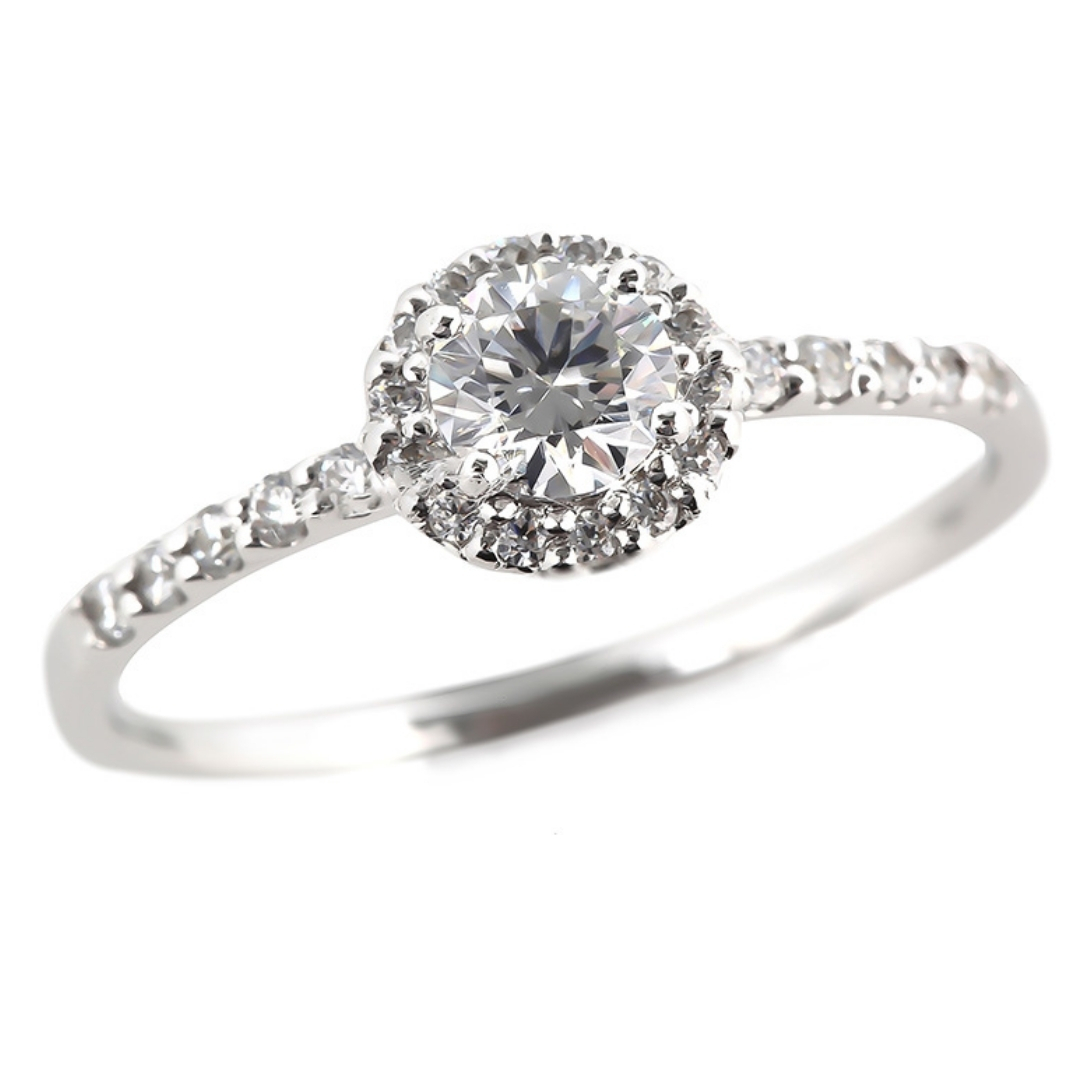 Gorgeous Halo Engagement Ring features 14 pavé-set melee diamonds encircling a 4-prong centre diamond, drawing attention to the centre diamond and enhancing the brilliance and elegance of the ring. This ring also features melee pavé-set diamonds on both sides of the band.
Round Channel Halo Engagement Ring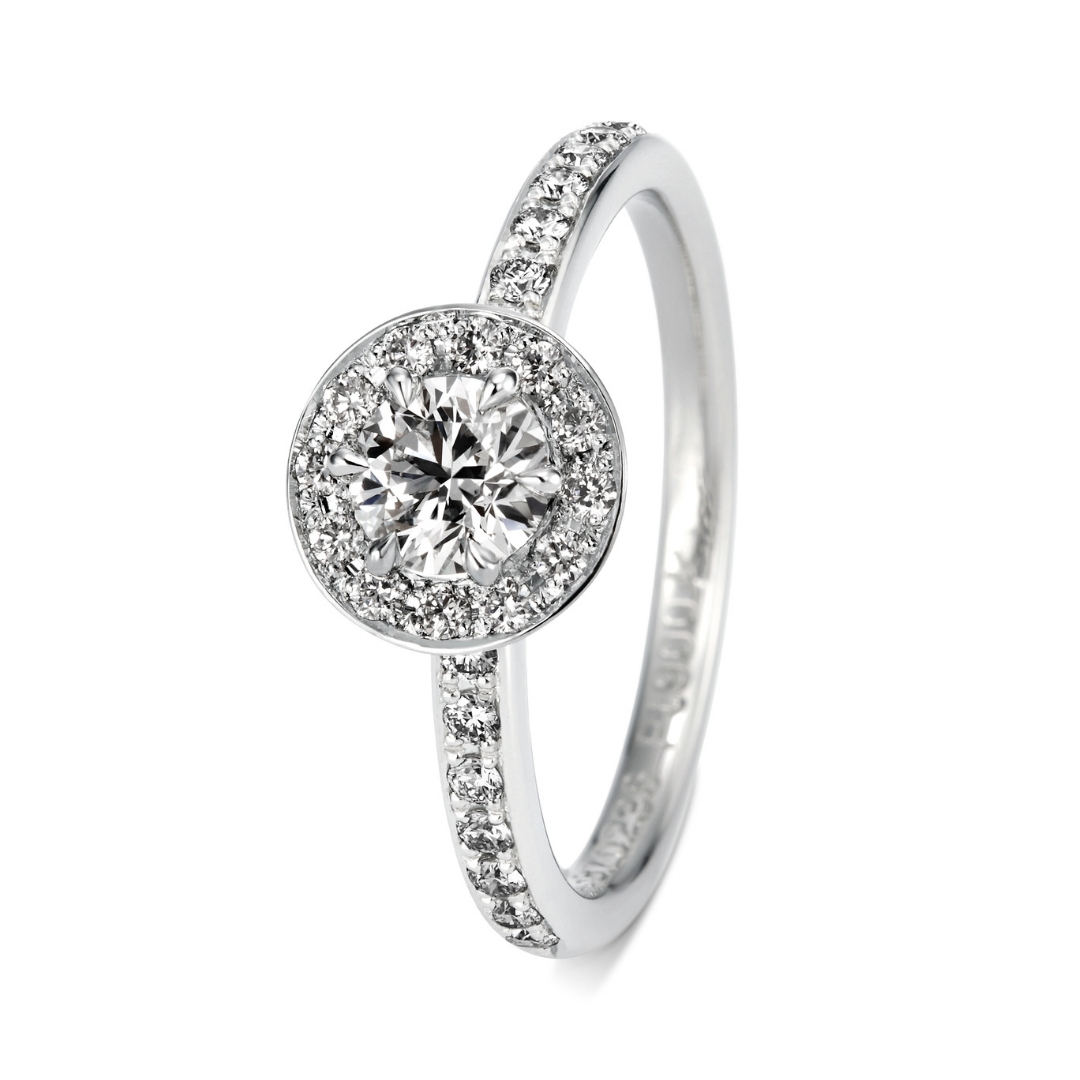 This beautiful Halo engagement ring from our "K.uno" collection is the epitome of luxury with its elevated platform, Halo setting of channel-set melee diamonds surrounding the larger centre diamond, and a super-sparkling shank that looks like a road paved with gemstones. This ring would sparkle at any angle. The Halo of melee diamonds surrounding the centre diamond is like a circle of flowers blessing your marriage to each other.
Vintage Halo Engagement Ring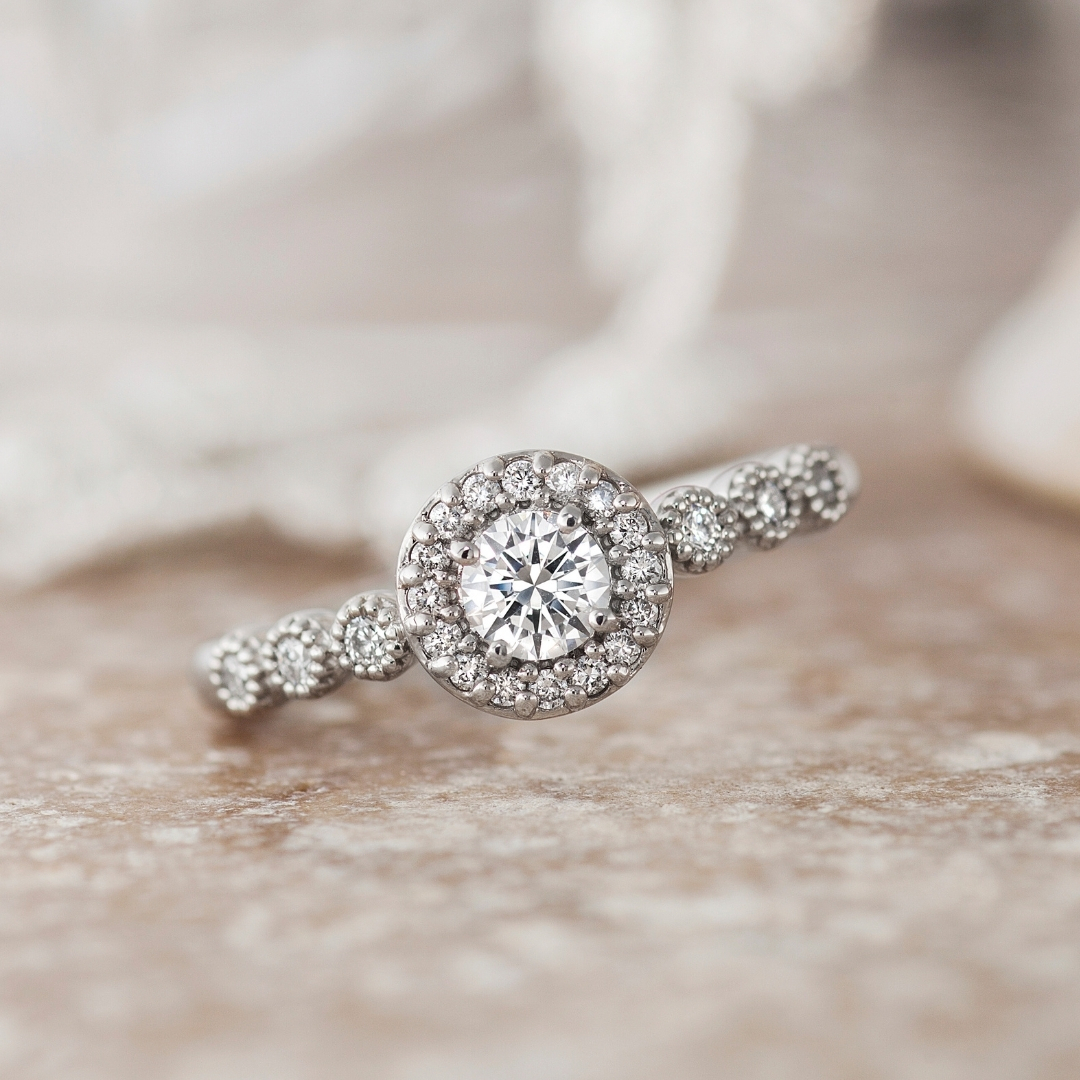 This beautiful vintage-style Halo Engagement Ring from our "Prima Porta" collection appeals to all vintage lovers. This ring is a unique Halo Engagement ring variation with pavé-set surrounding the central diamond and mille grain detail around the bezel-set diamond along both sides of the bands.
Vintage Engagement Rings
Vintage rings are rings that feature design and style elements of the past, be it Victorian Era or Gothic. A vintage ring is usually much more intricate than a modern, streamlined ring. With mille grain and filigree details, the dedication and finesse to jewellery crafting are incomparable with that of a modern ring. Hence, the vintage ring attracts many people who appreciate such designs and style.
Prima Porta – Aria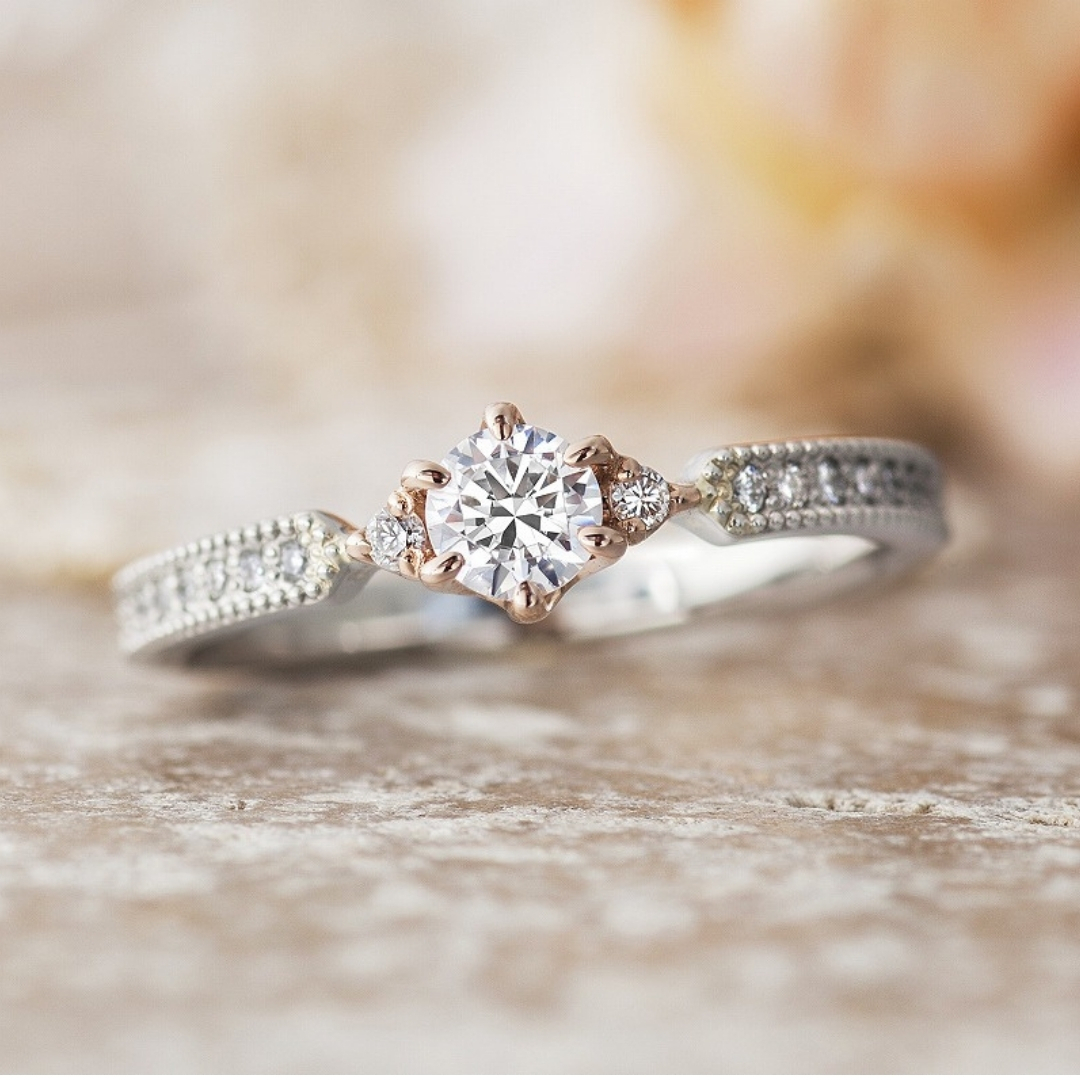 This stunning Vintage ring from our "Prima Porta" collection, Aria, features a two-toned Engagement ring of K18 Rose Gold and Platinum. With channel-set melee diamonds and mille grain details lining both sides of the band. This ring is truly unique.
Paveo Chocolate – Joie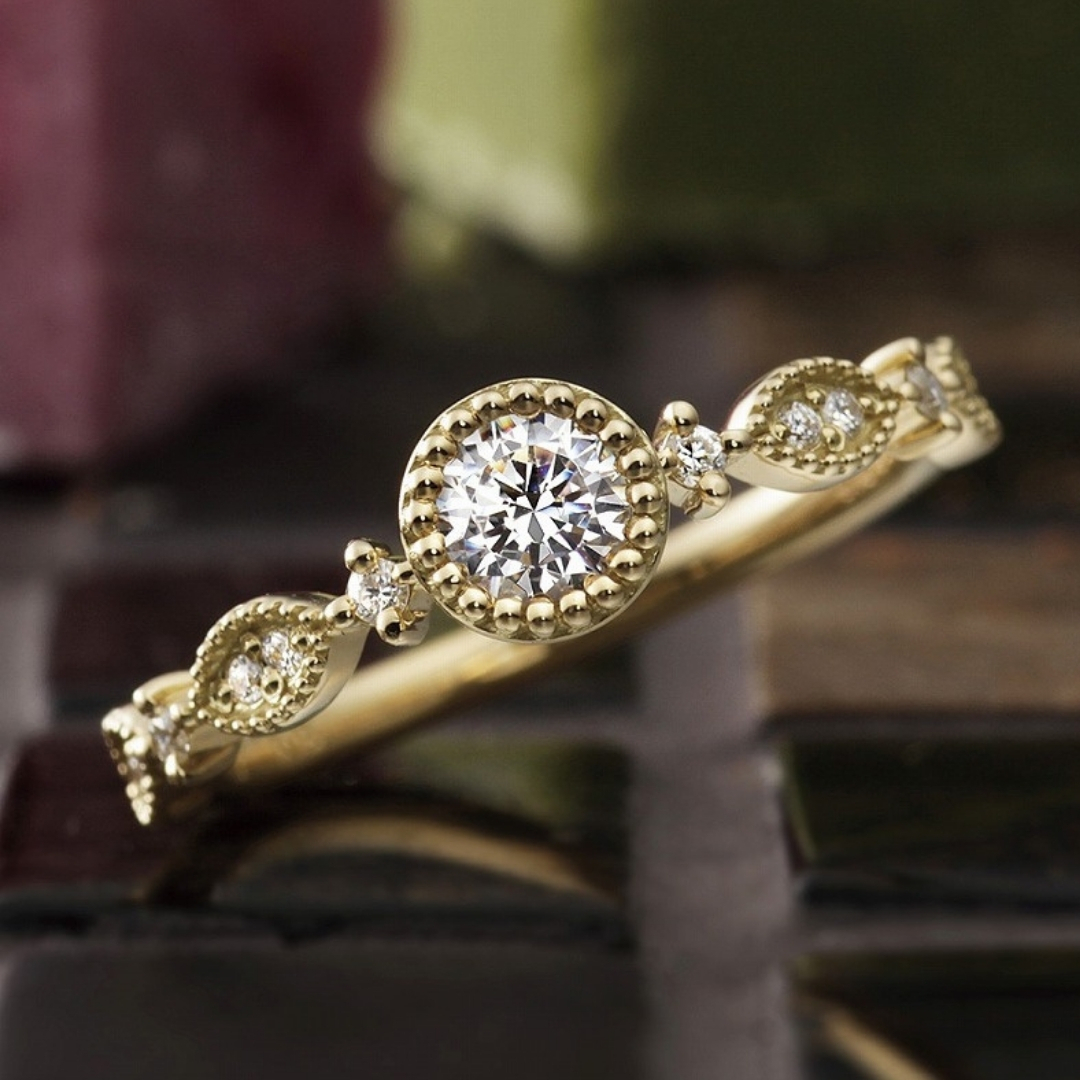 An antique K18 Yellow Gold Engagement ring that features a bezel-set centre diamond with mille grain details. Unlike a regular plain band, this ring feature alternating mille grain, channel-set diamonds that give it a vintage look. This ring, Joie, is from our Paveo Chocolate collection, which also symbolises Joy. May it be the happiness of joy that both brought the two of you together hand in hand.
Amour Amulet – Attache
Created in two-toned metals with milgrain detail on the bottom of the band, this unique engagement ring will be the one if you love your engagement ring to be classy with some delicate touches. Attache will always be a reminder of your love. Milgrain detail along the edge of the band highlights the beauty of the overall ring.
Unique Rings that Show off Your Personality
As compared to non-changeable, fixed designs of engagement rings that local jewellery store sells, VENUS TEARS offers high-quality, semi-customisable, made-in-Japan rings where you can change the outside diamonds on the ring to your unique birthstone or increase the width of the ring for the men's wedding band. Below are some unique rings that you can consider:
Aimokume – Hidamari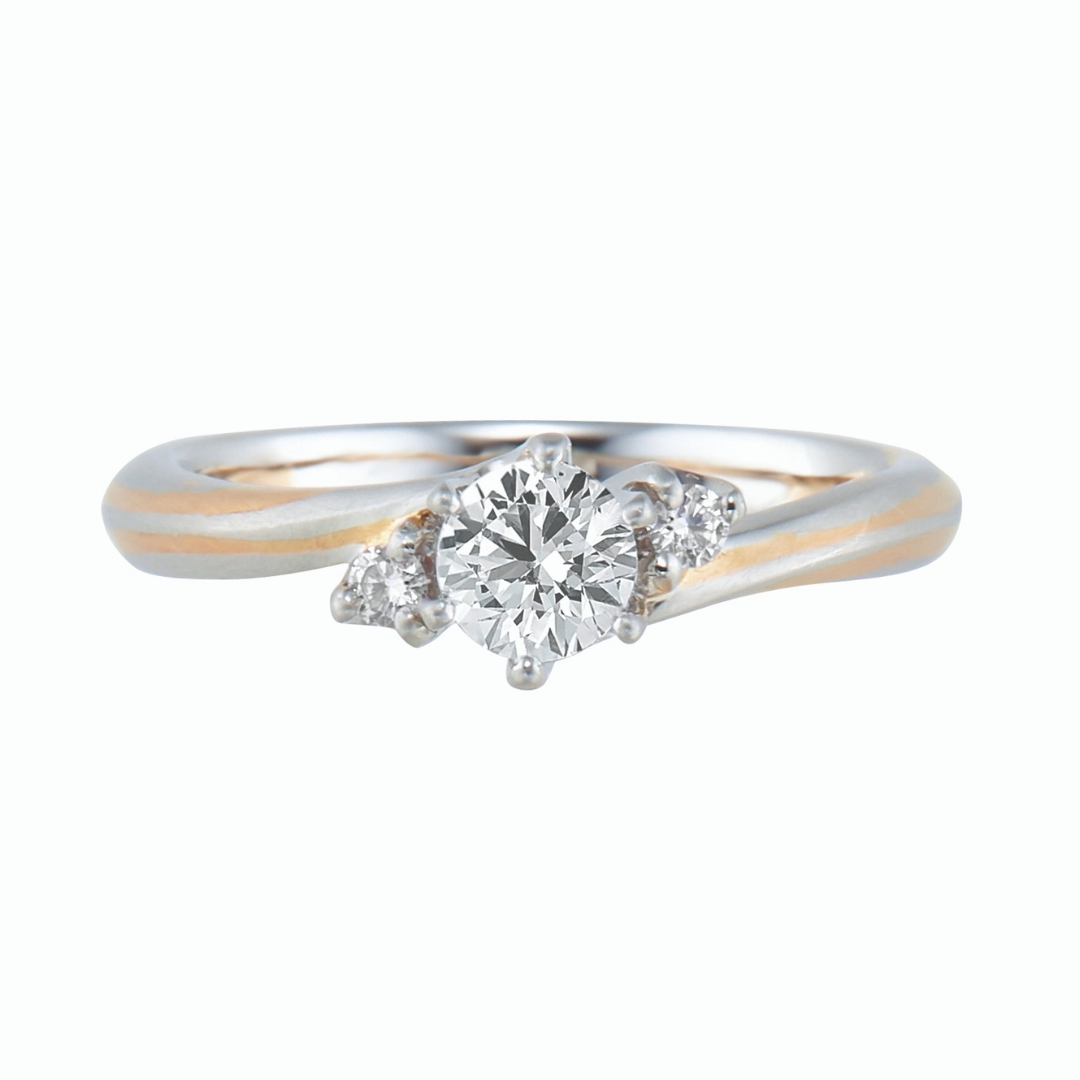 The grain pattern on the ring is produced using a unique casting method that gives a smooth finish. The two-tone ring of Platinum & K18 Rose Gold is inspired by four seasons & nature. Two side diamonds show the pair of an affectionate couple experiencing precious time together, holding hands tightly as they make their way towards happily ever after.
K.uno – Redimire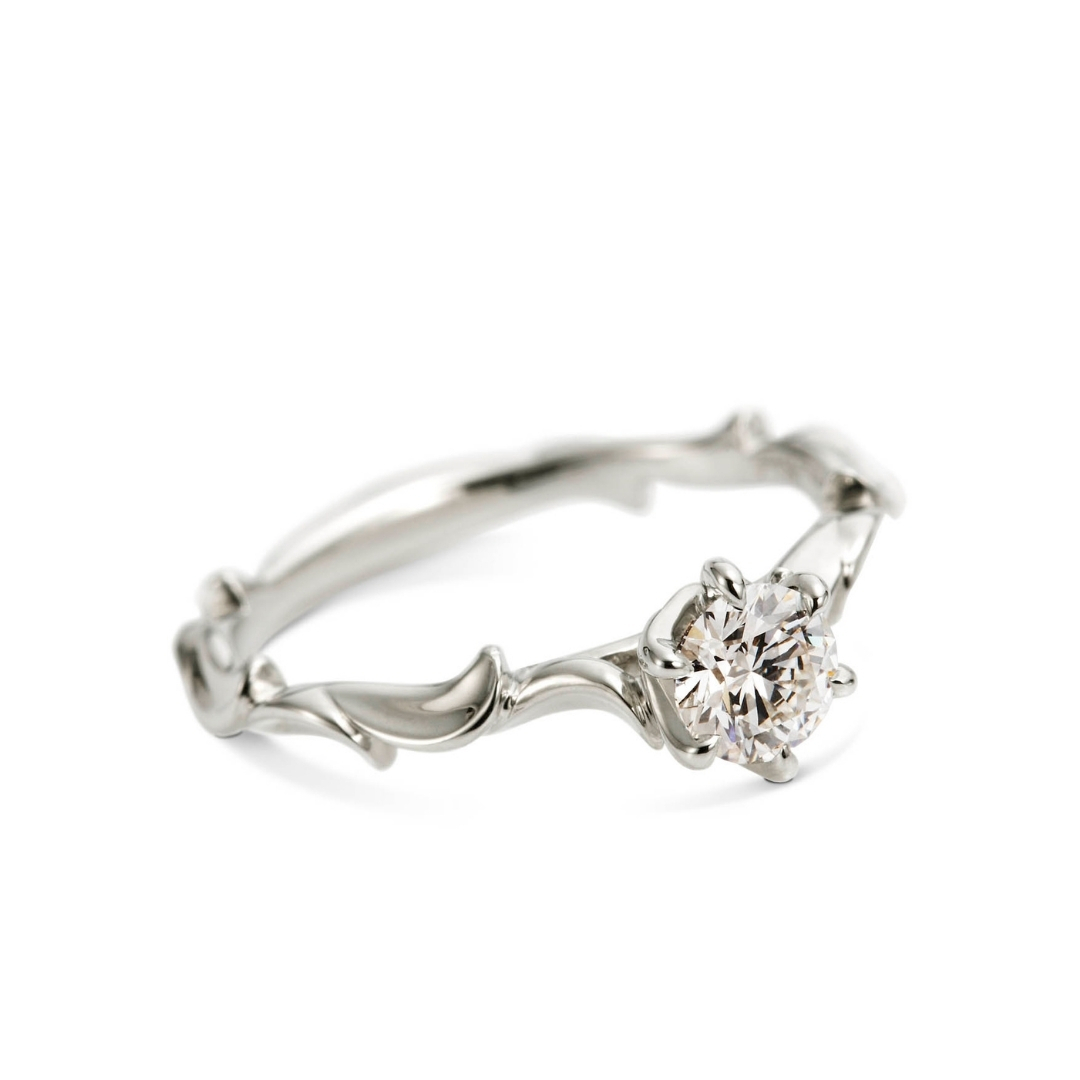 This beautiful ring resembles a rose with its twisted prongs setting and thorns-like design around the band. Rose has always been a symbol of love. Proposing with this ring would represent your willingness to accept all her flaws and commit yourself to this woman, just like the vow you made during the proposal, to love and cherish, in sickness or health, till death do us part.
Sirena – Blue Diamond Engagement Ring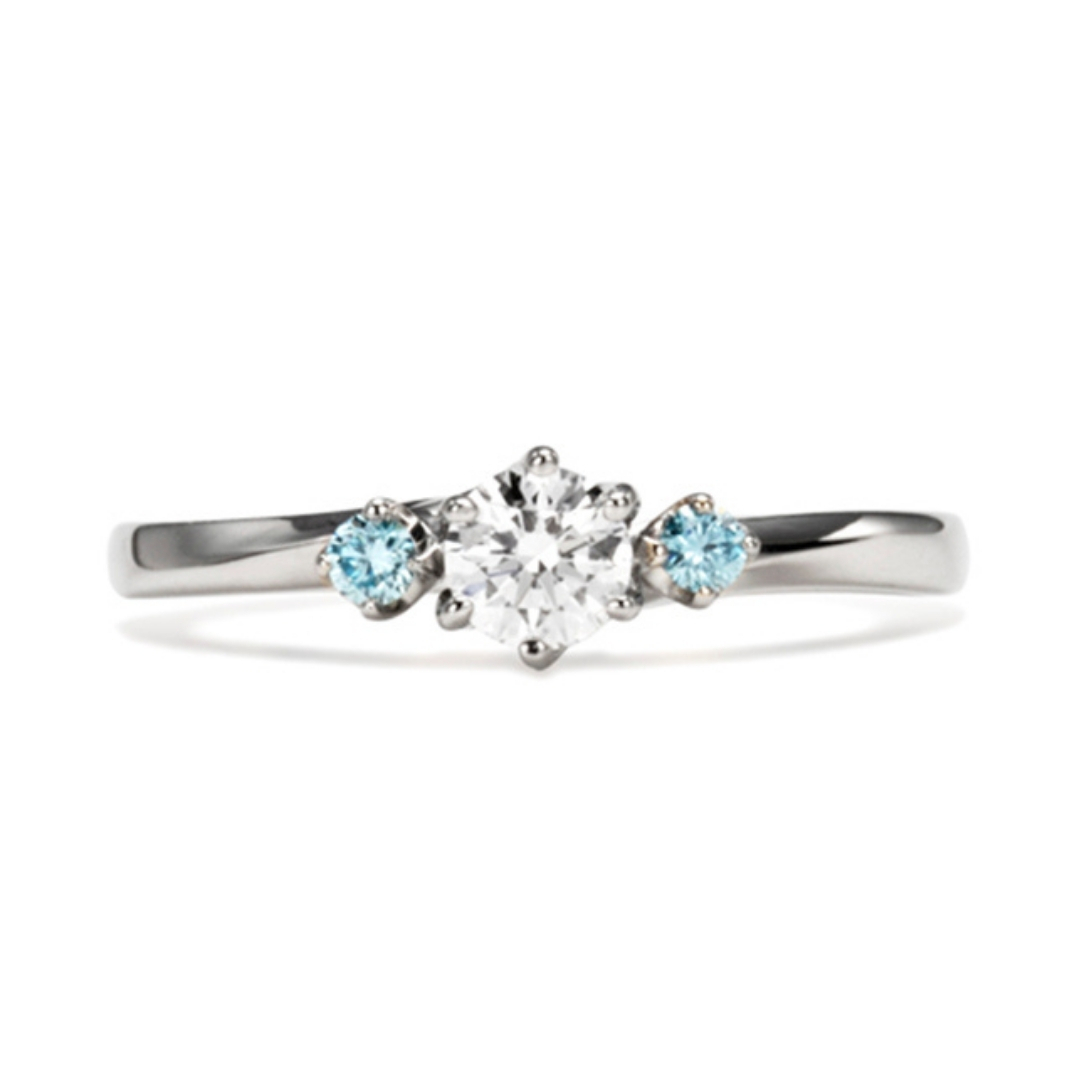 A classic and beautiful design, with two small blue diamonds at the side, the Trinity ring represents Past, Present and Future. Depicting a new beginning for the couple as a married couple. Blue diamond symbolises eternity, truth, devotion and peace. It gives you the power to bond with each other in the relationship. Proposing this ring to his love one will show how high he values his relationship with the woman he loves.
The above are some standard ring designs that you can consider when choosing the design and style of your engagement ring. Whether it is a classic Solitaire ring that never goes wrong, a luxurious halo engagement ring or a unique vintage ring, it is vital to know the preferred style of your significant other. Please note her usual dressing, the style of clothes she wears and the accessory that she puts on. Getting an engagement ring that she likes is a test of your observation skills and understanding of her.
At VENUS TEARS, we specialise in natural GIA-certified diamonds engagement rings. Every ring is made especially for you. From customising the diamonds on the rings to the perfect ring size, no two rings are the same at VENUS TEARS. Whether you are looking for a simple and elegant ring or a unique ring that expresses your personality, we have it all here for you.
Store Information
VENUS TEARS <Wisma Atria>
435 Orchard Road, #B1-28 Wisma Atria,
Singapore 238877
Tel: +65 6694 1663
VENUS TEARS <JEM>
50 Jurong Gateway Road, JEM #01-54,
Singapore 608549
Tel: +65 6659 6100
VENUS TEARS <Tampines1>
10 Tampines Central 1, Tampines1 #01-35,
Singapore 529536
Tel: +65 6481 2042
VENUS TEARS <Bugis Junction>
200 Victoria Street, Bugis Junction #01-22/22A,
Singapore 188021
Tel: +65 6250 9962