When you hear the word "engagement ring," many people think of the "solitaire," the classic design of an engagement ring with a single large, dignified diamond. While solitaire rings are very popular, there are many people who think that the three-dimensional design of solitaire rings makes it difficult to wear them on a daily basis.  "Since I am going to get an engagement ring, I want a ring I can wear on a daily basis." In recent years, eternity rings have been becoming more and more popular.
In this article, we would like to introduce the appeal of eternity rings and some points to keep in mind when choosing them. If you are wondering whether you should wear an eternity ring or a solitaire diamond ring, this article will list out all the points for you.
So What Exactly Is An Eternity Ring?
The eternity ring was named after the image of "eternal love" in which same-sized diamonds are neatly lined up in a perfect circle around the ring. Because of its meaning, it is very popular as a wedding ring or anniversary gift, and in recent years, more and more people are choosing it as an engagement ring. There are two types of eternity rings: half eternity and full eternity.
Full Eternity Ring
It refers to a ring with a single row of diamonds of the same size set around the entire circumference of the ring. A full eternity ring has a row of diamonds all around it, so it is gorgeous and beautiful and sparkles from every angle. There is no need to worry about the ring spinning around and hiding the diamond in your hand. The full eternity ring is a gorgeous way to add a touch of glamour to your hand and is perfect for parties and celebrations.
Half-Eternity Ring
It refers to a ring that has diamonds set along the top half of the ring.  A half-eternity ring is a slightly more popular as compared to a full eternity ring due to its value and price. The price of a half-eternity ring is much lower and yet, at first glance, it doesn't look much different from a full eternity ring. Also, the ring is easy to use and you don't have to worry about hitting the diamonds and risk it dropping when you go about your daily life.
The Beauty of An Eternity Ring Is In Its Versatility
・Glamorous, while still suitable for everyday use.
Compared to the Solitaire Ring, which has an orthodox design and is consistently popular, the Eternity ring is a bit more subdued and elegant due to the nature of its design. Its design is not too flashy or plain, and it doesn't interfere with daily life, making it easy to use on a daily basis. The number of working women has been increasing in recent years, and this ease of use may be the reason for its popularity.
・Perfect for Stacking Rings
The simple design of an eternity ring. Because of its simplicity, you can wear it in any situation, regardless of any Time, Place and Occasion. You can wear it with other rings, and you can enjoy matching it with other unique rings. When wearing rings in layers, the colors of both rings should match, but it is also possible to wear them in different colors. For example, a platinum eternity ring can be worn with a thin gold wedding band for a sleek and stylish look. Eternity rings are easy to match and are a great ring to have on hand for all occasions.
Things to take note when Choosing An Eternity Ring
・Does the ring hurt? Consider the height of the ring.
Eternity rings are inevitably thicker because of the height of the diamond added to the base metal. Although it varies from person to person, some people feel uncomfortable wearing them, so it's a good idea to try them on to see how comfortable they are.
Also, if you wear it with your wedding ring, it is best to keep the rings at the same height as the wedding ring so that they don't stick out.
・To prevent the diamonds from dropping, think about the situation that you will be wearing the ring before choosing the setting.
An eternity ring is a design where diamonds are set all the way around the ring, and conversely, there is less metal used as the base, so you have to be careful about the strength of the ring. Although not limited to eternity rings, materials such as platinum and gold, which are often used for engagement rings, can be deformed and the diamond can fall off if a strong force is applied. We recommend choosing a ring with a setting that makes it difficult to remove the stone, even for everyday use, and also taking into account the situations in which you will use it in the future.
・It is not possible to resize for a full eternity ring
In the case of a full eternity ring, you should not be able to resize it because of the nature of the design, which has diamonds all around it. Some half-eternity designs are resizable, but it is always best to go to the store and ask for confirmation before you buy.
However, in the unlikely event that you do change your size, you can stack a ring on top of the eternity ring that fits you perfectly to prevent it from falling off your finger. In that case, so that you can accommodate even if the size of your finger changes, the key is to choose a ring design that is easy to resize.
Variations in the setting can change the appearance of your ring!
There are many different settings for a simple eternity ring, which can make a huge difference in the way it looks. The setting refers to the way the diamond or other gemstone is held in place. The way in which the diamond is set can make a huge difference to the overall feel and strength of the ring. First, let's take a look at the basic settings.
Channel Setting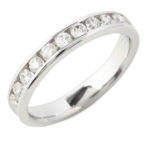 As the name implies, a channel set eternity ring features stones set within a channel in the metal band. Here the diamonds are carefully set side by side and are held in place by the walls of the channel. The lips of the channel hold onto the diamonds' girdles and protect them from falling out.
The channel setting is very safe as it protects the diamond from exposure. Even if you hit the eternity ring against something, the metal gets knocked rather than the diamonds. Another main benefit of channel set eternity rings is that they don't tend to snag on things, making them easier and more comfortable to wear for most people.
On the flip side, channel settings are not as brilliant as prong settings, because more of the diamond is hidden within the metal. There is equal focus on both the metal and the diamonds. They can also be a nightmare to clean if dirt gets lodged under the diamonds and beneath the grooves. Getting to those parts of the ring can prove difficult.
Pavé Setting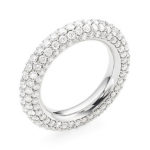 A pavé setting is a type of engagement ring setting in which the shank of the ring is lined with small diamonds. These diamonds are held in place with metal prongs or beads, creating the appearance of a line of continuous small diamonds.
Pronounced "pa-vay," pavé originates from the French word "to pave" — in this case, as in paved with diamonds. In a pavé setting, small diamonds line the band. The metal prongs or beads that hold the diamonds in place are barely visible.
The pavé setting adds extra sparkle to an engagement, all while emphasizing the beauty of the center diamond. Pavé settings are available in a wide range of styles, from modern settings to a range of vintage designs that incorporate pavé-set diamonds.
Diamonds are pavé set when they're as small as .01-.02 carats. Diamonds smaller than that are considered micro-pavé (which are usually set in thin bands).
Bezel Setting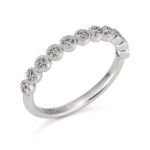 Modern and durable, bezel settings are a popular option for engagement rings. A bezel setting is a type of ring that holds the diamond inside a custom-made thin metal rim that surrounds the outside of the stone, keeping it secure and protected while showing off its beauty.
Unlike prong settings, which are quite delicate and expose the sides of the diamond, a bezel setting completely encircles the stone and holds it securely in place. This offers protection for the center diamond while giving the ring a sleek, modern appearance.
Bezel settings are available in a variety of styles, from elegant solitaire rings to settings that feature pavé, halo or side-stone diamonds. Some feature intricate design features, such as beaded, half-bezel and vine-like patterns.
Like other engagement ring settings, bezel settings are available in a wide range of different metals, including yellow gold, white gold, rose gold, and platinum.
Prongs Setting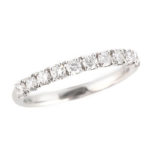 The prong setting features prongs that hold the diamonds or gemstones securely in place. Usually, there are four prongs, into which the diamond is carefully set. The prongs claw onto the diamonds, keeping them in their position.
From the top view, you would only see minimum metal, with the tips of the prongs being visible. Prong settings also allow the sides of the diamond to be viewed, although there is more metal obstructing the diamond on the sides.
Prong settings are designed to maximize the diamond's exposure, while keeping it safe. This allows excellent light performance, making the eternity band sparkle.
One main disadvantage of prong settings is that if the ring suffers impact or is knocked against something, there is the likelihood that the stones can become loose or even dislodged. Over time, the prongs can lose their integrity and become weakened, increasing the possibility of a diamond falling out. It's important to take your ring periodically to a professional jeweler who'll check the strength of the ring's prongs and fix any issues for you.
The Secret to Long-Lasting Wear
Because of the beauty of the eternity ring, there are a few things to keep in mind. In fact, there are a few important points to keep in mind when wearing an eternity ring.
There are some cases that the ring is more delicate than normal rings
Eternity rings are designed with diamonds and other stones set throughout, and compared to rings that have a solid base metal, eternity rings that are held in place by claws and rails are fine and delicate.
In order to maintain the beauty of the ring, it is important to take it off carefully before you work on something that might cause a shock to your hand.
Go for regular maintenance
In the case of an eternity ring, compared to a claw type ring, because the distance between the ring and the skin is closer, sebum and dust can get into the gaps between the diamonds and the claws. To begin with, diamonds are easily influenced by oil, and sweat, sebum, hand cream and cosmetics are likely to stick to them, causing them to lose their shine. In order to maintain the beautiful shine of your diamond as it was when you first bought it, you should take care of it frequently and maintain it at the store where you bought it. As part of your daily care routine, gently wipe your ring with a soft cloth such as a spectacle cloth to restore its shine.
For stains and grime that are difficult to remove by yourself, it is advisable to ask a professional to clean them. In addition to cleaning small stains, you can leave it to a professional to maintain loose claws and damaged rings with peace of mind. It's a good idea to check what kind of aftercare is provided before you purchase.
There is no rule that says an engagement ring must have a single, large diamond. This is an engagement ring that you will be associated with for the rest of your life. An eternity ring with a row of diamonds along the finger that sparkle with each other, and women will be mesmerized by the glamour of the ring every time they wear it.
A slightly more extravagant eternity ring can be given as an engagement ring for the proposal, and then layered with two or three more for later wedding bands or anniversaries. You can choose how you want to use the ring, choose a design that suits your lifestyle and find a ring that you will use for the rest of your life.