Introducing the must-visit spot for food and shopping in Singapore, the long stretch of road with tons of shopping malls, food places, bars, and hotels. Due to the small size of Singapore, all the action is available in the heart of town. Covering 3 MRT stations, Orchard, Somerset and Dhoby Ghaut, you can find all sorts of food, bars, shopping, and activities along Orchard Road! Let me bring you along on a guide to covering Singapore's most hip area!
Shopping paradise, Orchard road
Get off at Orchard MRT station, and you will find yourself lost and confused as it is surrounded by two big shopping malls and underground walkways. To prevent overcrowding on the streets of Orchard Road, Orchard area does not have a lot of crosswalks; instead, they have underground walkways that you can get lost. The main underground walkway from Orchard MRT brings you to Marriott Tang Plaza, where the famous Marriott Hotel is situated. Turning left into the underground walkway, it will lead you to Far East Plaza, Scott's Road and Shaw House. However, please do not panic and ask any of our friendly Singapore passers-by for directions.
On one side is ION Orchard, where you can find luxury brands such as Alexander McQueen, Burberry, Dior, Louis Vuitton and many more—tired from shopping? Head down to Level Two of ION Orchard
where you can sit back, relax, and enjoy a cup of premium tea with a high tea set of freshly baked scones and savoury goodies with your friends or significant other at Singapore's very own TWG Tea Salon.  Not your cup of tea? (Pun intended) Head further down to Basement 4 where you can find a variety of cuisines that are inexpensive and delicious! Try our famous Hainanese Chicken Rice, Hokkien Noodles, and many more local dishes inside Food Opera!
Here we come, Wisma Atria
On the other side of Orchard MRT, you can find Wisma Atria, another shopping mall where you can chill with your friends with the delicious food available in there. Level 2 has Paris Baguette where you can get the sandwiches, danish, cakes and salad. Besides Paris Baguette, you can try an Alice in Wonderland themed restaurant with velvet plush sofas and dim, romantic lightings. Their foie gras pasta is a must-try there as well as their wide variety of cakes. Up on Level 3, there is one of my favourite restaurants, PICNIC, where you should try their ultimate OMAKASE Burger with Truffle Fries and Root Beer Float.
At Level 4, you can find a Food Court with delicious local food and my favourite Japanese restaurant in Singapore, Koh Grill and Sushi Bar. Their Sashimi is super fresh, and you must try their signature "Shiok Maki", a sushi roll stuffed with unagi, avocado, cucumber and wrapped with a thick piece of salmon before its signature sauce is poured on and blowtorch. Incredible. Wisma Atria has many fashion and jewellery stores for you to shop in. Branded goods like Tory Burch and Coach are located on Level Two whereas jewellery stores like ours is located in Basement One, right next to the MRT. Just a 3minute walk from the MRT along the Basement of Wisma Atria, you will be attracted by the sparkling, glittering, welcoming exterior of our VENUS TEARS store.
VENUS TEARS at Wisma Atria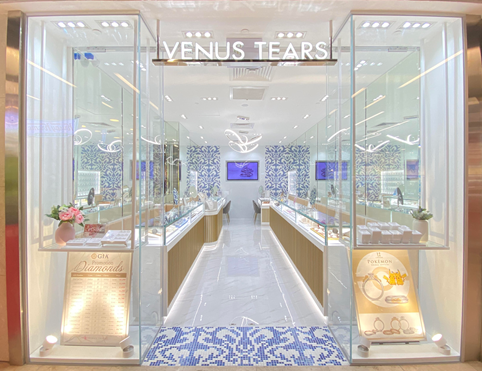 VENUS TEARS store at Wisma Atria recently opened in February 2020 and received much praise and popularity from its customers! Everything in our shop is custom-made by master craftsmen in Japan, so you can be assured by our excellent quality and attention to detail. All craftsmen in Japan are passionate in what they do and take pride in every piece of jewellery that they create, the concentration and attention to details is so detailed that it is incredible. With years and years of experience under their belt and the combination of traditional jewellery-making techniques with modern techniques, each and every one of our rings are one-of-a-kind and created with love and passion.
Wide range of brands and designs that you can choose from!
Check out our beautiful Pokémon-themed accessories from engagement rings, wedding rings, personalized name necklace to fashion rings and necklace. From everybody's favorite Pikachu, Mew, Eevee, Espeon and Umbreon, Gengar and many more Pokémon characters, find your favorite Pokémon character accessories and catch 'em all while you can! It will be a perfect gift for your friends and family who likes to play Pokémon Go. Each and every Pokémon character is recreated to be as realistic as possible. For example, you can see every spike on the back of Gengar and the cute expression on Pikachu's face. Do you know that there is a difference between female Pikachu and male Pikachu? The end of a female Pikachu's tail is shaped in a heart whereas a male Pikachu is straight. Our skilled and experienced craftsmen have replicated such fine details too!
No worries, we guide you step by step how to create your only one ring!
We make and design our rings with our customers in mind, let us know how you would like to make this ring uniquely yours and we would do our best to make it come true for you. See a ring design that you like? We can customize the material of the band and the claw, choose from a variety of materials from Platinum, K18 Yellow Gold, K18 Rose Gold or K18 White Gold. Many of our rings are two-toned as well so choose from your favourite combination. Make the ring into something special by engraving your initials, anniversary date or significant others name on the inside of the ring as well as a secret inner gem! Whether you are looking for something plain and simple, vintage, extravagance, unique or elegant, we have all the selection for you!
Let us share with you about a Diamond Ring, GIA, 4Cs
As our rings are customizable and made-to-order in Japan, we differentiate ourselves from our local competitors that we do not have ready-made rings that you can purchase on the spot. It would usually take a minimum of 2months for the ring to be ready for collection. So please do come down early before your wedding/proposal to choose your designs and diamond. All our diamonds in our shop are internationally certified by the Gemological Institute of America (GIA) which grades the diamonds according to its Carat, Color, Clarity and Cut, also known as the 4Cs. Carat refers to the size of the diamond so usually that's what most people look out for first in an engagement ring, followed by the other 3C's depending on your budget. If you are unsure of where to start when looking for a ring, our friendly and professional staff would be delighted to help you navigate your way around our wide variety of engagement and wedding rings.
Many more places to explore Orchard Road!
Stepping out of our store, you can cross the underground walkway that connects Wisma Atria and Takashimaya Shopping Center. You can find a lot of well-known luxury items here at Takashimaya Shopping Center. Owned by the Takashimaya Group, you can find many things related to Japan there. There are Japanese restaurants, and a 4 Level departmental store where you can buy anything that you want. Looking to travel to Japan? Check out JTB Travel Saloon on Level 3 of Takashimaya Shopping Center. They will be able to plan out your itinerary and book all your hotels and tour, so you don't have to worry about anything!
Across the road from Takashimaya, you can Mandarin Gallery which is connected to the popular Mandarin Orchard Hotel. Mandarin Gallery is home to a few famous cafés such as Antoinette, Arteastiq and Wild Honey. It is nice and quiet mall in the usually bustling street of Orchard. At Arteastiq, you can indulge in high tea with your friends or express your artistic talent with a 3h Art Jamming session. True to its name, Antoinette is popular amongst locals for its French desserts, Crème Brûlée and crepes. Mandarin Gallery also have Singapore's only Victoria Secret store that sells lingerie.
Not interested in shopping and food? No worries, take a right turn at Mandarin Gallery and you will find yourself at Cineleisure Orchard where you can catch a delightful movie at Cathay Cineplex, sing your heart out at Ganso Manekineko on Level 8 of Cineleisure Orchard or jump your stress out at Bounce, the Trampoline Park on Level 9 of Cineleisure Orchard. Therefore, you need not be a worry as there are tons of cheap activities to be done at Orchard! Hope you got a better understanding of Singapore's busiest street, Orchard Road after reading this article! Thank you for reading! See you next time!
Store Information
VENUS TEARS <Wisma Atria>
435 Orchard Road, #B1-28 Wisma Atria,
Singapore 238877
Tel: +65 6694 1663
VENUS TEARS <JEM>
50 Jurong Gateway Road, JEM #01-54,
Singapore 608549
Tel: +65 6659 6100
VENUS TEARS <Tampines1>
10 Tampines Central 1, Tampines1 #01-35,
Singapore 529536
Tel: +65 6481 2042
VENUS TEARS <Bugis Junction>
200 Victoria Street, Bugis Junction #01-22/22A,
Singapore 188021
Tel: +65 6250 9962
VENUS TEARS <AMK Hub>
53 Ang Mo Kio Avenue 3,   AMK Hub #B1-70
Tel: +65 6481-8943