Custom Made Rings from Japan
Venus Tears' engagement rings and wedding bands are all custom made, allowing you to freely choose the design, width, and material of your choice. Each ring is made to order and handcrafted by skilled Japanese craftsmen exclusively for you and your beloved. Because it is meant to be worn every day. We will help you find that perfect wedding band that is uniquely yours.
~Process of Custom Made Rings~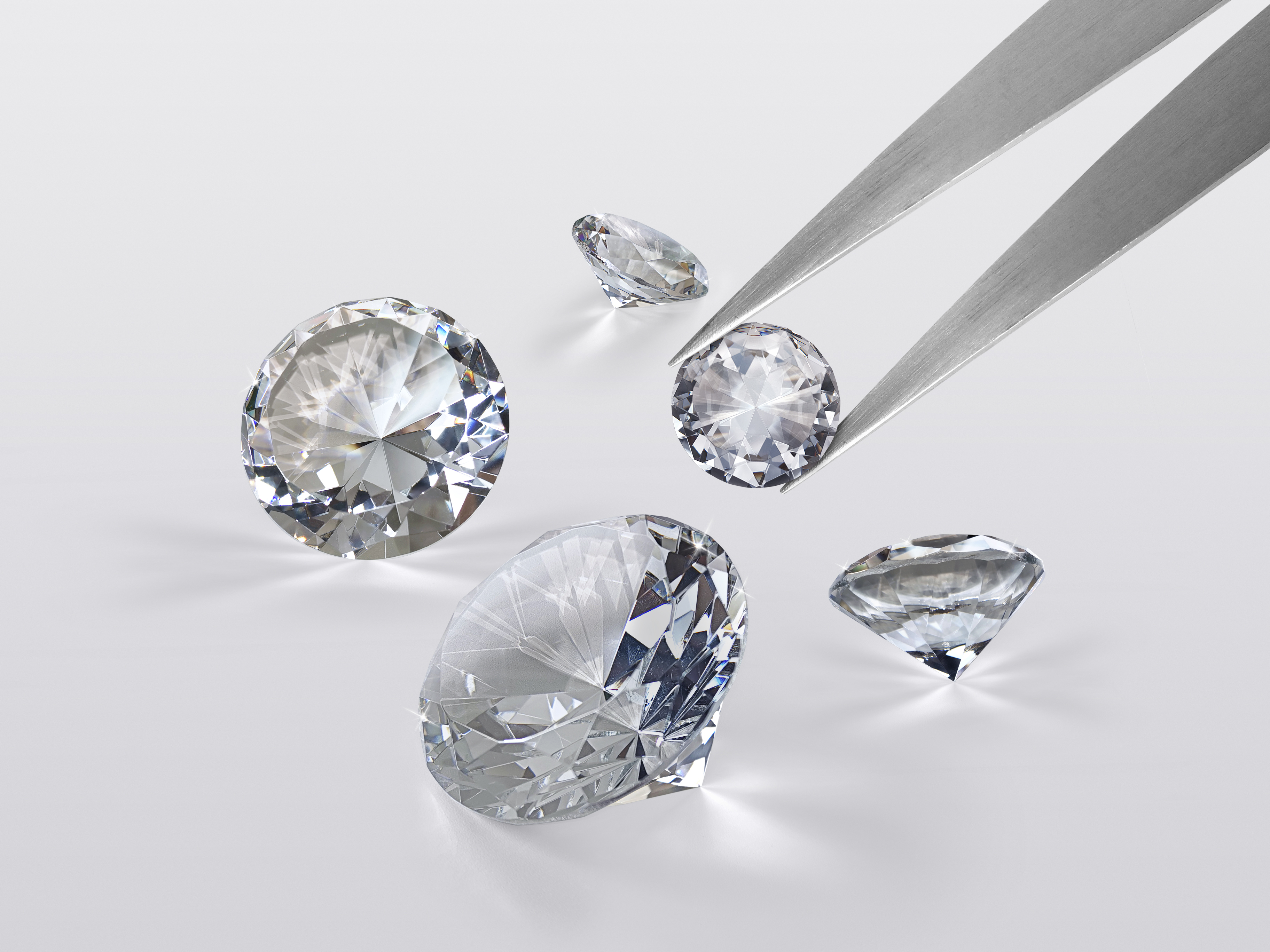 1.Choose a diamond (Engagement Rings)
As an official GIA (Gemological Institute of America) dealer, all of our diamonds come with a certificate of authenticity and are available in a wide range of sizes and quality. We will recommend the best diamond that meets your needs and budget.
2. Choose a design
Choosing the right design for your ring is one of the hardest parts of the buying process as the design of the ring will decide if you will continue to love it and wear it for many years to come. According to a survey that we have done, we found that more than 60% of couples are very satisfied with their rings but for the remaining 40%, their satisfaction levels dropped after several years. Reasons include them being tired of the design, not getting their favorite design due to budget and the fit of the ring that has changed after so many years.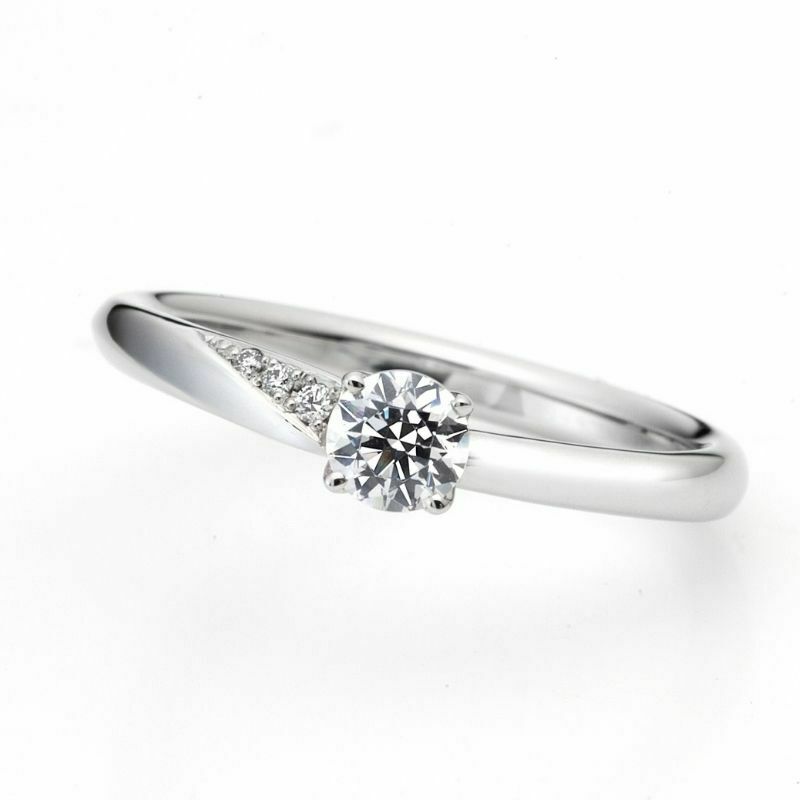 Straight
As the name suggests, this simple and classic design has a straight band. The design itself is often simple, and the appeal is that both men and women can continue to wear it for a long time without getting tired of it as they age. The impression changes considerably depending on the width of the arm. It is a standard design that even men who are not accustomed to wearing rings can wear with relative ease. It is recommended for those who want to wear it at work or in their private life without worrying about scratching or catching it in daily life.
S-shape
The wave-curve design, also known as a "S-shape", is a ring with a gently curved, wavy shape. In contrast to the straight design, the twisting, wave-like look of the S-shaped ring gives it an elegance and graceful appearance. It also has the effect of making the finger look slimmer, and when combined with melee diamonds (small diamonds), the ring becomes even more exquisite.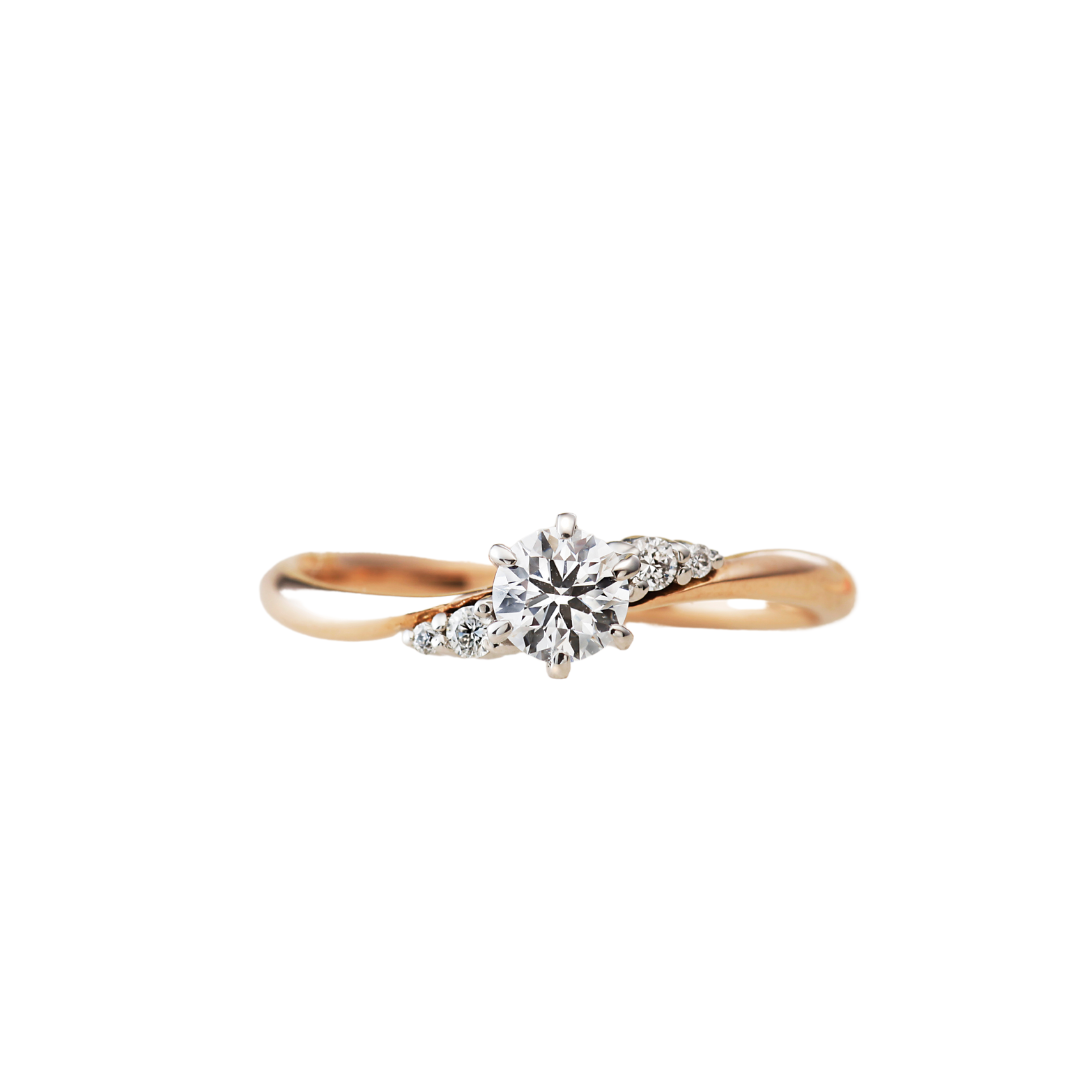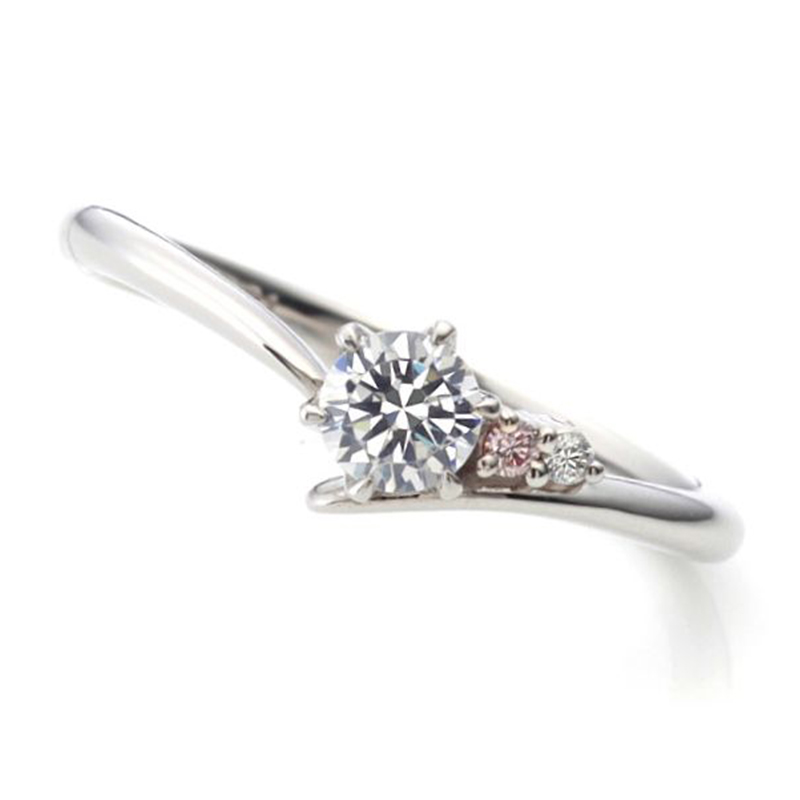 V-shape
The V-shape design is characterized by the sharply defined lines of the wedding band. V-shaped rings are ideal for those who want to make their fingers look longer, as they emphasize the vertical line of the ring. Designs with diamonds decorated in a V-shape have a strong presence and are recommended for those who prefer a glamorous ring.
Eternity
Eternity rings are rings with gemstones around the full or half circumference of the band, and are said to be derived from the word "eternity" meaning "eternal love". Full eternity rings are designed with stones around the entire circumference of the ring, while half eternity rings are designed with stones around the half circumference of the ring, at the top of the finger. Many people choose the half eternity design for its comfort and its possibility for further resize.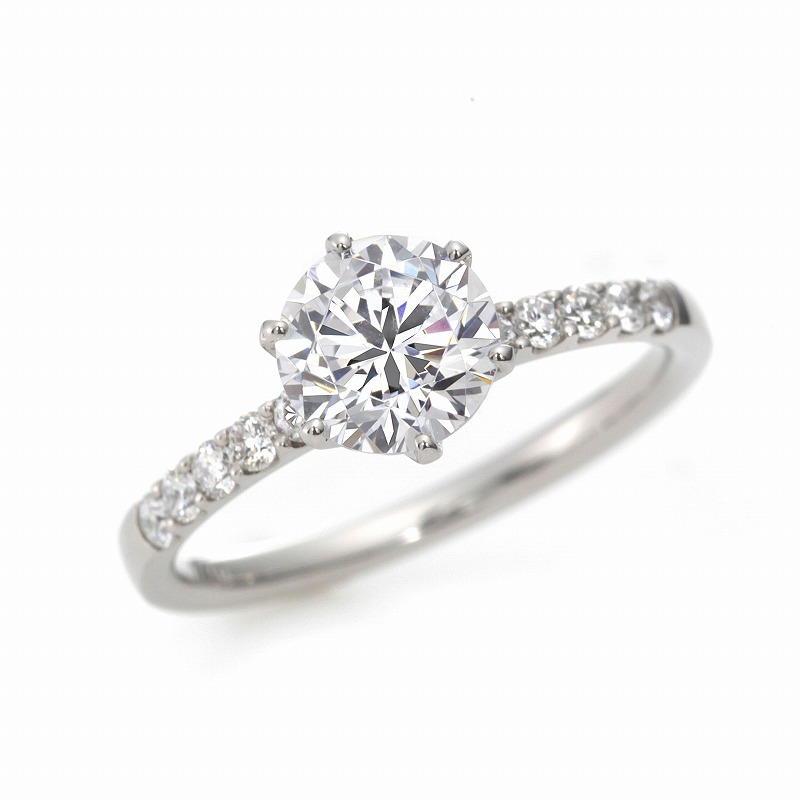 3. Choose Your Material
After marriage, the engagement and wedding rings will always adorn the ring finger of the left hand. Since you will use them for the rest of your life, you will want to choose rings that are as durable and of good quality as possible. You may also be concerned about the color of your skin and how easily it matches other accessories or watches you own. The following is a list of metals used for engagement and wedding rings, along with their characteristics.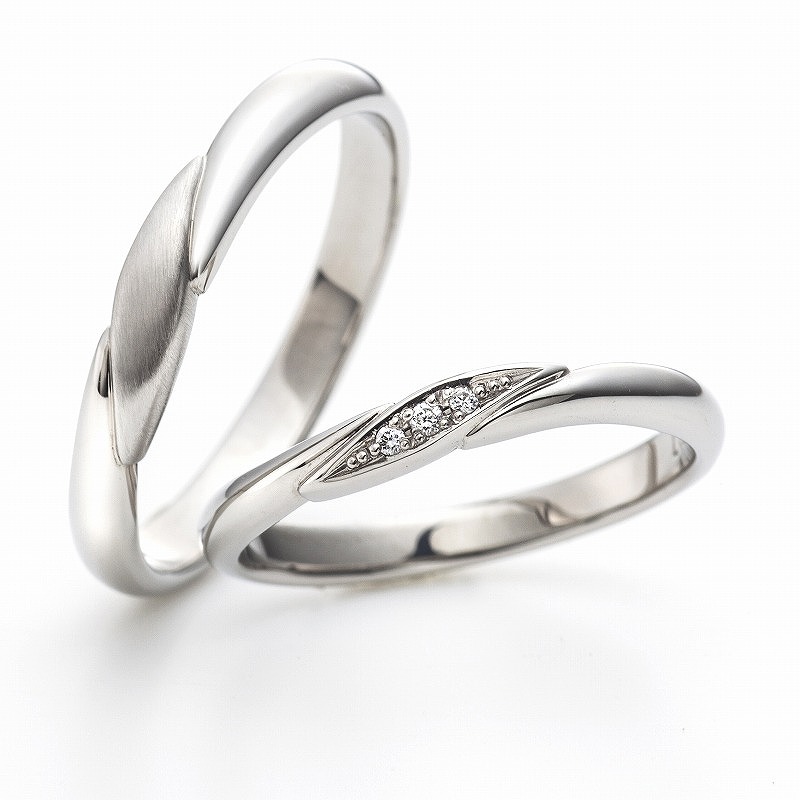 White Gold
Even though it is called gold, there is a type of gold that has a pure white shine, and that is white gold. White gold is a base metal made by mixing gold with silver and palladium. When it is made into a ring, it is plated with rhodium, a precious metal, to give it a brilliant white color. After years of use, this part may peel off due to friction and the original champagne gold base may appear, but it can be re-plated to restore its pure white color.
Yellow Gold
Adored by many, yellow gold is the most spectacular and prominent of all golds. It has a luxurious and extravagant feel, making it an item that can be used to elevate fashion at night parties, dinners, and other high-end venues. It goes well with pink gold as well as platinum, so it is a trendy option to match it with a variety of rings.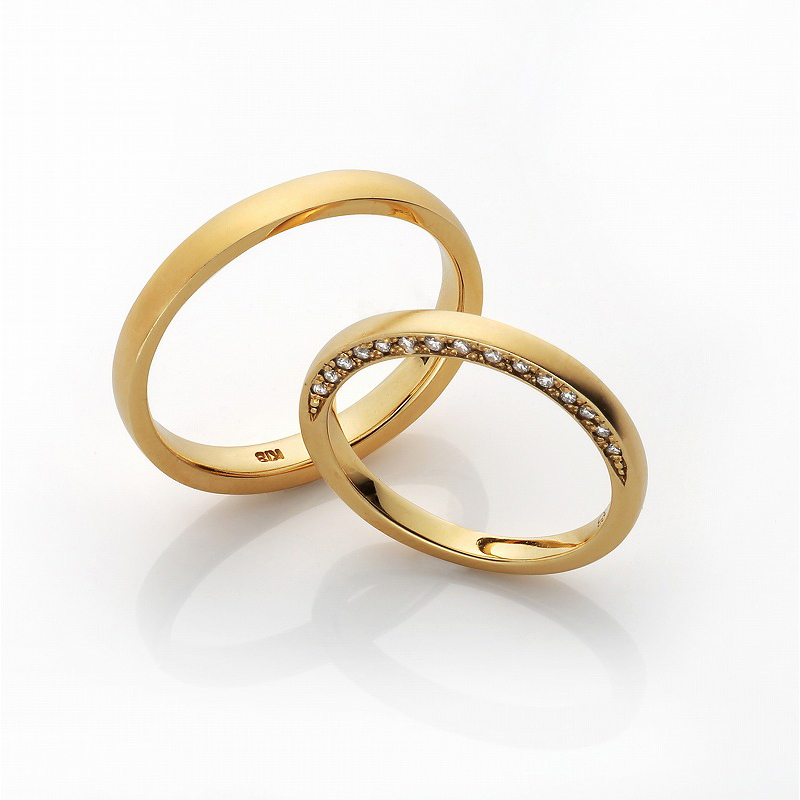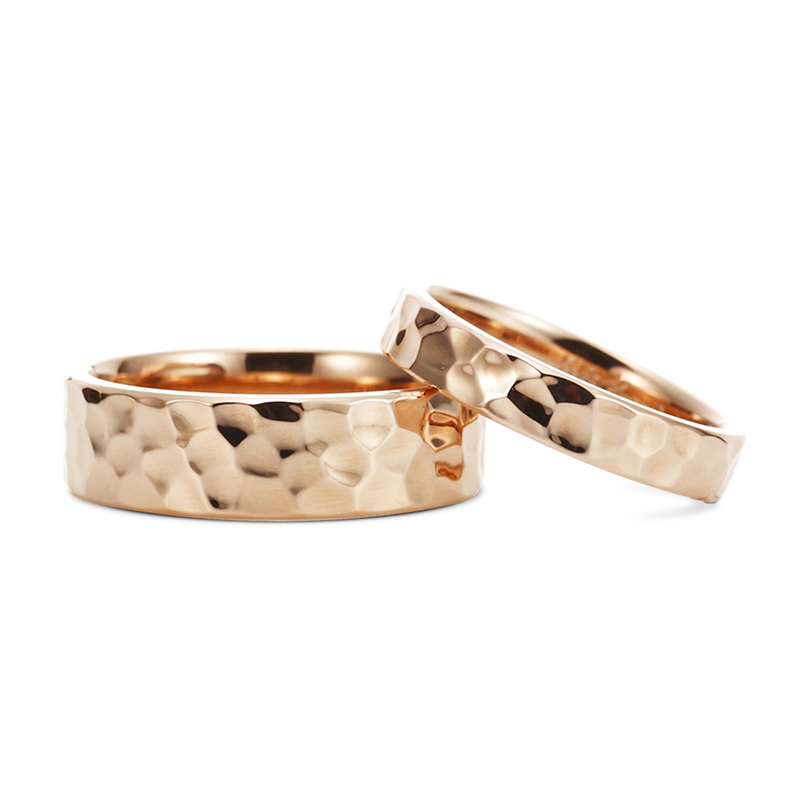 Pink Gold
Rose gold is slightly pinkish because of the large amount of copper mixed into it. The reddish color of copper gives it a pinkish hue. The most attractive thing about pink gold is its soft and warm atmosphere. It is also said to be relatively easy to blend with the skin.
Platinum
Platinum is a material with a silvery-white shine and is known for its excellent compatibility with crystal-clear diamonds. Its elegant and calm atmosphere makes it easy to wear regardless of time and place, and it has a refined luster and presence that does not diminish even when worn on older hands. Jewelry is all about glamour, but some people not accustomed to wearing jewelry may find it too flashy and difficult to wear. Platinum has an elegant texture, but depending on the design, it can also create a sharp and cool atmosphere, making it an easy material for men to get used to.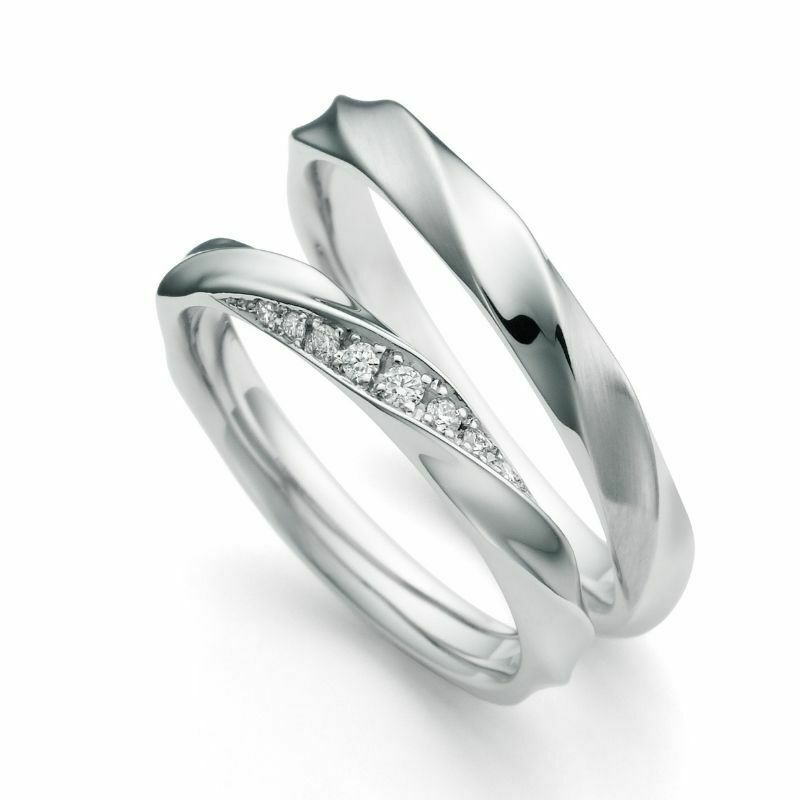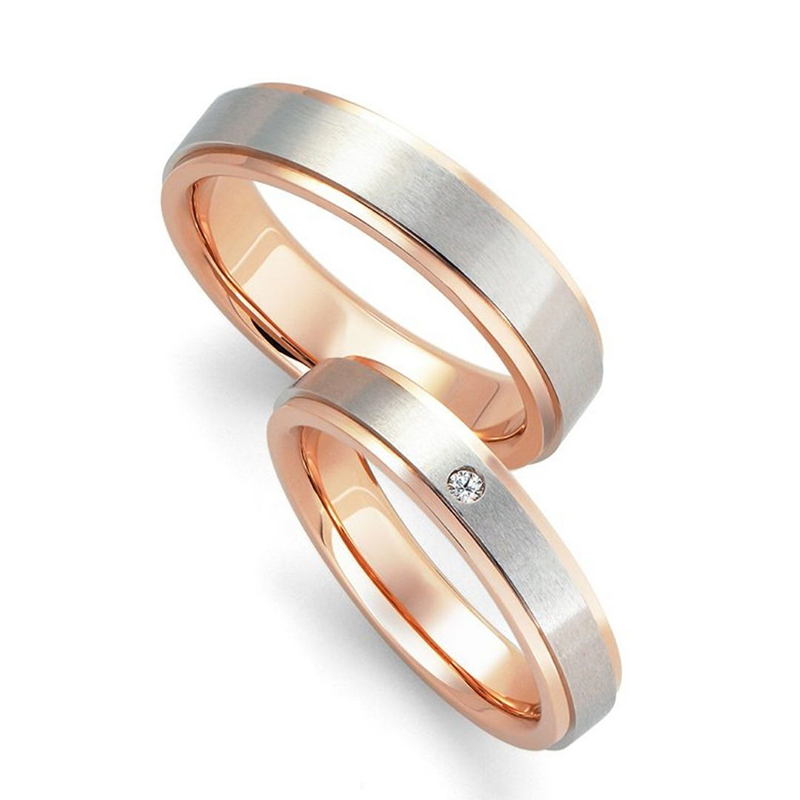 Combi / 2 Tone
Combi wedding rings are designed by combining different materials. One of the most popular features of this type of ring is the overlapping of the two-colored arms, creating a distinct contrast in color and a unique design. Many people combine white gold with either rose gold or yellow gold, making the ring fashionable enough to be worn without diamonds.
4. Select a surface finish
Even with a similar design, you can change the look of the ring not only by the material, engraving, and width of the ring, but also by applying different surface finishing. In general, there are two main types of surface finishes that can be applied to a ring: mirror finish and matte finish. The following is an introduction to the four most common types.
Mirror finish
This is a technique to create a smooth surface that reflects light like a mirror without a single scratch. This is the most commonly used surface finishing method among the different types of surface finishes. Worn with an engagement ring, it will shine more brightly and enhance the beauty of your hand.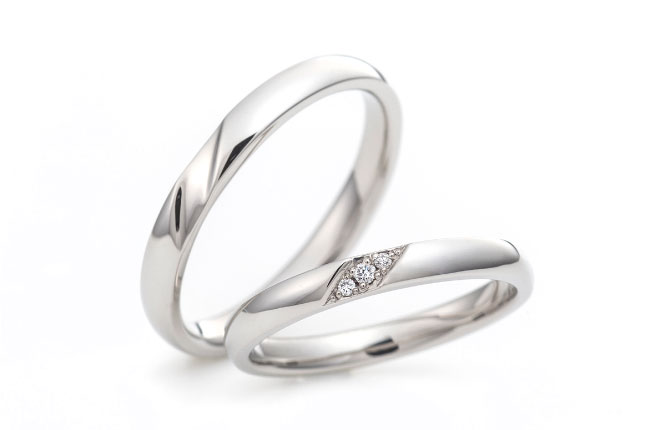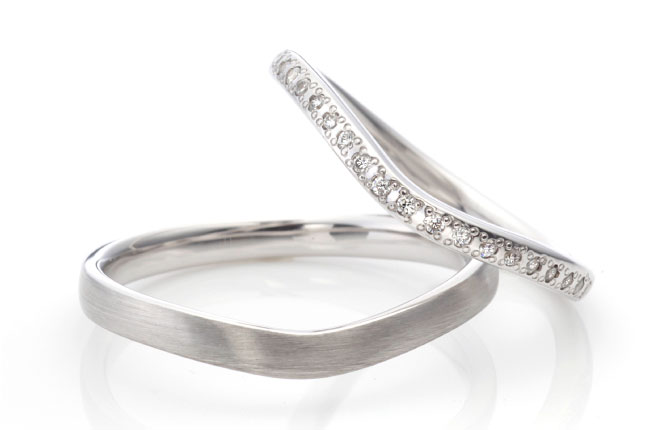 Hairline matte finish
As the name "hairline" suggests, the entire surface of the ring is covered with numerous fine hair-like lines. It is a matte, delicate, elegant and tasteful surface finishing method. It also has the merit of making scratches less noticeable.
Honing matte finish
Honing refers to a process that clouds the surface of the ring. Because there is no shine, the overall image is softer and the appearance is somewhat gentler. Depending on the design of the ring, it is possible to apply the finish to only one part of the ring, and it is also recommended to use it as an accent.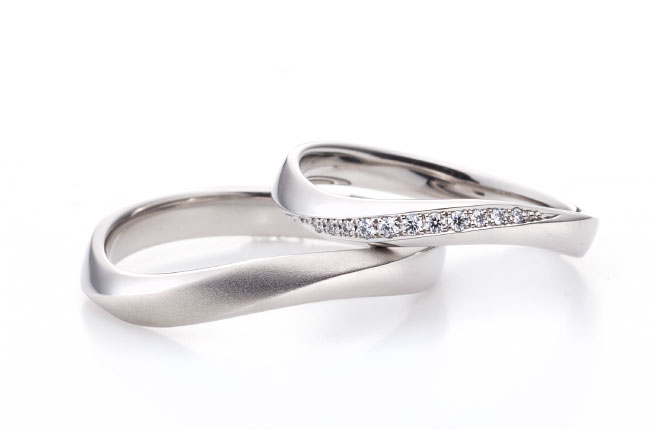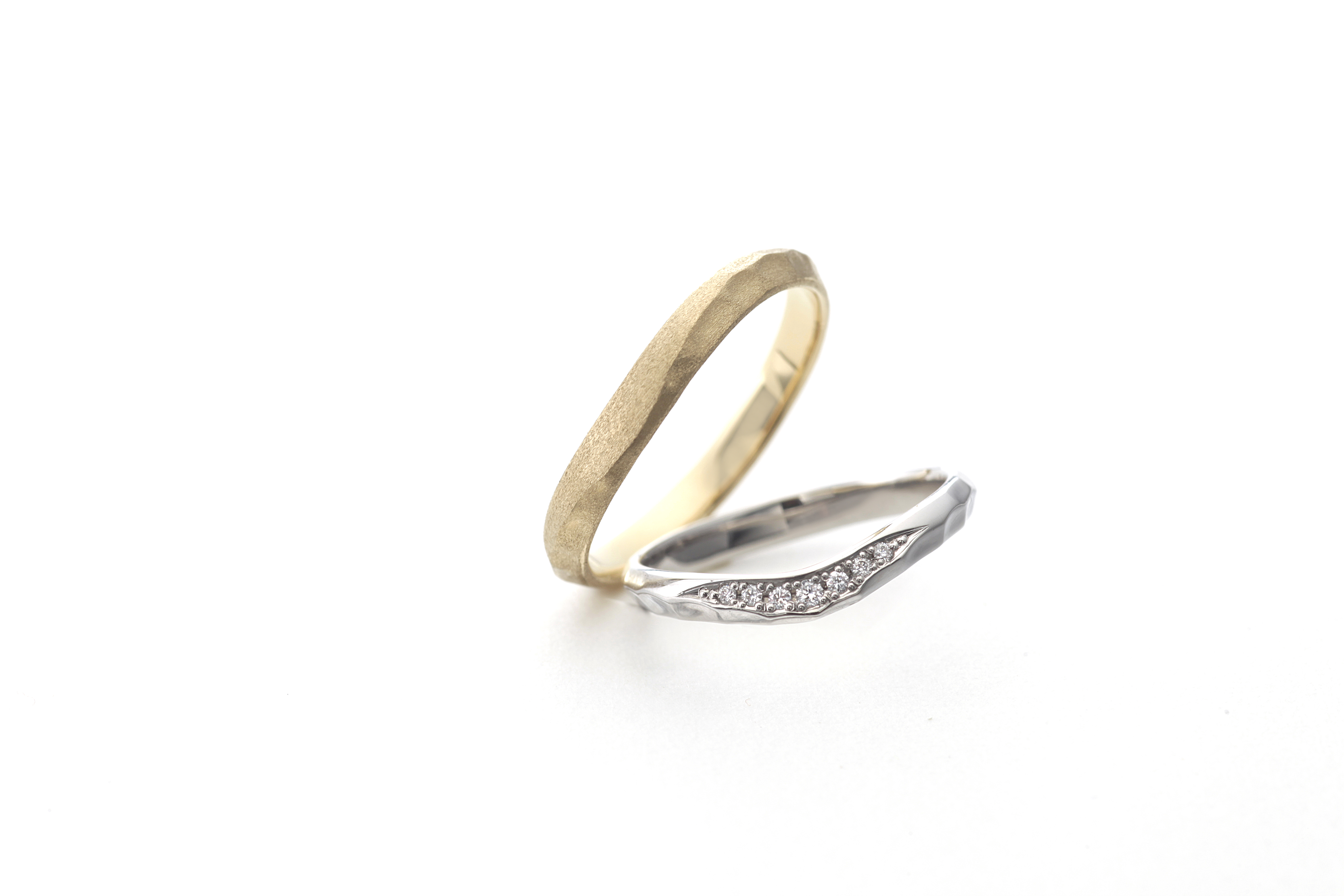 Special matte finish
This is a process in which the surface of the ring is beaten with a hammer to create a large number of surfaces. The texture is uneven and gives the ring a unique atmosphere. It is a popular finishing method among men as well, as it gives different atmospheres depending on the craftsman's force and the angle at which the hammer is struck.
5. Add a personal touch
For those who are looking for a more personalized ring for two, here are some other arrangement options. Engraving and birthstone clasps are very popular options for wedding rings, as they strengthen the bond between the couple.
Engraving
A secret message can be engraved on the inside of the ring. Engraving makes the ring one-of-a-kind and increases the sense of attachment to the ring. Whenever you see the engraving, it will remind you of each other's presence and the feelings you had when you first met. You can choose from a variety of fonts, and of course, Japanese is also available.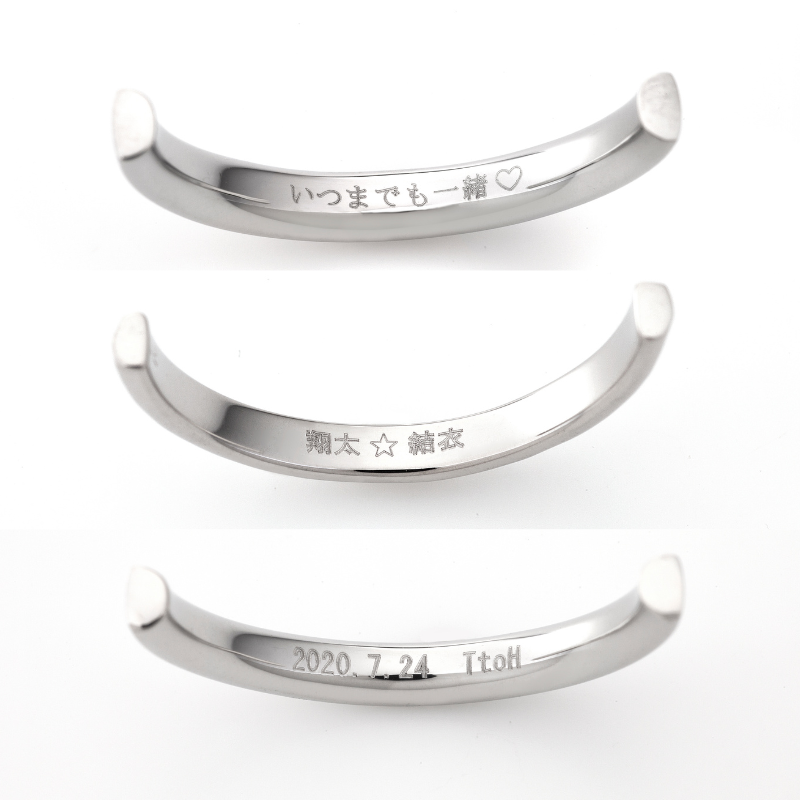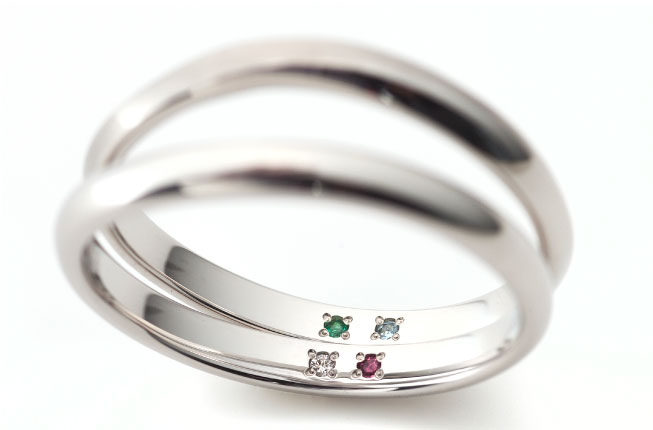 Inner Birthstone
Another option for the inside of the ring is the setting of birthstones. Each birthstone has its meaning and is said to bring positive power to the wearer. Some couples incorporate their birthstones or exchange birthstones with each other. By wearing each other's birthstones, couples can feel the bond between them.
Changing the width of the ring
By changing the width of the ring, the impression of the ring can be changed dramatically. We recommend that you try on the ring in a store first, as the width that is comfortable to wear will vary depending on the shape of your hand. As you age, your fingers may change little by little, and it may be a little difficult to choose the right ring, but our experienced staff will be happy to explain it to you in detail.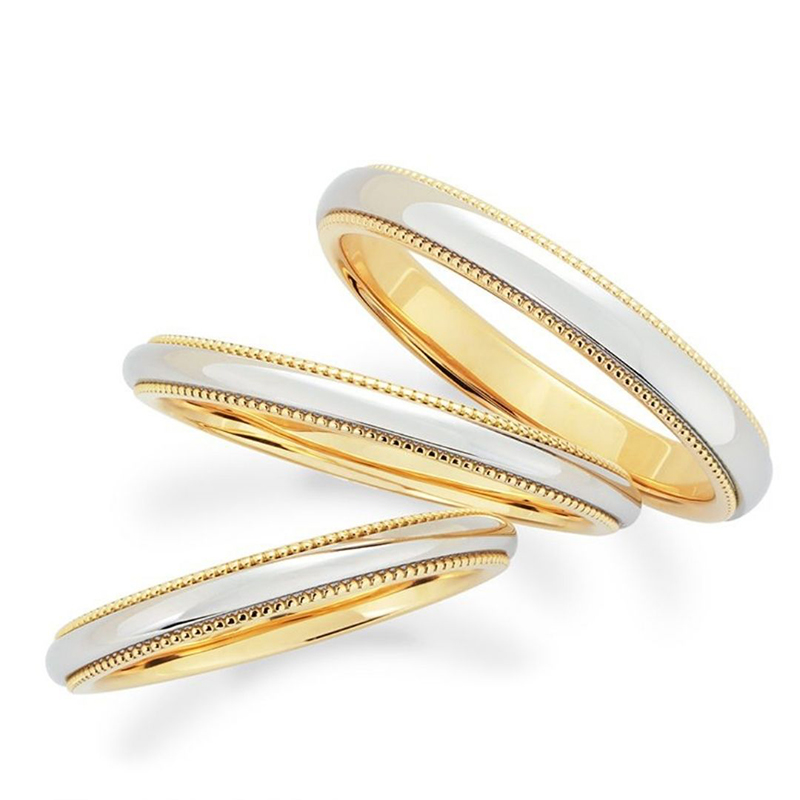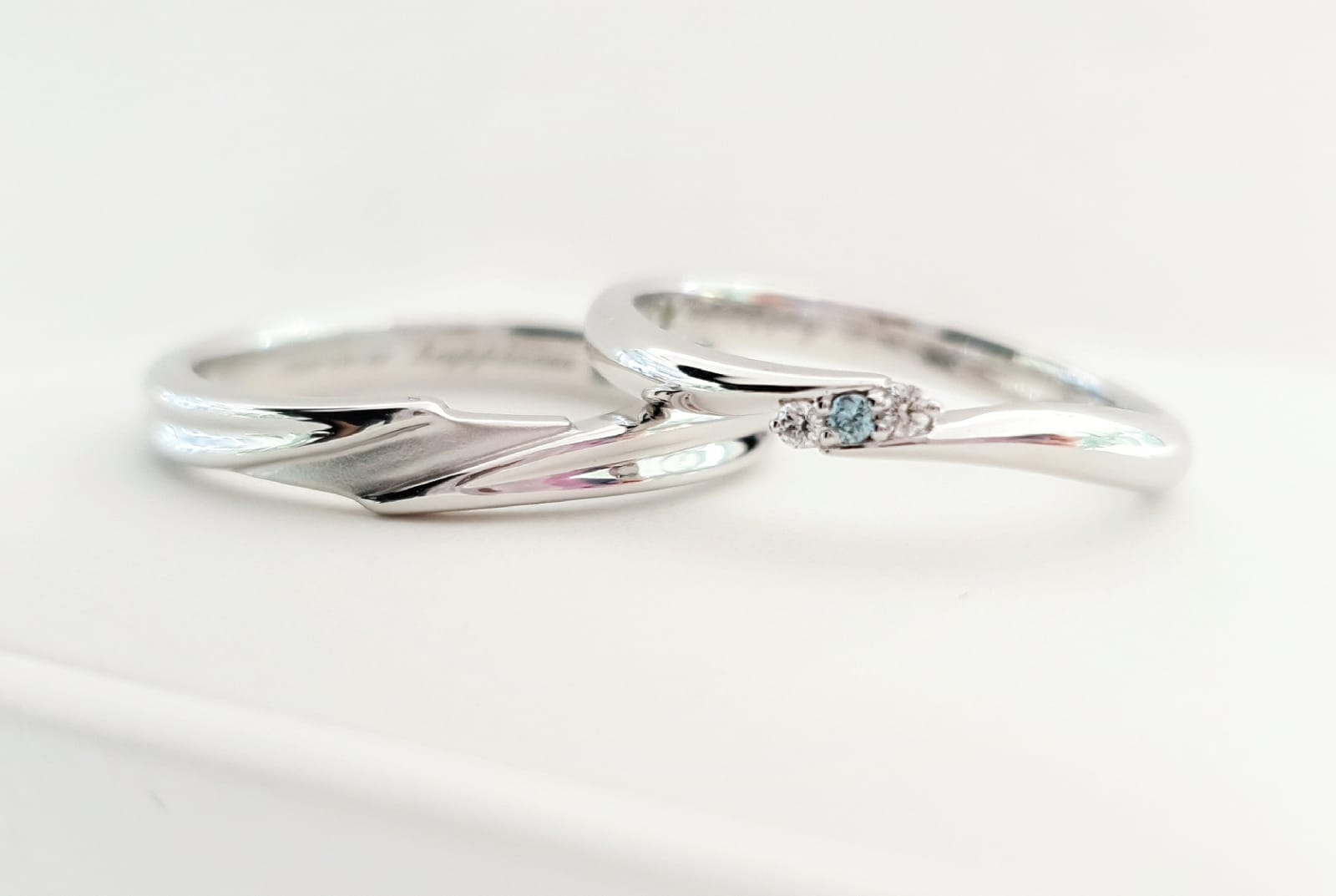 Changing the melee diamond to another gemstone 
Some ring designs have a melee diamond perched on the surface, usually a white diamond. If you want to personalize your ring and make it uniquely yours, we can change the melee diamond to another gemstone such as pink diamonds, blue diamonds, black diamonds, etc. This will be a custom ring that you will always think of each other when you look at it.
6. Custom Sample 
When a ring is made to order, it begins with a hand-drawn drawing, and every component is carefully considered, engineered, hand-selected, and cast specifically for your one-of-a-kind ring. The list of all customisation examples is provided below.
Each ring is carefully made by experienced craftsmen in our workshop in Japan. We deliver them to our customers after detailed inspections. We usually take about 2 months for delivery. If you are in a hurry, please contact us and we will do our best to accommodate you.
Q&A
How long does it take to complete the rings?

It depends on the scope of customization that you would like to do, but usually you can expect it to take around 2 months. When you place your order, we will inform you of the estimated delivery time and contact you again after it is finalized. If you are in a hurry, please contact us and we will do our best to accommodate you.

If I go to a store with no knowledge of jewelry, can I still choose a ring properly?

Many of our customer who purchased their engagement and wedding rings with us have never purchased real jewelry before. Our sales consultants, the experts in selecting bridal rings, will guide you through the process. We will support you with our wealth of knowledge, including tips on ring selection and basic knowledge of diamonds, so that you can enjoy your ring for many years to come.

I want a custom-made ring within a limited budget.

If you have a specific budget in mind, please let us know when you visit our store. We will do our best to guide you to a ring that meets your wishes, while listening to your other requests, such as design, in detail.

What size rings can you make?

Our standard ring sizes range from size 5 to size 20 in Japan. However, since the rings are custom-made, there is no need to worry about the size. We will measure your size when you visit our store and make a ring that fits your finger perfectly.

I don't usually wear jewelry, so I am worried about the comfort of wearing it.

We have over 200 sample rings on hand for you to try on. We have samples to meet a variety of requests, whether you are more concerned with design or comfort. For those who prefer comfort, we recommend our Comfort Fit Ring, which is slightly rounded on the inside.

I am looking for a ring with pink diamonds.

Many customers look for pink diamonds because they are very rare, and their stone language is "perfect love," symbolizing eternal love, making them the perfect choice for engagement rings and wedding rings. The Pink Diamond Ring is one of our bespoke ring collections. We have a wide range of designs to be introduced.

Can you make a design that is not available in the store?

If you are unable to find the product you are looking for in our store, don't worry. We accept requests for fully custom-made rings. If you have an image of the design you would like, it would be easier if you can share it with us in a photo or other format. From there, we will confirm the creation process with our Japanese craftsmen and provide you with an estimate and approximate delivery date.