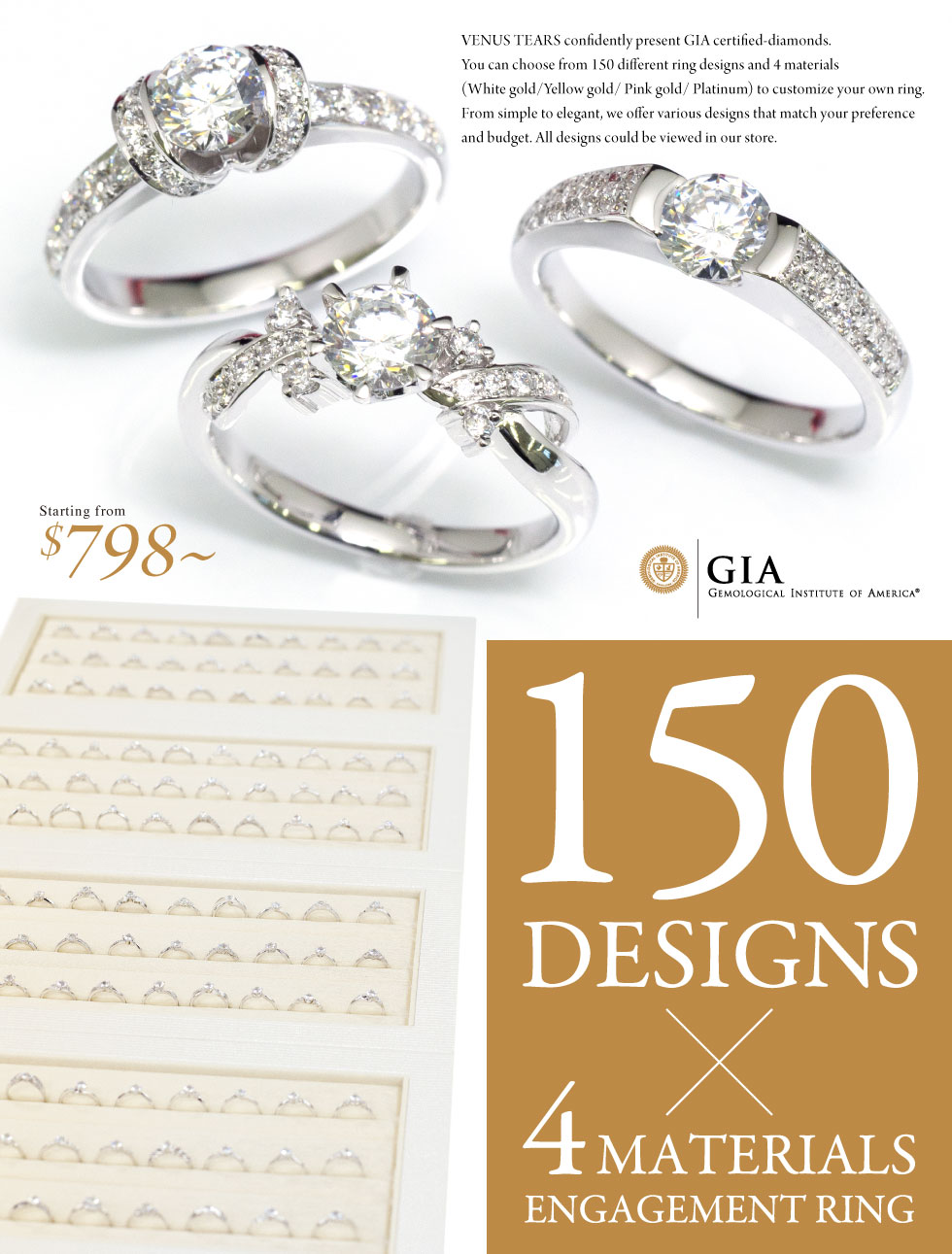 VENUS TEARS offers a wide variety of designs. Our customers can choose from their ideal diamond, materials, etc
according to their preference, so you can customize "An Ideal Ring, only for the special you.".


There are more than 300 designs that we offer. You can choose from the material, such as platinum and K18 Yellow Gold, Rose and White Gold etc. Let us be part of your engagement ring selection journey, offering you style and contemporary designs that are exclusive customized by you. We promise, it will be the most Joyous time in the engagement ring selection process.

Carat Size, clarity, brilliance, and your budget etc, there are many details when you choose diamonds. VENUS TEARS offers a wide range of diamonds from 0.2ct to 5.0ct. You will have a lot of choices to choose from. Our friendly staff will assist you in choosing your most ideal diamond to go along with your setting.

Our well-skilled craftsman in Japan will make your precious ring with sincerity. Around 1month's duration, you will receive your ring, along with it's diamond certification. Also you can choose an ideal ring box to go along with the ring.
Then "An Ideal Ring, only for the special you." is complete.

There are some customers who ordered their engagement rings at VENUS TEARS.

〈Ring〉
K18WG  $799

〈Diamond〉
0.30ct / F / VVS2 / 3EX H&C $1099

$1898 10%OFF  $1709

〈Ring〉
PT900  $1199

〈Diamond〉
0.33ct / D / VS1 / 3EX H&C  $2999

$4198 10%OFF  $3778

〈Ring〉
K18WG $1749

〈Diamond〉
0.31ct / D / IF / 3EX H&C $4699

$6448  10%OFF $5800