VENUS TEARS is proud to present Singapore's first and only Disney Bridal Collection! Relive your favourite memories and live happily ever after with your favourite Disney Princess and characters. Featuring collection such as the iconic princess, Cinderella, Belle from Beauty and the Beast and Rapunzel from Tangled! Not to mention the very beginning of Walt Disney, Steamboat Willie and Disney Fantasia. With exclusive motifs and special symbolization taken from the film itself, each ring carry so many hidden Disney surprises that you will be drawn into fascinating and imaginative world of Walt Disney Animation Studios. Walt Disney once said, "Laughter is timeless. Imagination has no age. And dreams are forever." We wish for everyone to embody the spirit of Walt Disney, to believe in your dreams and live happily ever after with your Prince Charming/Princess.
Cinderella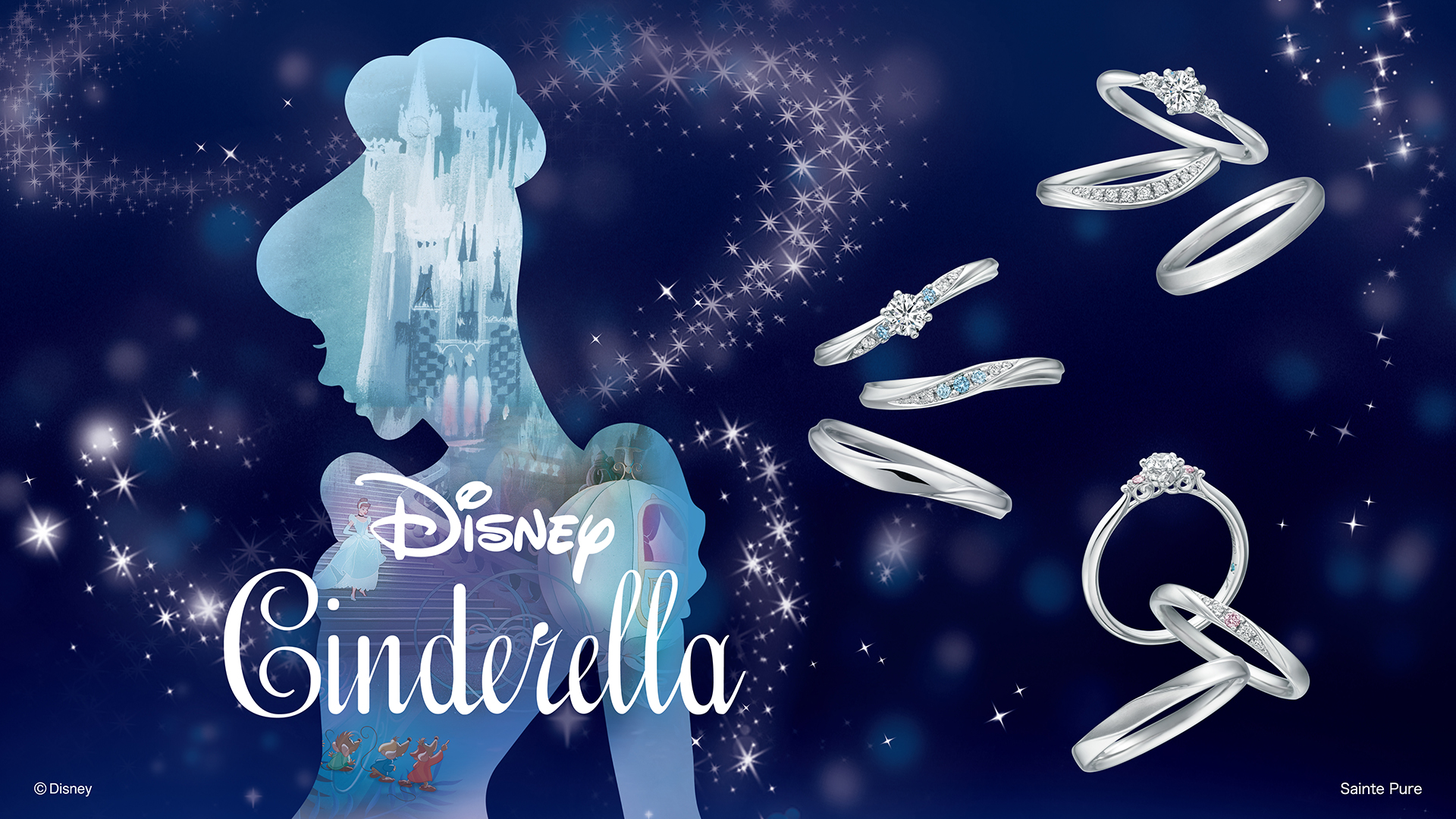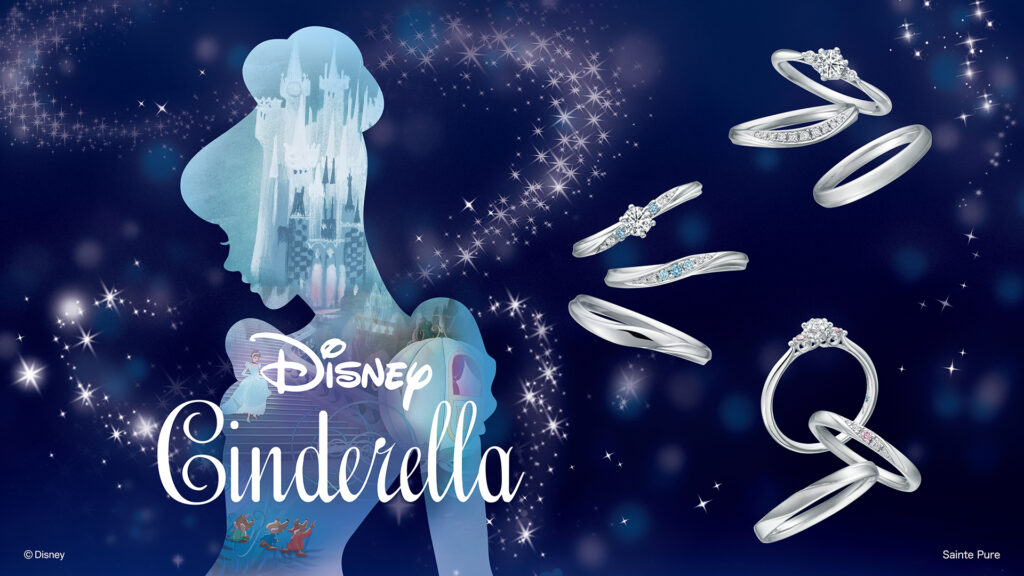 Cinderella is an animated film produced by Walt Disney Productions released on February 15, 1950. The film is based on the fairy tale 'Cendrillon' by Charles Perrault. In the 21st century, Cinderella II (2002): Dreams Come True was the first direct-to-video sequel to Cinderella, followed by Cinderella III: A Twist in Time in 2007. Cinderella stays true to herself no matter how hard it was. She made her dreams come true because she keeps on believing in herself. 'Blue Topaz' that said to have the magical powers to make dreams come true by leading people to never give up, is as pure and clear as Cinderella's heart. Cinderella was always kind to animals. Like Cinderella, this stone is said to bring a feeling of benevolence and increase one's charm. The 'Disney Cinderella 2022 Bridal Collection' features the beautiful and gentle Cinderella-like gem 'Blue Topaz' inside the ring. The limited-edition rings will be available for sale for one year from 01.10.2021 to 30.09.2022 in a limited edition of 1159 (pairs/pieces), to mark the dreamy hour of 11:59 before the spell is broken.
Tangled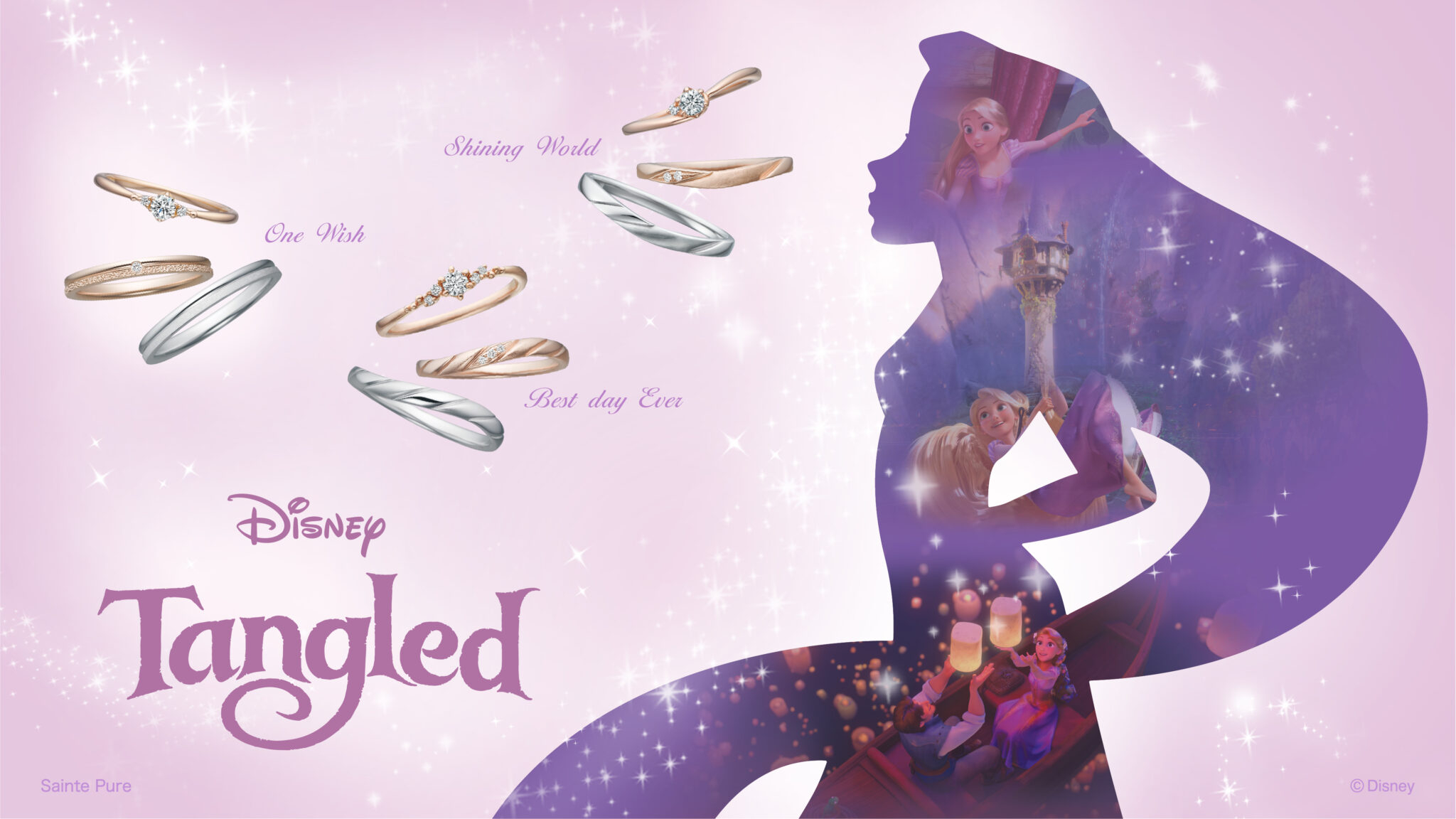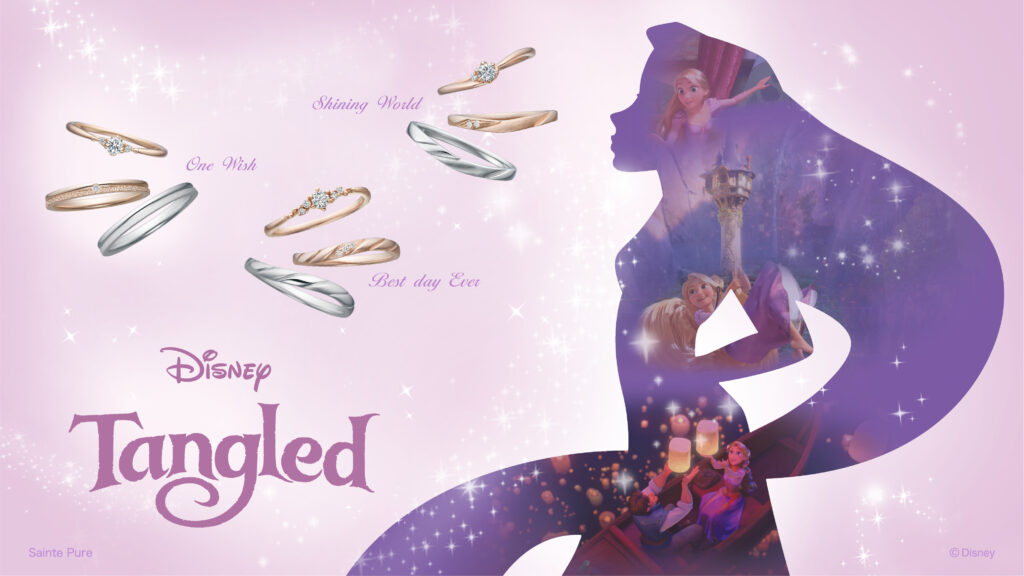 Disney's animated feature film 'Tangled' – The Tale of Rapunzel's Tower A collection of bridal rings for couples who are about to embark on a new page of life together. May two of you as Rapunzel will always have the determination and positivity that lead to happiness. Tangled is the 50th Disney animated feature film. 'Tangled' means tangled or entangled thread, hair, etc. in English. 'Tangled' refers to Rapunzel's magical blonde hair, which plays an important role in the story. When the film was released in Japan, it was given the Japanese title 'Rapunzel in the Tower'. The Rapunzel collection offers a wide range of textures to match the world of Rapunzel, inspired by her character, passions, and sceneries. The texture of the design gives it a touch of character that is simple yet distinctive.
Beauty & the Beast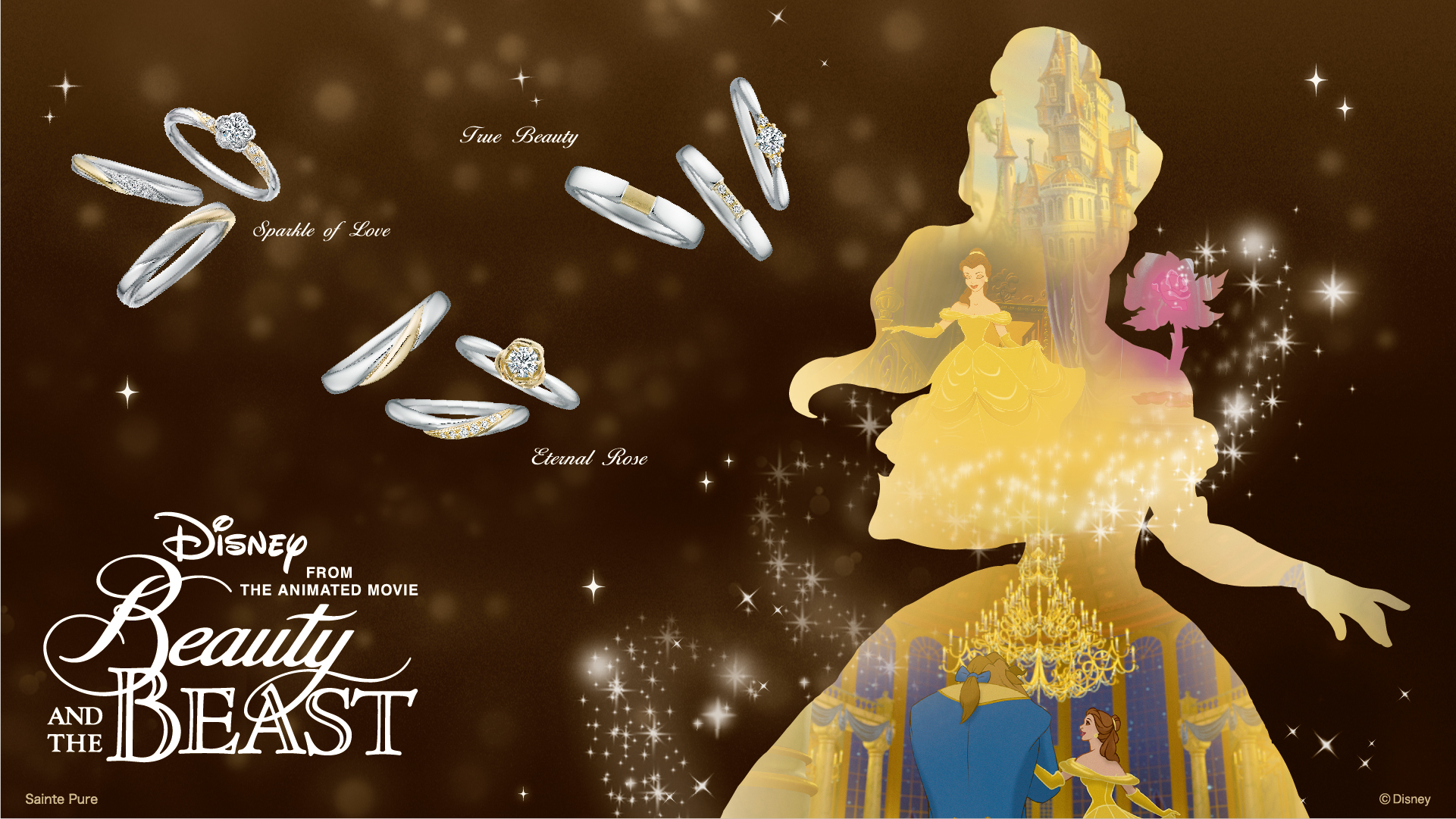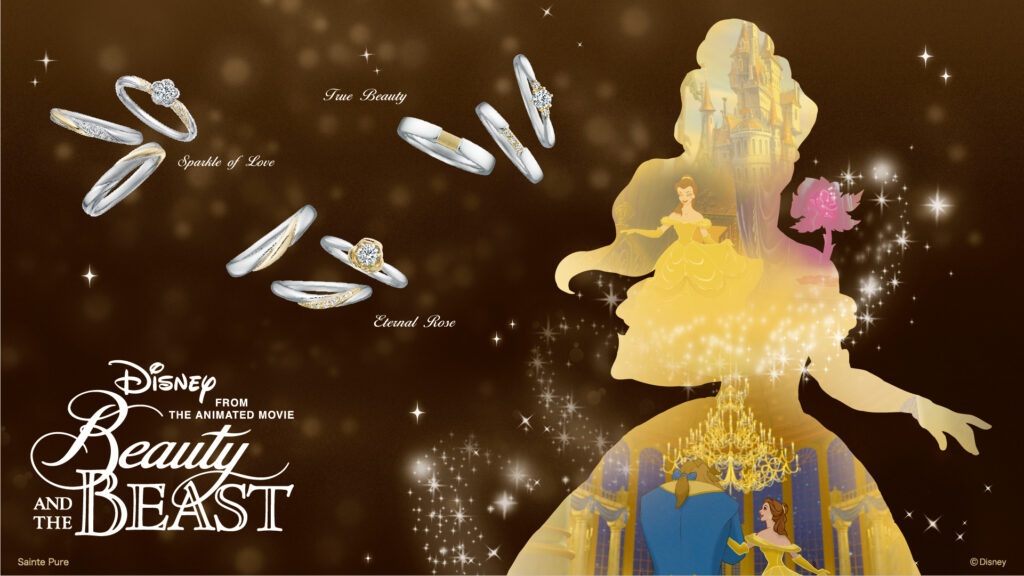 Disney's animation movie 'Beauty and the Beast' is a classic legendary story of True Love. The 5th season of the bridal collection presents the most romantic stories that have always captivated the sweethearts of all times. The design is to feature 999 roses, which mean 'I'll love you again and again'. This bridal collection is exclusive for one-year and is only available in a limited-edition of 999 (pairs/pieces) of engagement rings and wedding bands. The live-action film of the classic animated, Beauty and the Beast was the most popular film of 2017. Emma Watson, best known for her role as Hermione in Harry Potter, plays Belle, while Dan Stevens, the British actor who first came to prominence in the TV series Downton Abbey, plays the Beast. Belle who always staying true to herself, and the Beast, who has lost sight of his true self. The heart-to-heart exchange between Belle and the Beast delivered an inspirational message of hope and encouragement, 'Believe in your own irreplaceable brilliance'.
Steamboat Willie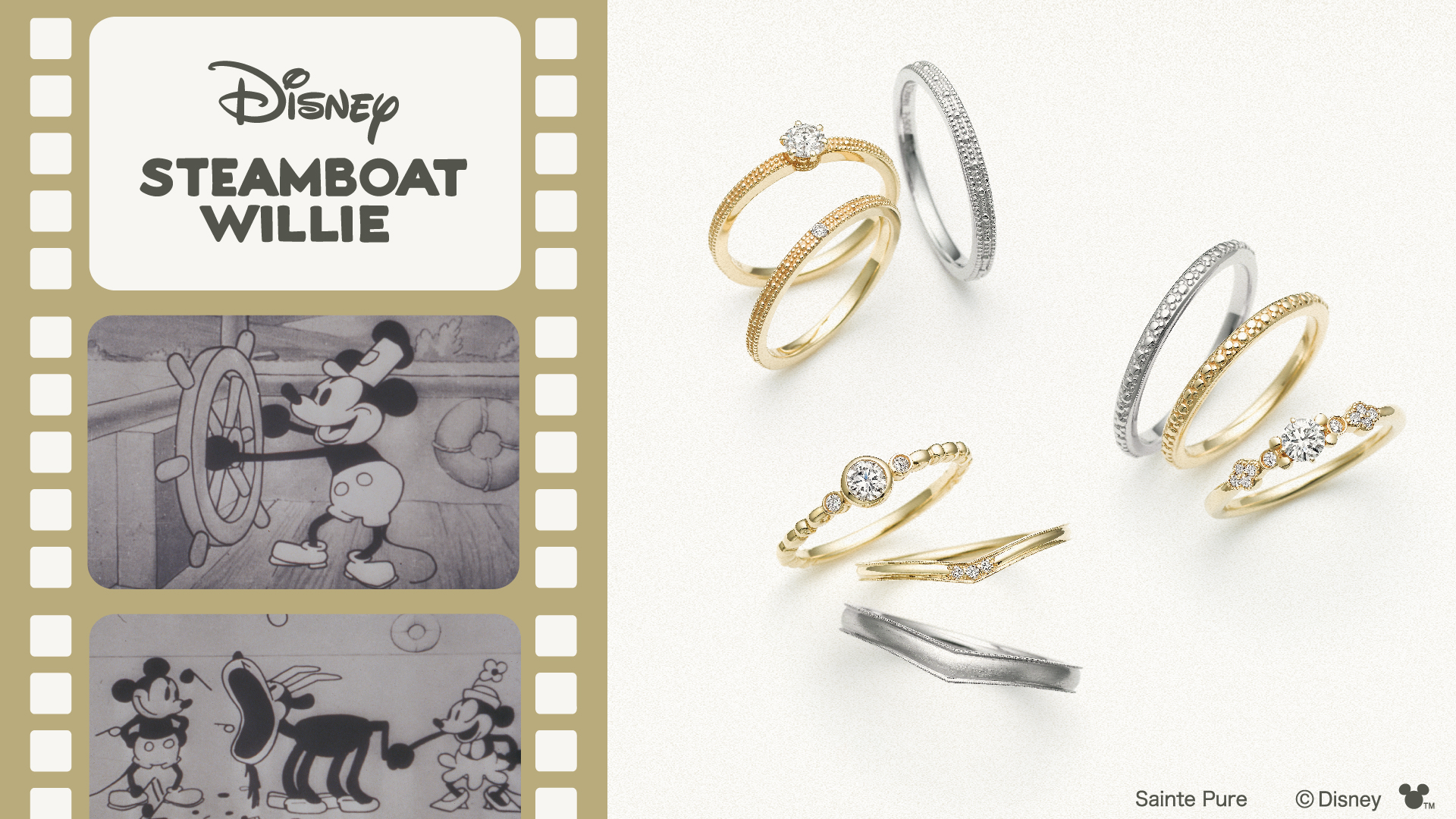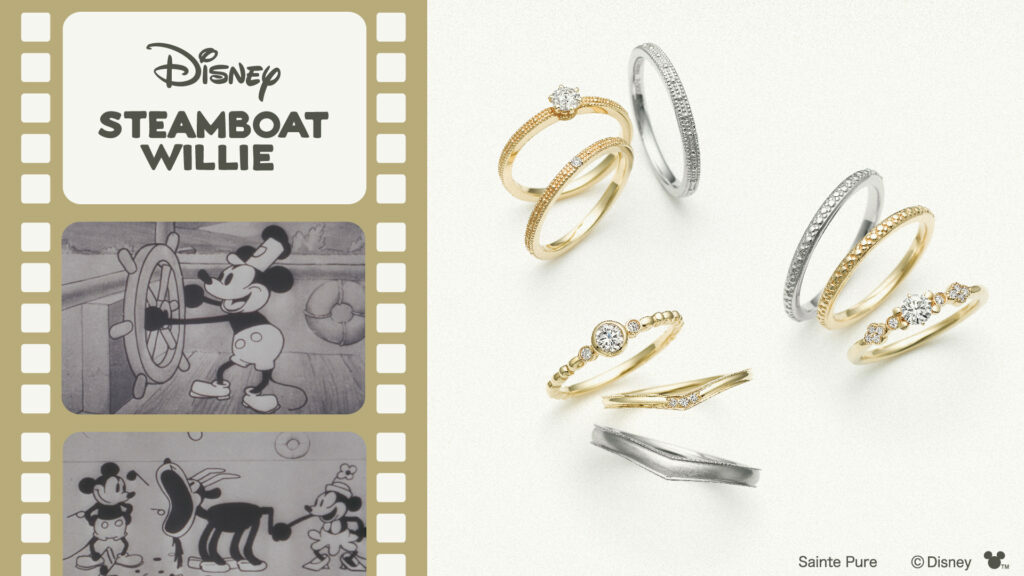 Launched in 1928, Disney's Steamboat Willie is a landmark in the history of animation. It is the first film starring Mickey Mouse to be released with synchronized sound, it threw silent animation into obsolescence and launched an empire. Set on the Steamboat Willie, which is sailing up and down the river, Mickey Mouse performs to the rhythmical tunes of the Oklahoma Mixer. Using a frying pan, a washboard and a tub, Mickey Mouse plays with a sense of humour. With the catchphrase 'Our hearts, our feelings', the Disney Bridal Collection from Sainte Pure 'nocur' expresses the joyful and carefree world of Disney's creations with the vows of happy couples. Mickey Mouse & Minnie Mouse, the most famous couple in the world, have always been the symbol of happy lovers with their adorable smiles and have captivated the world. Mickey Mouse & Minnie Mouse's design is playful and cute, eye-catching yet somewhat classical look. With a bright smile, a sense of humour and courage for the couple who are about to start their new life together…
Fantasia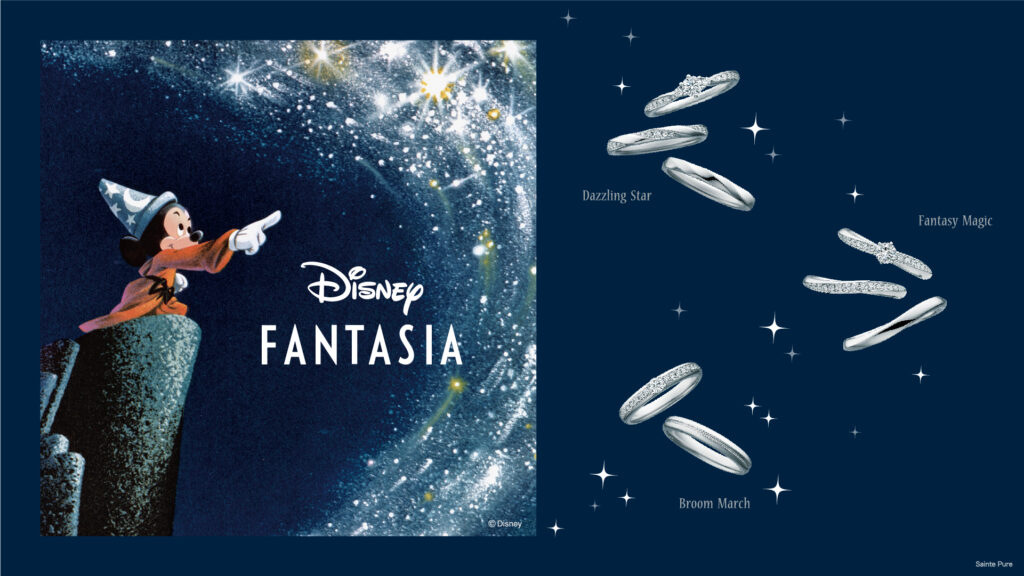 Disney's animated film Fantasia, first released in the United States in 1940, is a magical and dreamlike story of Mickey as a wizard's apprentice. It's one of Disney's most beloved films over 70 years with its vivid and magical world of music. Mickey gets a blue magic hat. He is a confident and daring boy who dreams of a miracle. The 'Something Blue' spell for happiness is embodied in the blue sapphires of this beautiful and fantastical bridal collection.
Look forward to the exclusive gifts that comes with your Disney rings! From a stunning music box that double up as a ring case from Cinderella to an Everlasting Rose Glass Dome from Beauty & the Beast Collection. These exclusive gifts symbolise the happily ever after that you will have as you take the next step into married life!
Check out our website : https://venus-tears.sg/reserve
Staff Blog : https://venus-tears.sg/blog/
Follow us on Facebook : https://www.facebook.com/VenusTears.jp/
Follow us on Instagram : https://instagram.com/venustears/
Any Inquiry do drop us a message by WhatsApp: 8553 8363, We shall assist you further. VENUS TEARS Facebook page and Instagram are available!
All VENUS TEARS bridal concept stores are located at Bugis Junction , Wisma Atria, Tampines 1 and Jem. Just a walking distance of about 5min walk from Orchard MRT, Jurong East MRT, Bugis MRT and Tampines MRT.