Wide Variety Of Platinum Rings
Platinum is widely used as a material for jewelry such as engagement rings and wedding rings. At Venus Tears, we also offer a wide variety of platinum ring option. Platinum attracts many people with its delicate brilliance and beauty, but for what reason is it used for engagement rings? Here, we will explain why platinum is often used for engagement rings and the appeal of platinum engagement rings.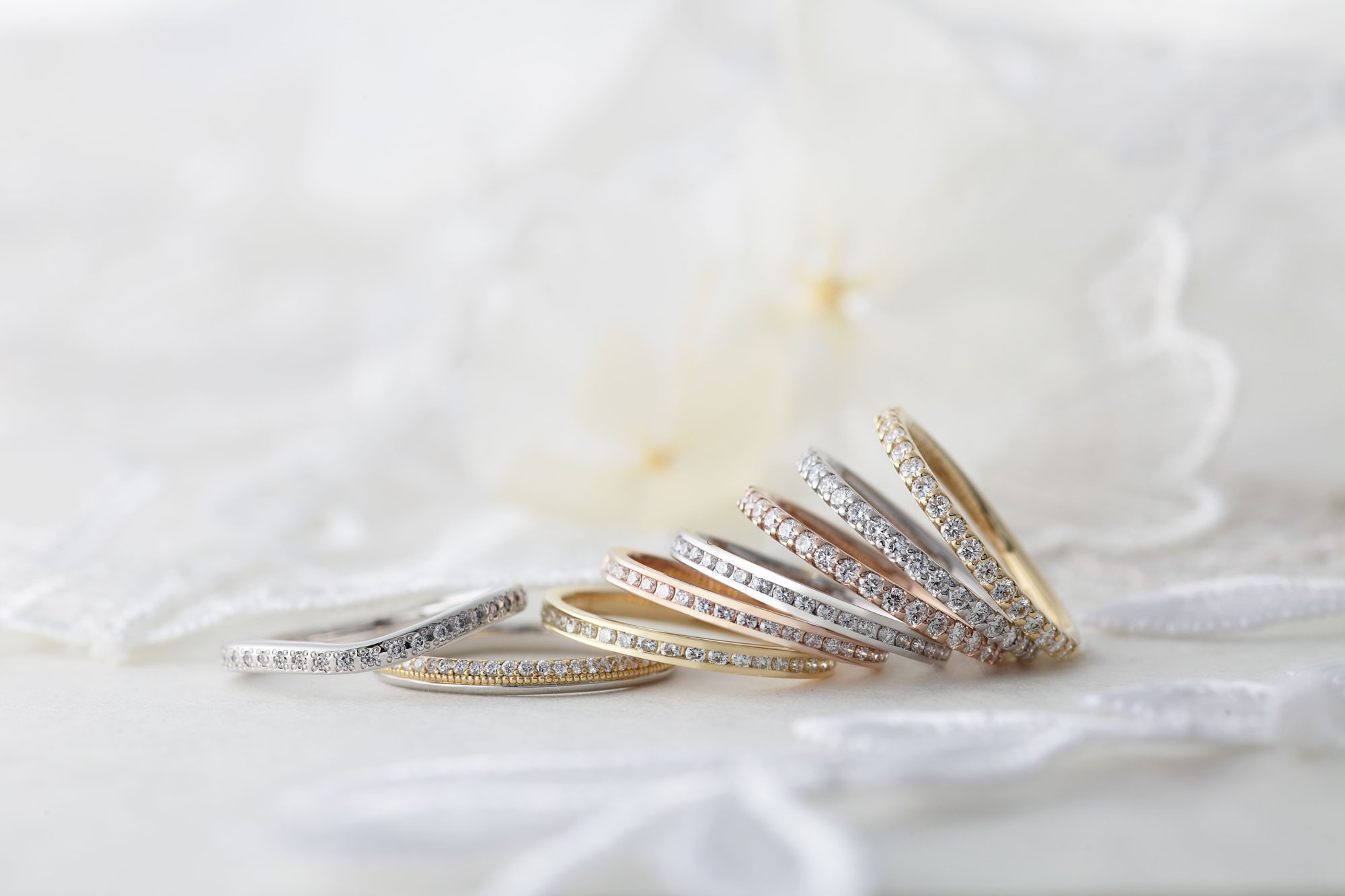 The Difference between White Gold and Platinum
Platinum is a different metal from white gold, although some people get confused. White gold, as the name implies, is a processed form of gold, in which gold is mixed with a white metal and then rhodium-plated to make it shine white. Therefore, as the plating peels off during use, the base metal comes out and reveals a yellowish color. In some cases, platinum is rhodium-plated to increase its brilliance and to make it more scratch-resistant, but platinum itself has a white brilliance that does not tarnish when the plating is peeled off. 18-karat white gold is 75% pure gold, while platinum, which is commonly used, is around 85% pure. However, in Venus Tears, most of our platinum rings are over 90% pure or higher.
Deterioration/Discoloration Resistant
Platinum has excellent durability and is resistant to wear, and there is hardly any change, such as discoloration over time. Even if you wear it daily, you don't have to worry about deterioration or discoloration due to sweat, chlorine, sulphur, or bleach. High-purity platinum keeps a beautiful shine that never fades, so it can be said to be the best metal as an eternal promised ring.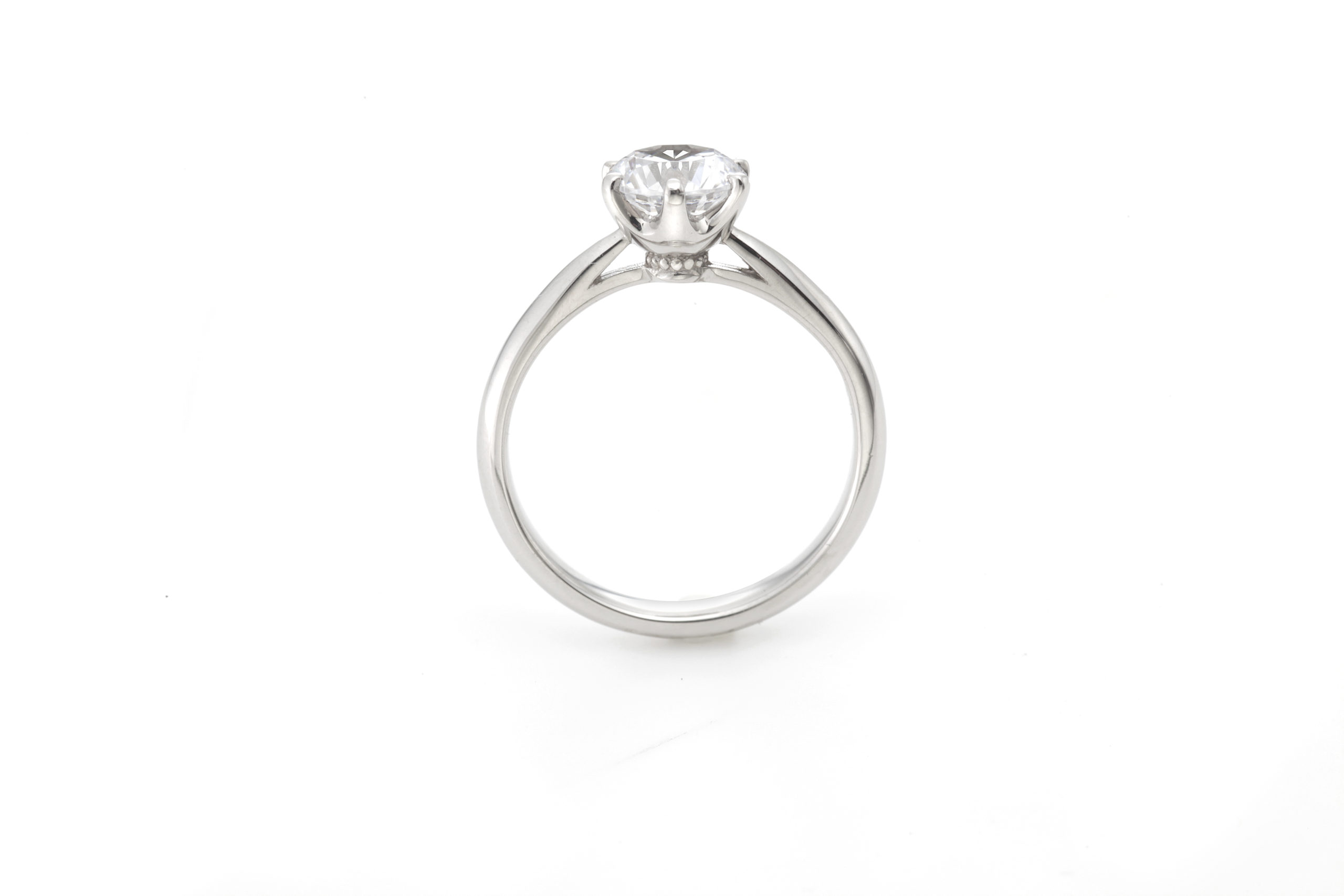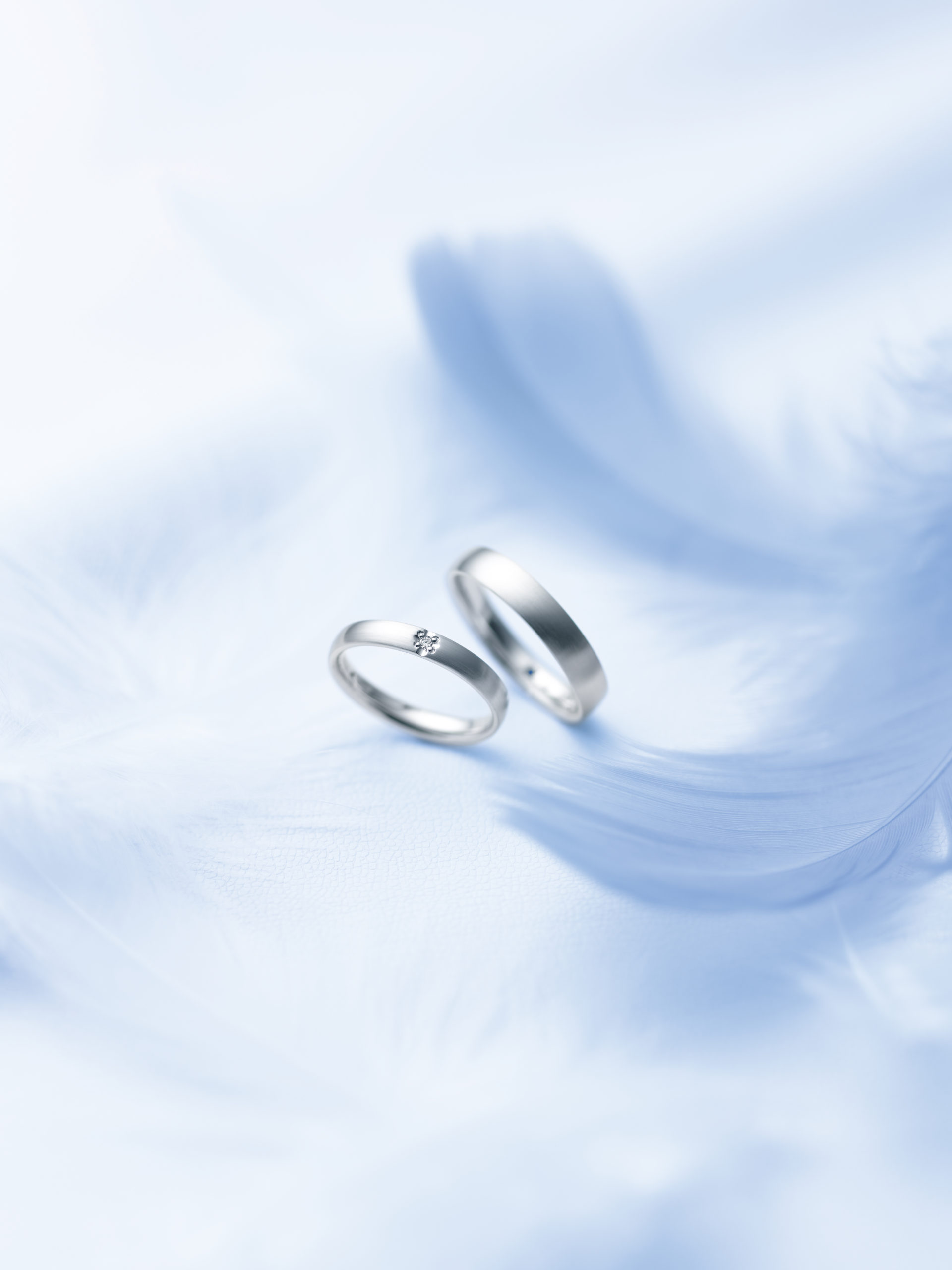 Pure Material Suitable For Wedding Rings
For platinum to be accepted as jewellery in Japan, it must be at least 85% pure; anything less than that is not considered a platinum product. The majority of platinum used in standard bridal jewelry is 90% or more. It has a lower percentage of other metals compared to K18 Gold and is therefore known to be hypoallergenic.

※It is not guaranteed to be completely non-irritating.
Design Flexibility
Because platinum is a flexible and easy to work with material, there is a wide variety of engagement ring and wedding band designs to choose from. In addition to the wide variety of designs, the white hue of platinum also enhances the glamorous sparkle of the diamond.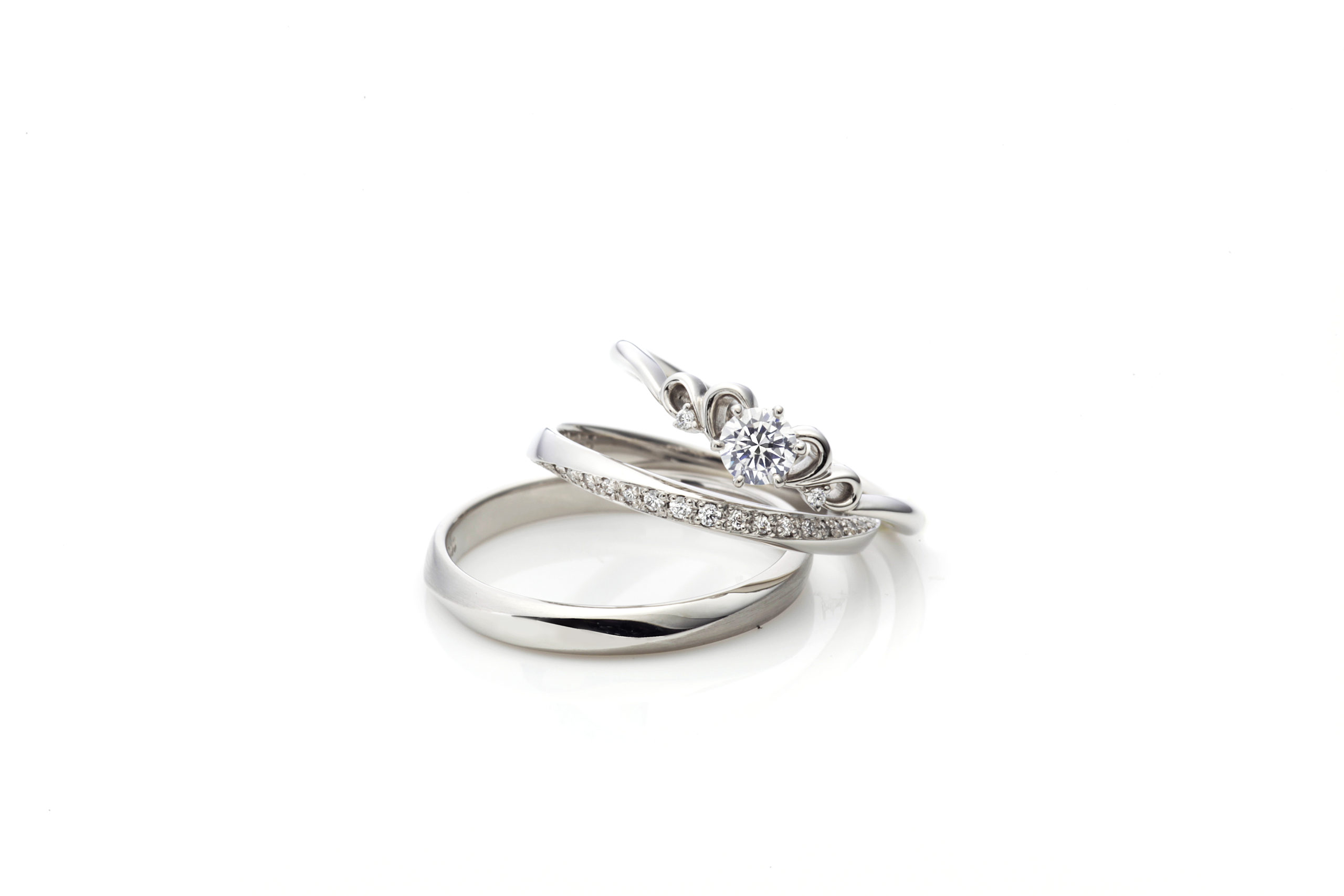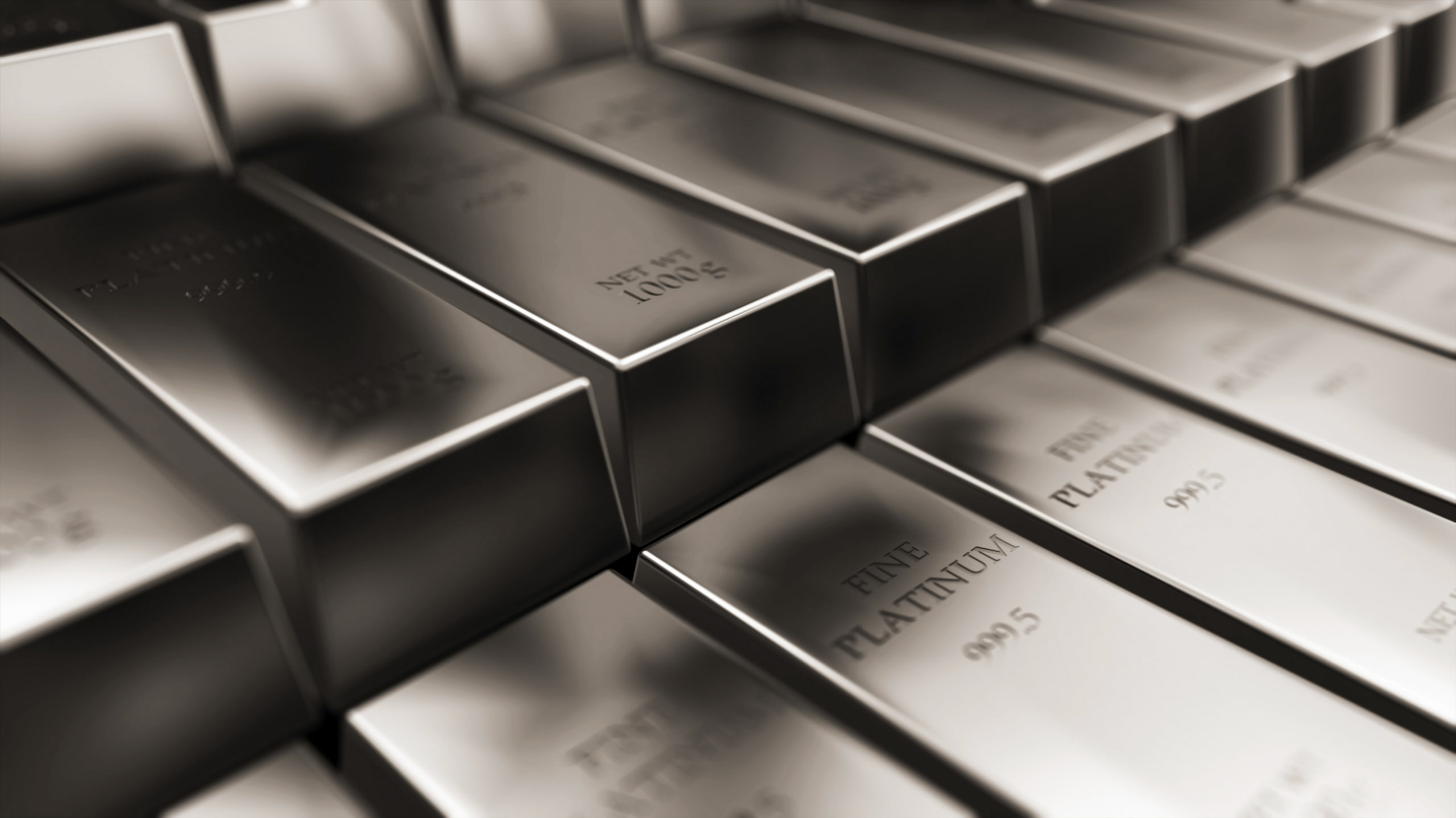 Valuable Material With Low Output
The birth of platinum was brought about by meteorites that came to the earth long ago. It is a scarce precious metal because it can only be mined in a small number of production areas, and the amount of mining is smaller than that of precious metals such as gold. Only about 3g of ore can be mined from a ton of ore, a precious metal that weighs just about one wedding band.
Colour That Blends Well With Skin 
Compared to gold, platinum jewelry is a bit more subdued in its brilliance and can be described as a rustic beauty. The Japanese tend to prefer a slightly more subdued shine and it is the material of choice for engagement ring and wedding bands. It can also be enhanced by adding diamonds and other gemstones to make it shine even brighter.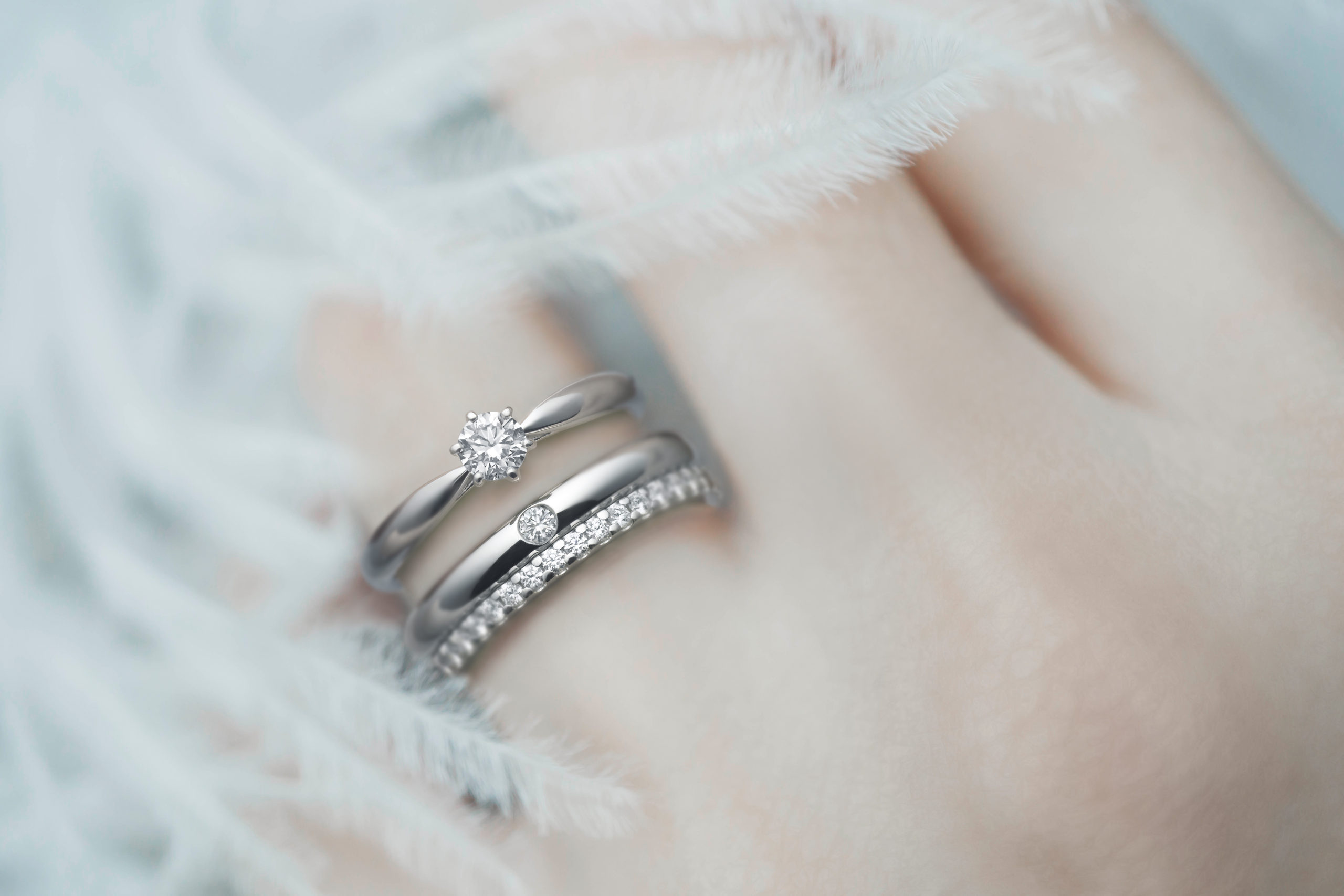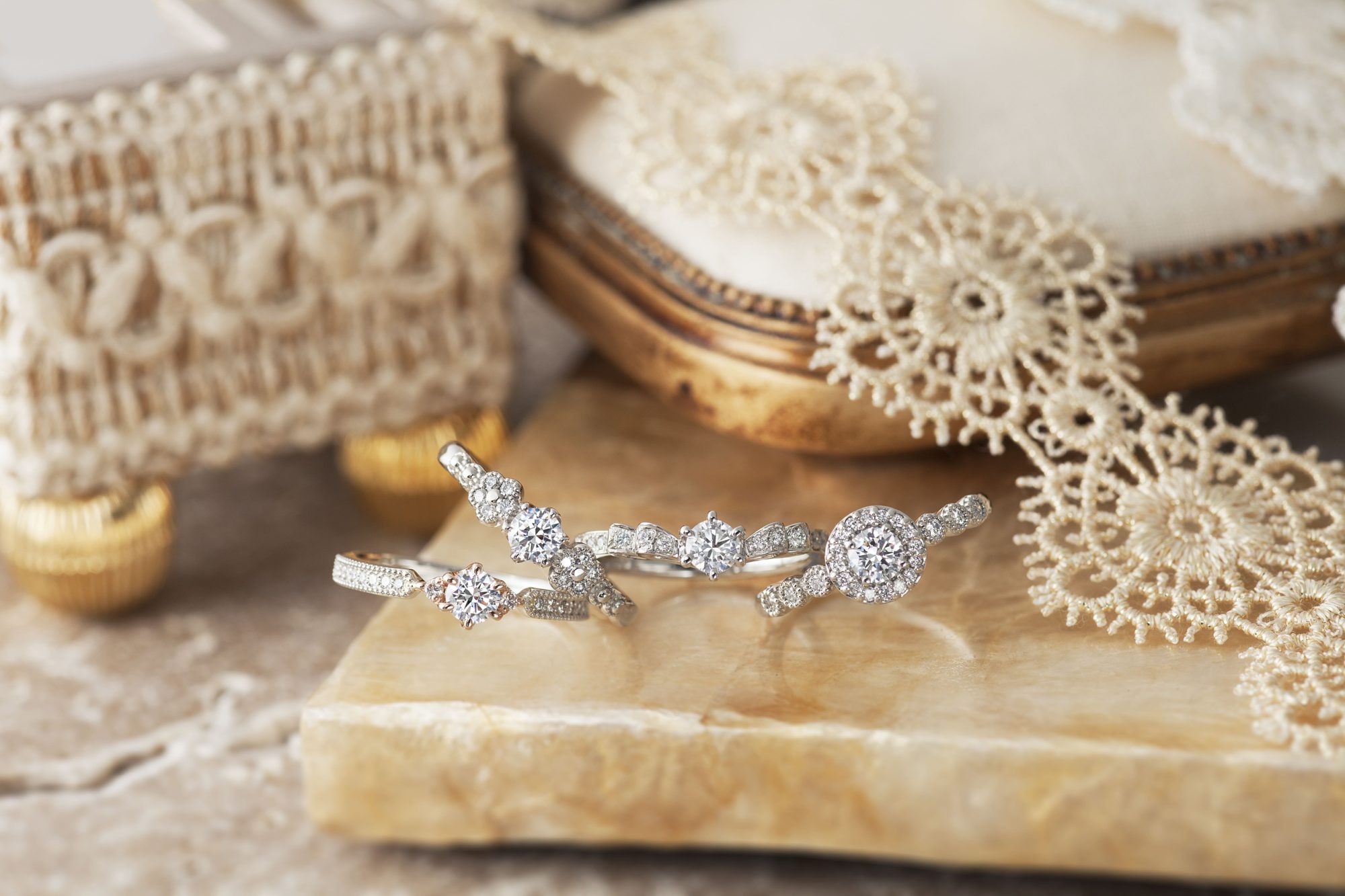 Immerse Yourself in the Sense of Luxurious
As a reward gift for the hard work you put in every day, to mark a milestone in your life, or to change your mind and move forward, buying yourself a piece of jewelry can help you move upward. Rings, in particular, are jewelry that can motivate you because they are easily visible. You deserve an exquisite fine jewelry after all your hard work! Find a high-quality platinum ring that you can use for a long time without
We've got you covered!
Platinum is considered low maintenance, but to keep your platinum ring stunning, it is recommended to clean it regularly. Our goal is for you to wear your ring for years to come and enjoy the beautiful shine of platinum for a lifetime. Therefore, we offer free after-sales service for the lifetime of the ring you purchase from our store.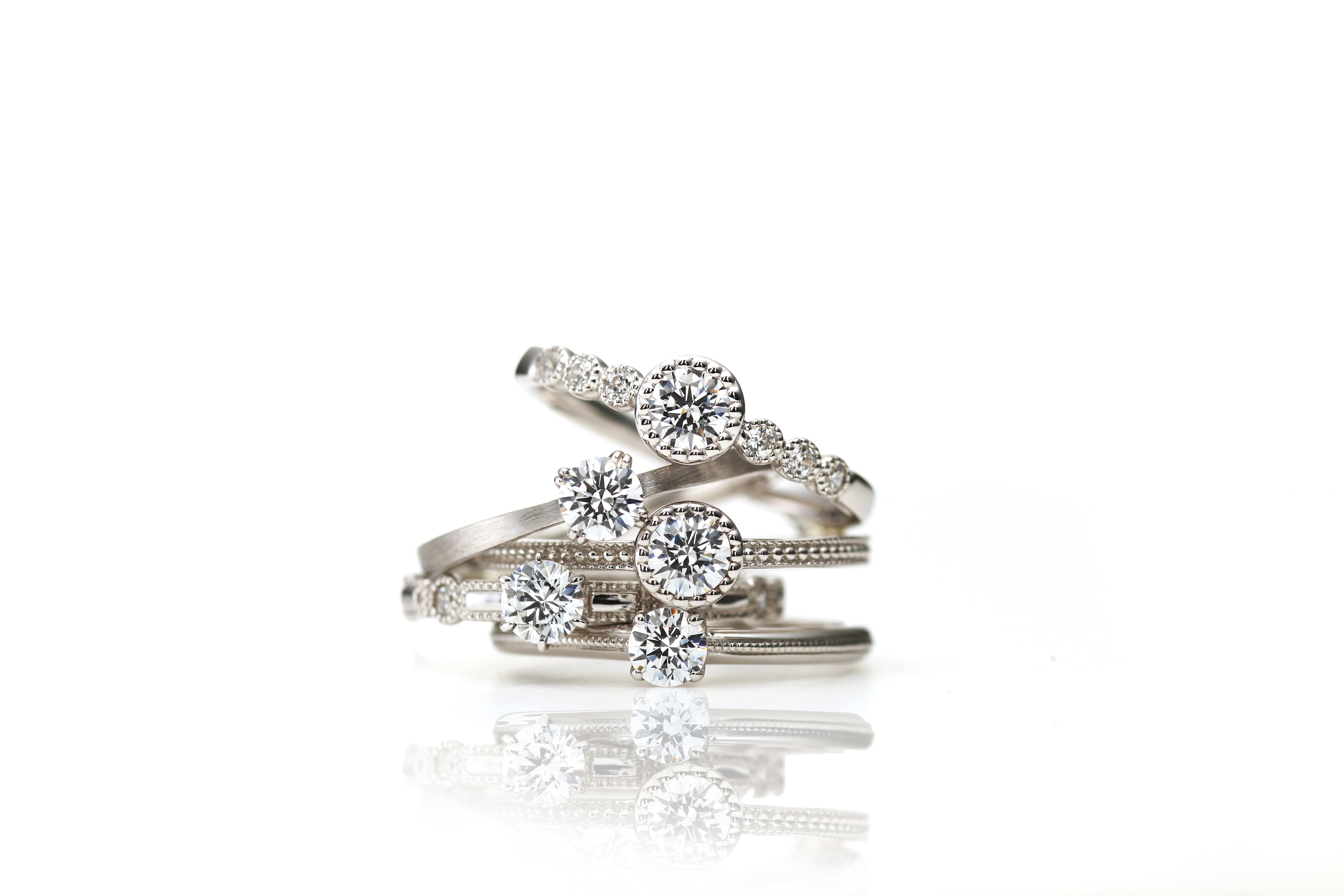 Recommended Brands For Platinum Rings
View More
Recommended Ring Collection for Platinum Rings
View More
Q&A
What is platinum?

Platinum is called the king of precious metals because of its rarity, purity, and eternity. It is resistant to discolouration and tarnishes, making it an ideal choice for a long-lasting bridal ring. Its pure white colour is a perfect match for the diamond in an engagement ring. Platinum is a rare and precious material that makes every day of your life special, even as fashion jewelry.

How rare is platinum?

Platinum's rarity compared to other metals is one of the reasons why platinum rings are so popular. Compared to gold, platinum is produced in smaller quantities and the annual supply is said to be around 1/20 of the gold. Even though the rarity of the metal increases the price of the ring, platinum rings are often chosen for wedding and engagement rings because of the sense of exclusivity.

Do diamonds and platinum go well together?

When choosing an engagement ring, many people choose a ring with a diamond because of its uniqueness. The dignified brilliance of a diamond and the silvery-white colour of platinum is a perfect match. The tenacious nature of platinum also allows small, thin claws to hold the stone firmly in place. That's why diamonds and platinum are considered to be the perfect partner. If you want to choose a ring with a diamond, platinum is the way to go.

I am allergic to metals, is platinum safe?

Platinum is a precious metal to which allergies are relatively rare. Our bridal rings are available in platinum 900 (90% platinum) and platinum 999 (99% platinum), with a palladium and ruthenium alloy that is gentle on the skin. However, as metal allergies vary from person to person, it is advisable to have an allergy test carried out by a specialist.

How durable is platinum?

Platinum is resistant to discolouration and tarnishing, so you can go about your daily life without removing your ring as much as possible. It is also chemically stable and highly resistant to perspiration, so it can be worn in hot springs and during sports activities. However, it is advisable to remove the ring if you are carrying heavy objects or playing sports that may cause the ring to be deformed by a strong impact.
Compare the Strength of Platinum and Gold Rings.
It's Also a Great Way to Make Sure Your Ring Will Last for Years to Come.

When it comes to buying a wedding ring, you may focus on the design and price, leaving the choice of material as a secondary consideration. However, it is important to choose a strong material in order for the ring to last a long time and stay beautiful. In this article, we will compare the strength of wedding rings made of different materials, introduce the key points for long-lasting use, and recommend some of our most popular wedding rings with high durability.


The strength of wedding rings
A wedding ring is a piece of jewelry that you will wear for a long time, so it is important to choose the right material. This section explains why the strength of wedding rings is important, popular materials that are strong, and what to consider when making your decision.

A wedding ring that is worn daily should be highly resistant to scratches and deformation, especially while doing housework and work. Therefore, choose a material that is strong so that you can use it for a long time.


Popular materials for strong wedding rings
The two most popular materials for wedding rings, platinum and gold, are strong materials and are suitable for wedding rings that are worn on a daily basis. Platinum and gold, which are 100 percent pure, are originally soft metals. However, they are mixed with other metals to increase their strength. For example, platinum Pt950 is 95 percent platinum, Pt900 is 90 percent platinum, and the remaining 5 to 10 percent is made of other metals.

Another type of gold that is suitable for wedding rings is K18, which is 75 percent pure gold with 25 percent of another metal. The color of the metal varies depending on the metal it contains.


What to consider when choosing a strong ring
Depending on the material and manufacturing method, strong wedding rings may not be resizable. Before purchasing, check if resizing is possible. Other than the material, other things to consider are the thickness and width of the ring. Rather than a thin and slender ring, a ring that is thick and moderately wide is preferable.


Suitable materials and strength for wedding rings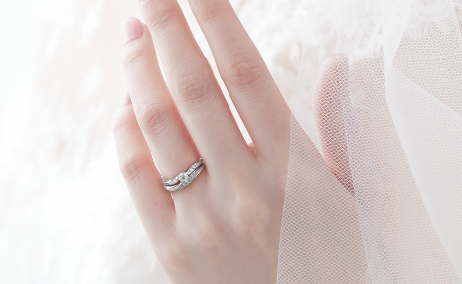 Platinum
Platinum, the 78 element of the periodic table, is a heavy, white metal. It is a rare and valuable material, even more rarer than gold and that is why platinum wedding bands are typically more expensive. The appeal of platinum is that it can be easily manipulated. It can be used to create delicate designs, and it is flexible enough to be resized. The material is resistant to discoloration and deformation, so it can be used beautifully for many years.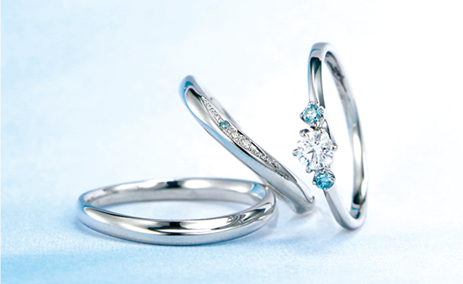 White Gold
White gold is a metal made by mixing gold with palladium and turning it white. It looks similar to platinum, but white gold is a brighter white. White gold is a strong material and is suitable for wedding rings that will last for many years. For example, 18-Carat white gold is much stronger than Pt950 or Pt900 platinum.

The brilliance of white gold is created by coating the surface with a metal called rhodium. Over time, the coating can peel off, damaging the brilliance and exposing the gold inside. If the coating peels off, it can be re-coated to restore the original shine.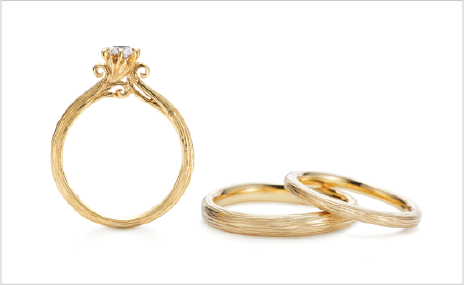 Yellow Gold
Yellow gold is another material that is suitable for wedding rings because of its bright and luxurious appearance. Yellow gold is an alloy of gold, silver, and copper. K18 (18-karat gold) is the most suitable yellow gold for wedding rings because of its high purity and yellowish color, which is similar to pure gold.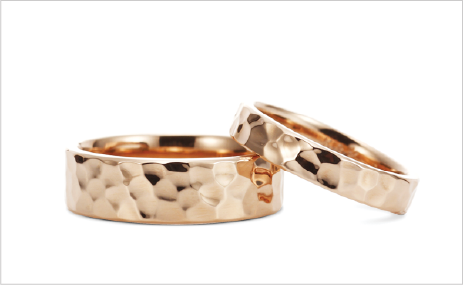 Rose Gold
Rose gold matches perfectly with the skin and gives a lovely impression. It is the strongest of all golds. It is scratch-resistant and relatively resistant to deformation. Pink gold is a mixture of pure gold, copper, silver and palladium. Among these, the proportion of copper is high, giving it a reddish hue. Also, due to the nature of copper, care must be taken to avoid tarnishing. Especially in hot springs, there is a risk of discoloration due to reaction with the components of the water, so be sure to remove it.
Points to keep your wedding ring for a long time
Carry out daily maintenance
To maintain your wedding ring daily, use a soft, dry cloth or optical cloth to wipe away sweat and makeup. Then, gently polish the surface. When cleaning, use a mild detergent to wash away sebum. The procedure for cleaning is as follows. Please refer to it for reference.
The cleaning method is as follows
1) Dissolve a few drops of neutral detergent in a cup of lukewarm water or water, and soak the ring in it.
2) Use a soft brush to gently brush it.
3) Wash under running water.
4) Soak up the water with a soft cloth.

Pink gold, in particular, is prone to tarnishing as silver and copper contained in the metal are more prone to oxidization, so frequent care is necessary. If the discoloration does not improve with daily care, it is recommended to consult the store where you purchased the jewellery.
Purchase from a store that provides excellent after-sales service.
In order to use the product for a long time and beautifully, it is important to buy from a store that provides excellent after-sales service. At Venus Tears, we offer free after-sales service to customers who have purchased wedding rings (some processes may require a fee, or some products may not be covered).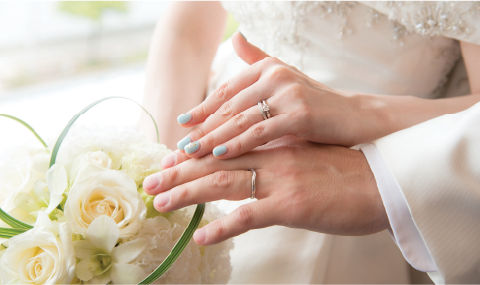 Choose a strong wedding ring and use it for a long time! 
In recent years, platinum and gold have become the two most popular materials for strong wedding rings. In addition to the material, you should also check what kind of manufacturing method is used to make the ring. Choose a strong wedding ring and use it for many years to come.