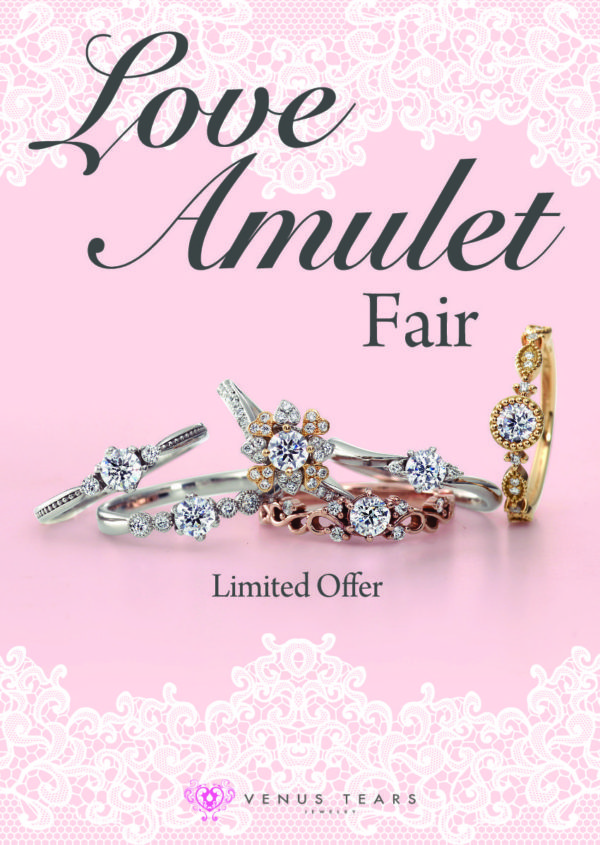 Thank you for visiting our news page!
We are carrying popular wedding ring brands from Japan. Each of the design is quite unique and everything is created by skilled craftsmen in Japan.
Our products are also able to customize, change the materials, thickness, add inner or outer gems etc. You can certainly find your special rings from us.
Currently, we are having Love Amulet Fair. For the customer who purchased rings with us, we are giving gift items (T & C apply). Don't miss this special opportunity!
For more detail, feel free to drop us a message or call.
Bugis Junction Outlet
Bugis Junction #01-22/22A, 200 Victoria Street,
Singapore 188021
Tel : 6250-9962
Jem Outlet
50 Jurong Gateway Road, JEM #01-54,
SINGAPORE 608549
Tel : 6659-6100
TAMPINES ONE Outlet
10 Tampines Central 1, Tampines One #01-35
SINGAPORE 529536
Tel : 6481-2042
◇◇◇◇◇◇◇◇◇◇◇◇◇◇◇◇◇◇◇◇◇◇◇◇◇◇◇◇◇◇◇◇◇◇◇◇◇◇◇◇◇◇◇◇◇◇◇◇◇◇◇◇◇◇◇◇◇◇◇◇◇◇◇◇◇
VENUS TEARS is a Cosmopolitan Bridal Jewelry Brand from Japan. We have a variety of engagement rings and wedding bands. Also we can offer GIA certified/ quality diamonds at overwhelming affordable prices. For making a reservation, please click "RESERVE" page and select the branch in Singapore, which are JEM, Tampines and Bugis. Please feel free to contact us. We are looking forward to see you!