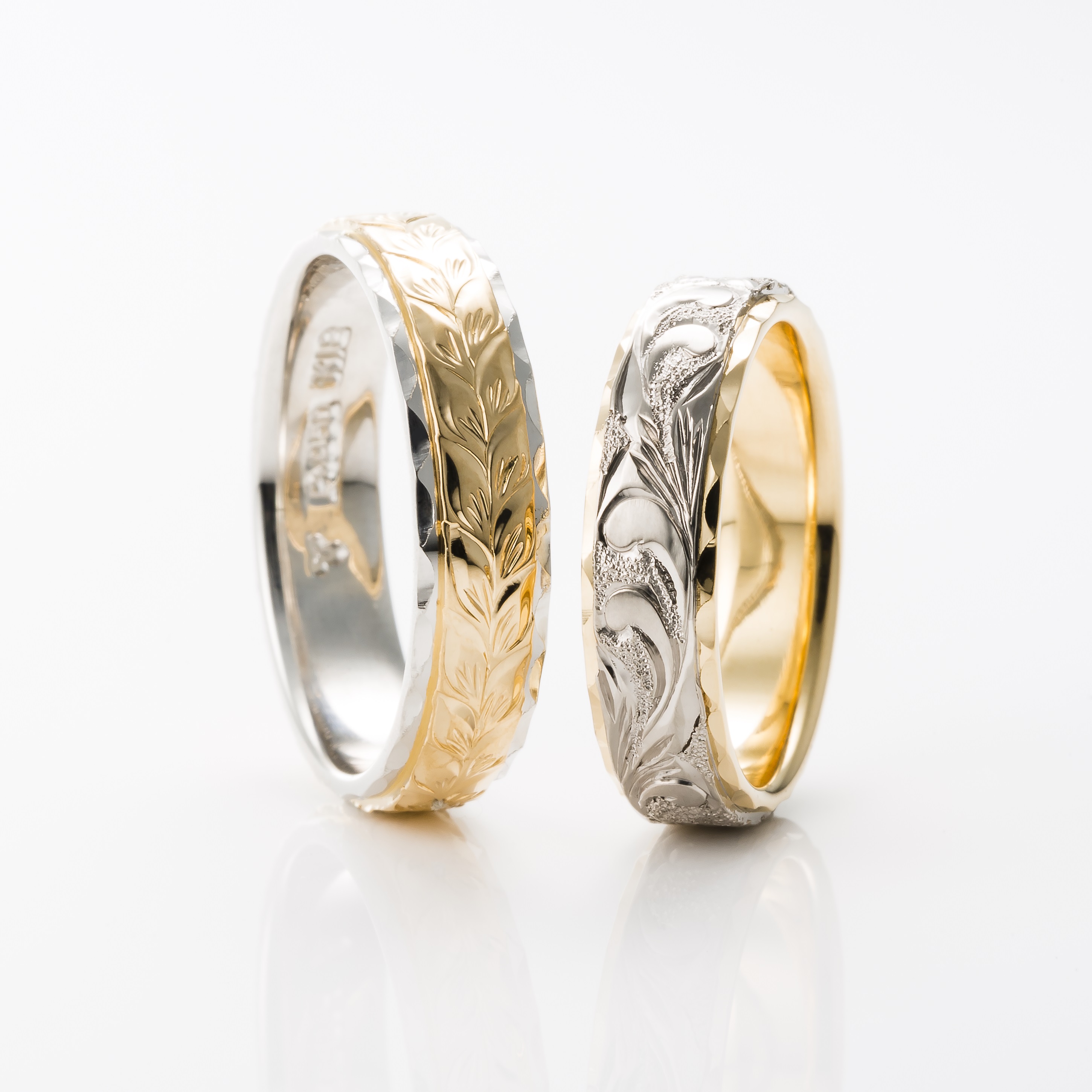 MAILE bridal ring collection are made in Japan. The rings' shapes are done by a hammering technique, achieving its durability and comfort in wearing it. As for the outer design, it is hand-carved in Oahu studio, with Traditional Hawaiian engravings.
In addition, you can customize your ideal rings by selecting its material, width, flat/barrel, 1-tone/2-tone, the hand carved design,side cut, finishing and inner/outer stones etc.
Forging is a manufacturing process involving the shaping of metal using localized compressive forces.
Maile using the Forging method to craft the ring to achieve the higher quality score and durablity .Forging is a manufacturing process to involve the shape if the metal to creat a perfect quality rings,
Anyway,MAILE is highly recommended to all couples who are looking for unique and durable personalized set of rings.
Please Free to call or visit our venus tears at below !
Bugis Junction Outlet
Bugis Junction #01-22/22A, 200 Victoria Street,
Singapore 188021
Tel : 6250-9962
Jem Outlet
50 Jurong Gateway Road, JEM #01-54,
SINGAPORE 608549
Tel : 6659-6100
TAMPINES ONE Outlet
10 Tampines Central 1, Tampines One #01-35
SINGAPORE 529536
Tel : 6481-2042
◇◇◇◇◇◇◇◇◇◇◇◇◇◇◇◇◇◇◇◇◇◇◇◇◇◇◇◇◇◇◇◇◇◇◇◇◇◇◇◇◇◇◇◇◇◇◇◇◇◇◇◇◇◇◇◇◇◇◇◇◇◇◇◇◇
VENUS TEARS is a Cosmopolitan Bridal Jewelry Brand from Japan. We have a variety of engagement rings and wedding bands. Also we can offer GIA certified/ quality diamonds at overwhelming affordable prices. For making a reservation, please click "RESERVE" page and select the branch in Singapore, which are JEM, Tampines and Bugis. Please feel free to contact us. We are looking forward to see you!