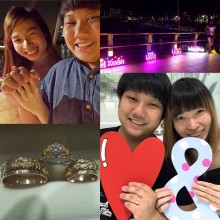 Best Proposal and Engagement&Wedding rings!
Meixuan & Jiahao
Purchased branch:Jem Purchased brand:Milk&Strawberry, MAILE
Special thanks to Takahashi for accomodating to my boy into letting me believe that the ring will only arrive next month helping him in making a successful proposal to me. Thank you Takahashi and others from VENUS TEARS for making my dream come true with a beautiful proposal ring. We also love our wedding bands! Thank you all!
Comments from staff in charge