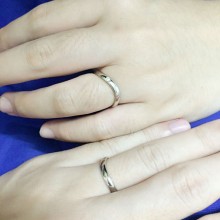 Different series and designs!
Jia Yu & Siang Meng
Purchased branch:TAMPINES 1 Purchased brand:Storys
A big thank you to Shirlin for answering our queries and sharing with us different series and designs of wedding band that Venus Tears can offer to us. We also love the fact that we can customise the engraving and adding the inner stone in our wedding band!
Comments from staff in charge