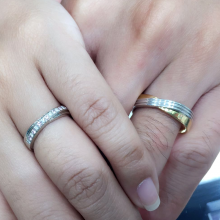 Wide range of design!
Mr Liu WenWei & Ms Xinyi
Purchased branch:TAMPINES 1 Purchased brand:Milk&Strawberry, Grace O'Malley
Thank you to Chiin and colleagues for providing us with wonderful service during our ring selection! We absolutely enjoyed the process of choosing our wedding bands with the staff's assistance and are amazed with the unique selections that Venus Tears has.
Comments from staff in charge