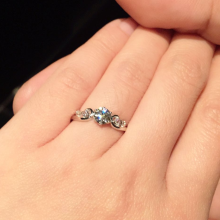 Best customer service ever!
Mr Eugene Ong
Purchased branch:TAMPINES 1 Purchased brand:Milk&Strawberry
To find a perfect proposal ring is not easy but the staff at Venus Tears made it so simple. So when my friend showed me the Venus Tears catalogue, I really like the designs from the Milk & Strawberry Series. The sales staff, Shirlin was really helpful by showing me the different designs and advising me on how to choose the perfect ring. And when I couldn't recieved the ring on time, as I was leaving for Japan, she even organise for it to be shipped over and kept me updated so i could receive it in time for my planned proposal. Venus Tears really provide the best customer service ever.
Comments from staff in charge