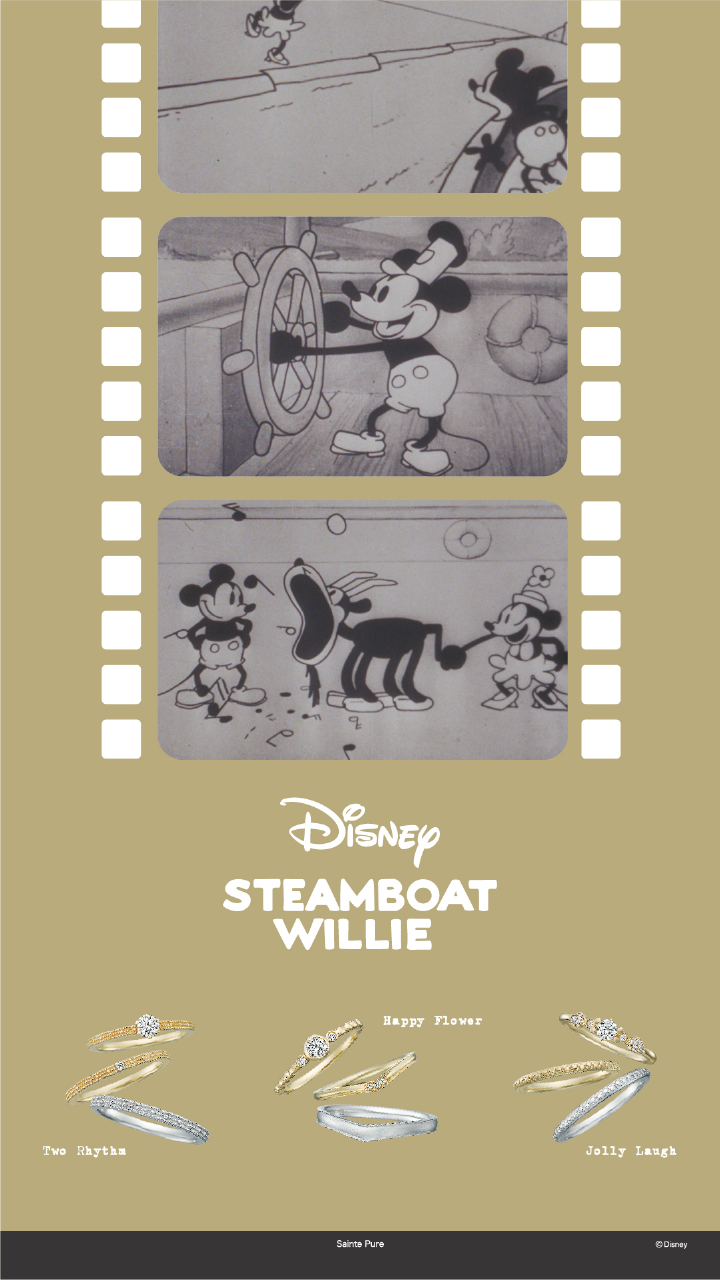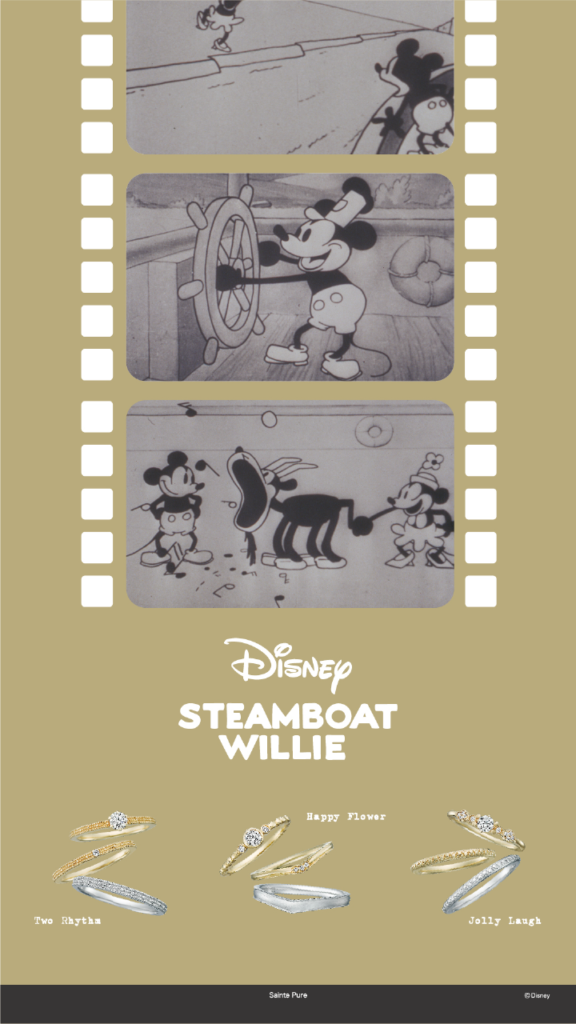 "STEAMBOAT WILLIE" is the debut of Mickey Mouse released on 18 November 1928. The Disney animated film STEAMBOAT WILLIE is a memorable and beloved screen debut for Mickey Mouse and Minnie Mouse. The main visual of the series uses a lot of original art from the black and white film "STEAMBOAT WILLIE". Mickey and Minnie are the most famous couple in the world, they are eternal lovers. This bridal collection is designed to bring you everlasting happiness, just like the two of them.
Two Rhythm
Mickey Mouse and Minnie Mouse played the two rhythmical tunes mixed together in a playful and lively way. The joyful rhythm happy atmosphere is captured in the ring, three tiers of big and small milgrain dance to the rhythm have been engraved in the ring.
Inside of the wedding rings engraves Mickey Mouse and Minnie Mouse side by side smile happily at each other. The diamond ring with a claw that is aligned with the milgrain, creates a perfect contrast the sides of the diamond are also decorated with milgrain, the Inner center bottom setting of the engagement ring is hidden in a Mickey logo.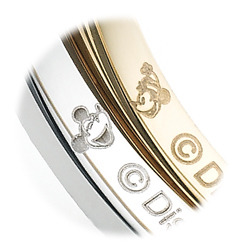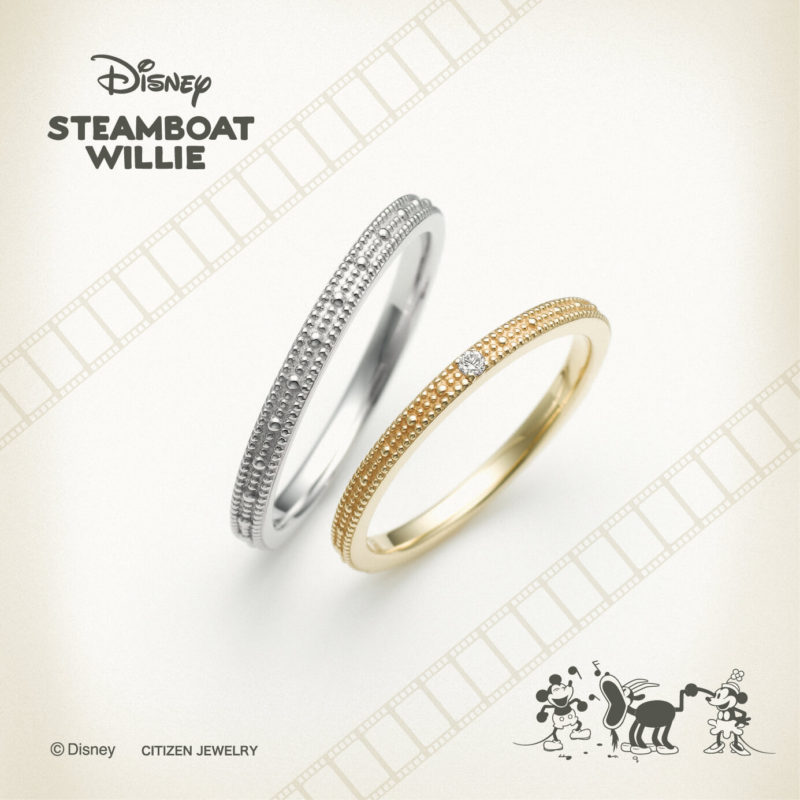 Happy Flower
Minnie Mouse is always bursting with happiness with Mickey Mouse's love. Minnie's flower is engraved in the ring as a talisman for everlasting happiness, just like Mickey Mouse and Minnie Mouse are always in love with each other. This set of rings has Minnie's trademark "flower" in her hat as a talisman, wishing for every newlywed to enjoy their everlasting happiness marriage, just like her eternal lover Mickey and Minnie's relationship.
The wedding ring is handcrafted with every single melee diamond. The inside of the ring is engraved with a matching flower. The wedding band with a V-shape makes the finger look slender and long that can stack with the diamond ring. The engagement ring has Minnie's hat flowers hidden Inner center bottom of the diamond setting.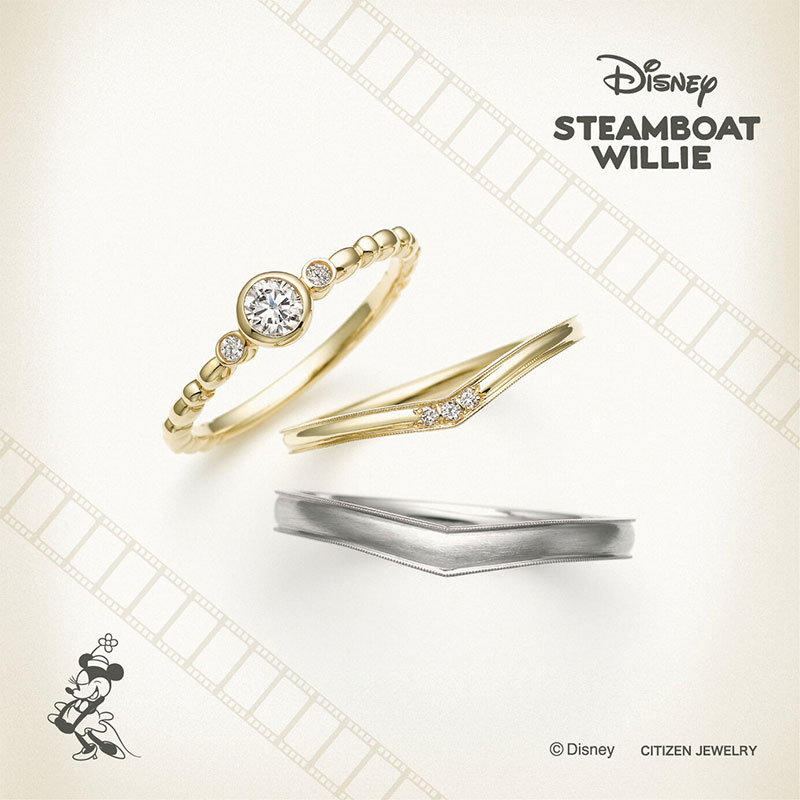 Jolly Laugh
A cheerful, playfully, joyfully mouse with big round ears in the ring design. If you look closely at this surface of the wedding ring, you can see a series of Mickeys in the shape! "Just like Mickey's cheerful smile in STEAMBOAT WILLIE. The surface of the wedding ring is shaped in the craftsman's technique of keeping the shape of the Mickey. The contrast between the glossy and matt of the gold brings out the shape of the Mickey and makes it look even standout.
The engagement ring has a Mickey on each side of the diamond. The Mickey smile always brightens up with joy when worn together with the set of rings. All the marriage rings inside can be engraved with the original STEAMBOAT WILLIE icon and combine your favorite characters to create both of your special messages on the rings.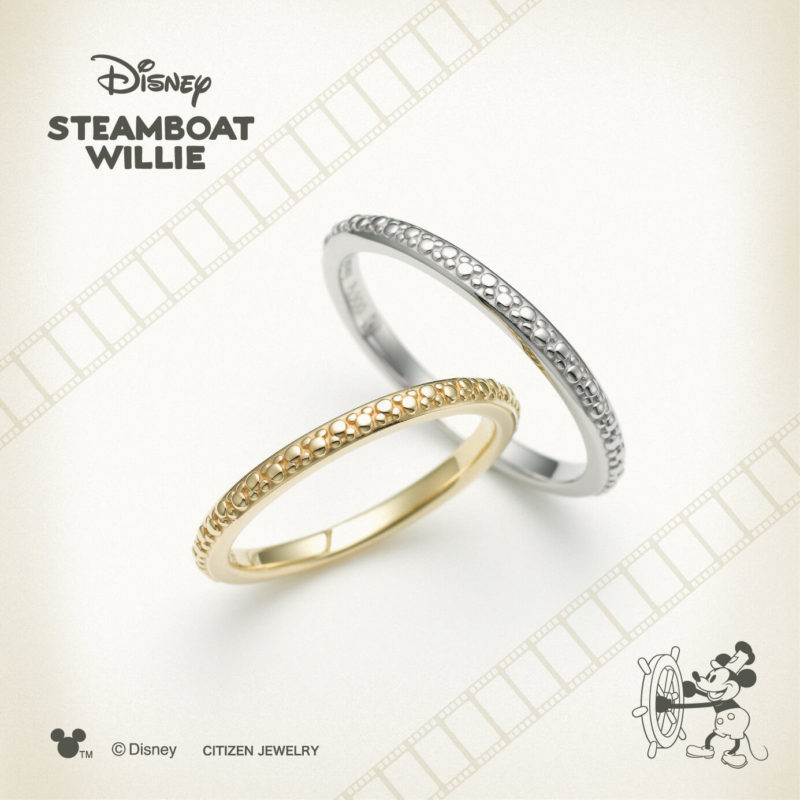 Feel free to inquire with us through WhatsApp. VENUS TEARS WhatsApp: 8518 4875 and Facebook page is available too! We are looking forward to seeing you!
Check out our website : https://venus-tears.sg/reserve
Staff Blog : https://venus-tears.sg/blog/
Follow us on Facebook :https://www.facebook.com/VenusTears.jp/
Follow us on Instagram : https://instagram.com/venustears/
All VENUS TEARS bridal and fashion shops locations are shown below:
Wisma Atria Outlet
435 Orchard Road, #B1-28 Wisma Atria,
Singapore 238877
Tel : 6694-1663
Bugis Junction Outlet
Bugis Junction #01-22/22A, 200 Victoria Street,
Singapore 188021
Tel : 6250-9962
Jem Outlet
50 Jurong Gateway Road, JEM #01-54,
SINGAPORE 608549
Tel : 6659-6100
TAMPINES ONE Outlet
10 Tampines Central 1, Tampines One #01-35
SINGAPORE 529536
Tel : 6481-2042