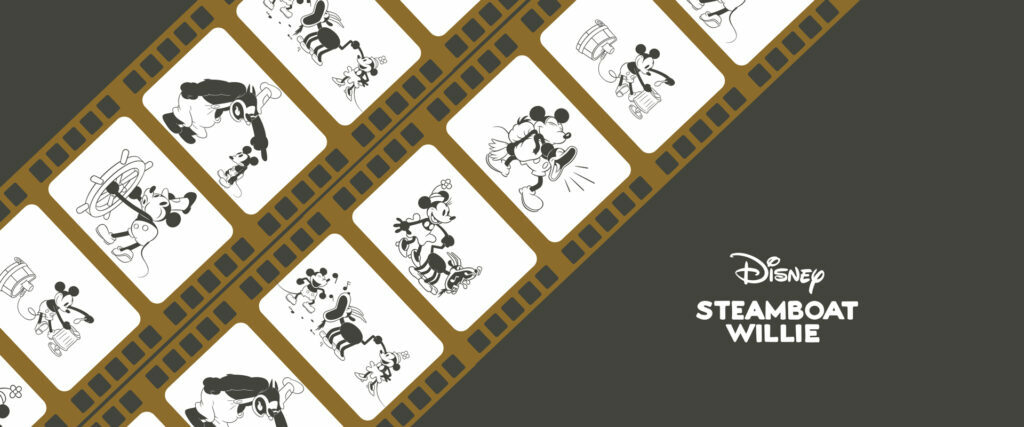 "STEAMBOAT WILLIE" is the debut of Mickey Mouse released on 18 November 1928. The Disney animated Mickey Mouse's screen debut, STEAMBOAT WILLIE, was first released in the USA on 18 November 1928.
Set on the Steamboat Willie, which is sailing up and down the river, Mickey Mouse performs to the rhythmical tunes of the Oklahoma Mixer. Using a frying pan, a washboard and a tub, Mickey Mouse plays with a sense of humour.
With the catchphrase 'Our hearts, our feelings', the Disney Bridal Collection from Sainte Pure 'nocur' expresses the joyful and carefree world of Disney's creations with the vows of happy couples.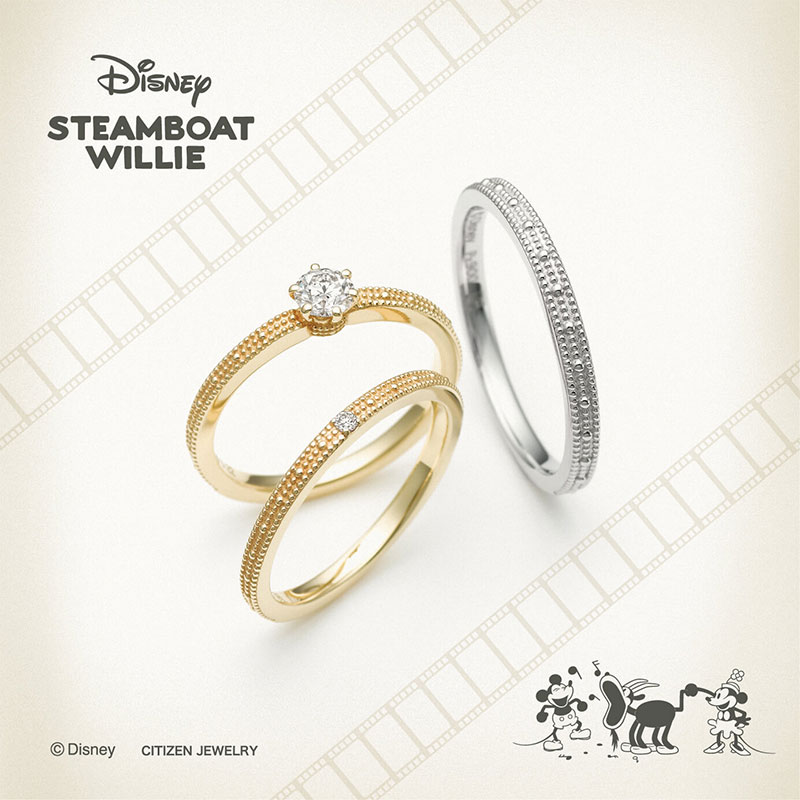 Two Rhythm – Three-tiered mill beads are arranged throughout the ring. Large and small beads dance in the middle row to create a rhythm. Mickey is behind the stone seat of the engagement ring. He also smiles at Mickey and Minnie inside the wedding ring.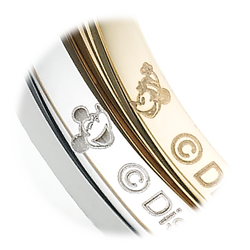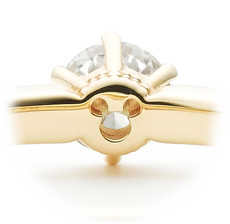 Mickey Mouse & Minnie Mouse, the most famous couple in the world, have always been the symbol of happy lovers with their adorable smiles and have captivated the world. Mickey Mouse & Minnie Mouse's design is playful and cute, eye-catching yet somewhat classical look. With a bright smile, a sense of humour and courage for the couple who are about to start their new life together.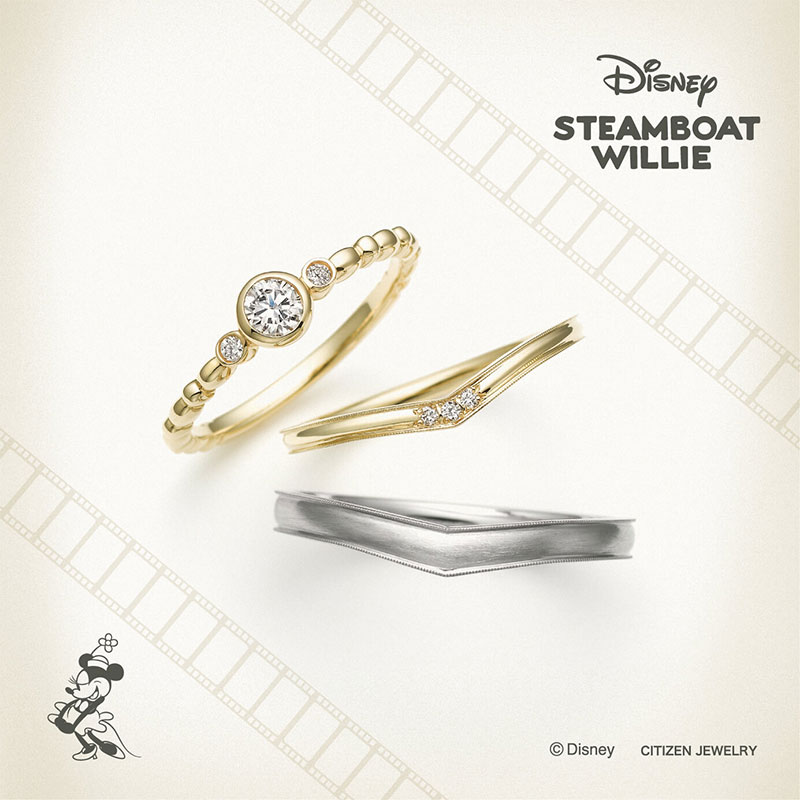 Happy Flower – Minnie Mouse is always bursting with happiness with Mickey Mouse's love. Minnie's trademark hat flower is hidden behind the stone seat of the engagement ring & inside the wedding rings as a talisman for everlasting happiness, just like Mickey Mouse and Minnie Mouse are always in love with each other.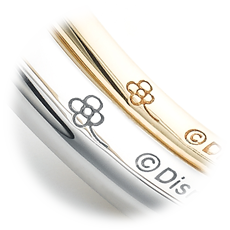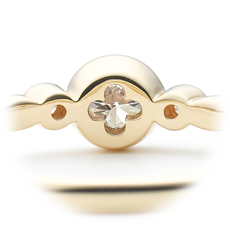 A cheerful mouse with big round ears, cute gestures, and exaggerated physical gags. Mickey Mouse is loved by people all over the world. Hidden secretly everywhere, pop up somewhere playfully, joyfully in the design.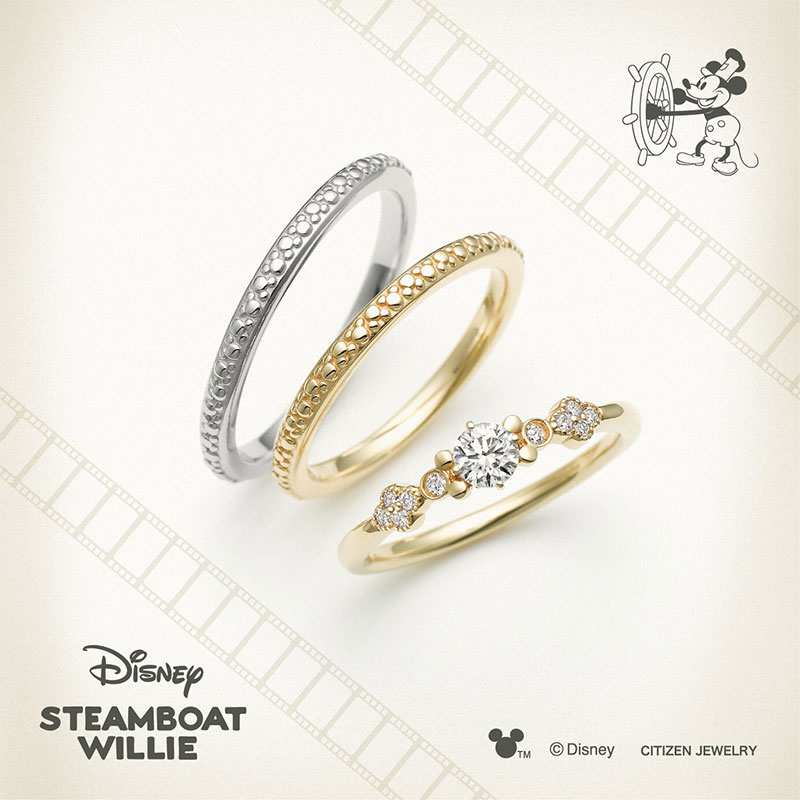 Jolly Laugh – Hidden Mickey is casually hidden on both sides of the center stone of the engagement ring.
All the three-dimensional decorations arranged throughout the wedding ring are also Mickey!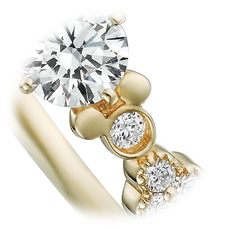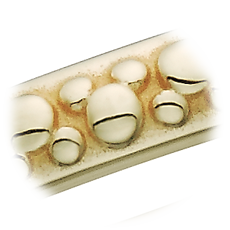 The original ring pillow is complimentary with the purchase of an engagement ring or a pair of wedding bands. It can be tied with a ribbon or threaded straight through the knot, or set in any way you like.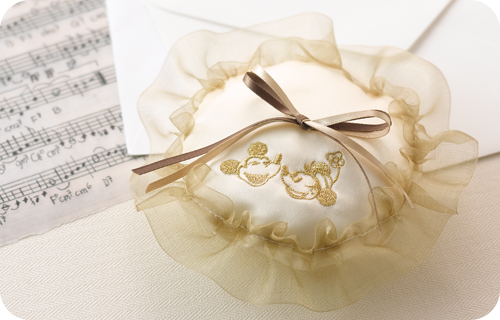 Be pampered with an additional original mirror with the purchase of a set of engagement & wedding rings!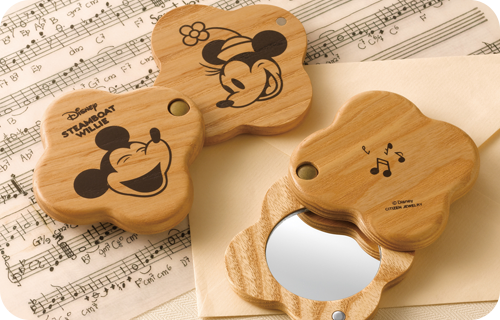 VENUS TEARS bridal concept stores are located at Wisma Atria, Jem, Bugis Junction & Tampines 1. Just a walking distance of about 5 mins walk from Orchard MRT, Jurong East MRT, Bugis MRT, and Tampines MRT. Please click the "RESERVE" page and select the branch in Singapore to make an appointment with us.
Feel free to inquire with us through WhatsApp. VENUS TEARS WhatsApp: 8518 4875 and Facebook page is available too! We are looking forward to seeing you!
Check out our website : https://venus-tears.sg
Staff Blog : https://venus-tears.sg/blog/
Follow us on Facebook :https://www.facebook.com/VenusTears.jp/
Follow us on Instagram : https://instagram.com/venustears/
All VENUS TEARS bridal and fashion shops locations are shown below:
Wisma Atria Outlet
435 Orchard Road, #B1-28 Wisma Atria,
Singapore 238877
Tel : 6694-1663
Bugis Junction Outlet
Bugis Junction #01-22/22A, 200 Victoria Street,
Singapore 188021
Tel : 6250-9962
Jem Outlet
50 Jurong Gateway Road, JEM #01-54,
SINGAPORE 608549
Tel : 6659-6100
TAMPINES ONE Outlet
10 Tampines Central 1, Tampines One #01-35
SINGAPORE 529536
Tel : 6481-2042