GIA diamonds are known for diamonds that are graded by GIA, the creator of the 4Cs and the independence of diamond authority. Each diamond is unique and is a miracle of time, place and change. And each has specific qualities that establish its value.
"GIA certified diamond" is a misnomer. The 4Cs of Diamond Quality is the universal method for assessing the quality of any diamond, anywhere in the world. The creation of the Diamond 4Cs meant two very important things, diamond quality could be communicated in a universal language, and diamond customers could now know exactly what they were about to purchase.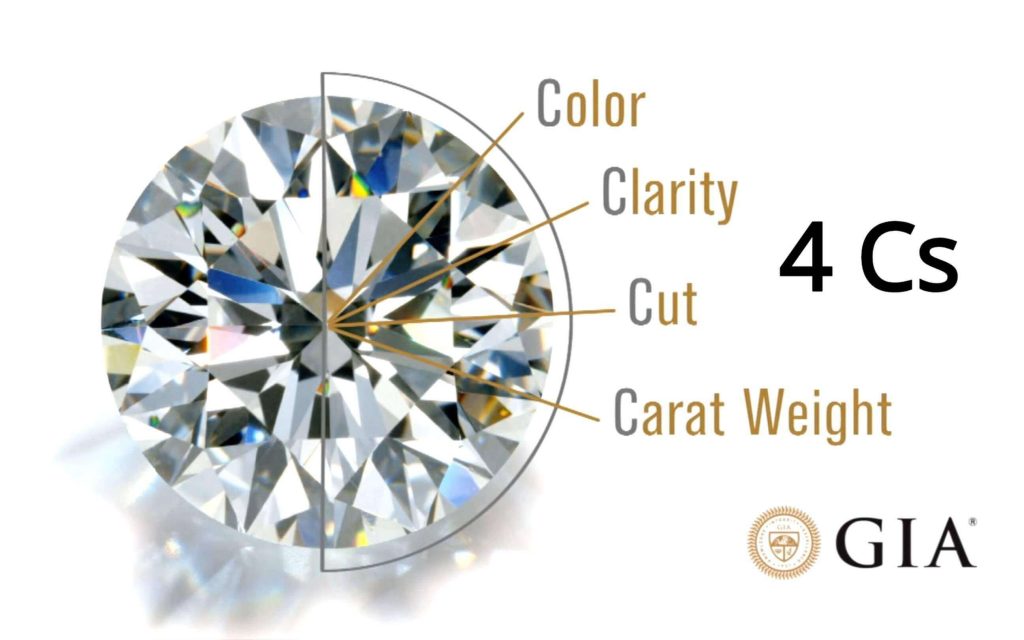 For most gem-grade diamonds, the color criteria depend on how colorless they are. A diamond that is chemically free and well-structured is like a pure drop of water, colorless and of higher value. GIA created a D-to-Z diamond color grading system to identify the colorlessness of diamonds by matching them to color-coded stones under precisely controlled lighting and observational conditions. Although the color differences between diamonds are so subtle that non-professionals can't tell, they can result in significant differences in diamond quality and price.
GIA created the 4Cs (Color, Clarity, Cut and Carat Weight) as a universal method for establishing the quality of any diamond, anywhere in the world. The 4Cs means two very important things: diamond quality can be communicated in a universal language and diamond-buying consumers can know exactly what they are about to purchase.
THE 4Cs:
COLOR – The color evaluation of most gem-quality diamonds in based on the absence of color.
CLARITY – Natural diamonds are the result of carbon exposed to tremendous heat and pressure deep in the earth. This process can result in a variety of internal characteristics called "inclusions" and external characteristics called "blemishes".
CUT – Diamonds are reowned for their ability to transmet light and sparkle so intensely.
CARAT WEIGHT – The measurement of how much a diamond weighs.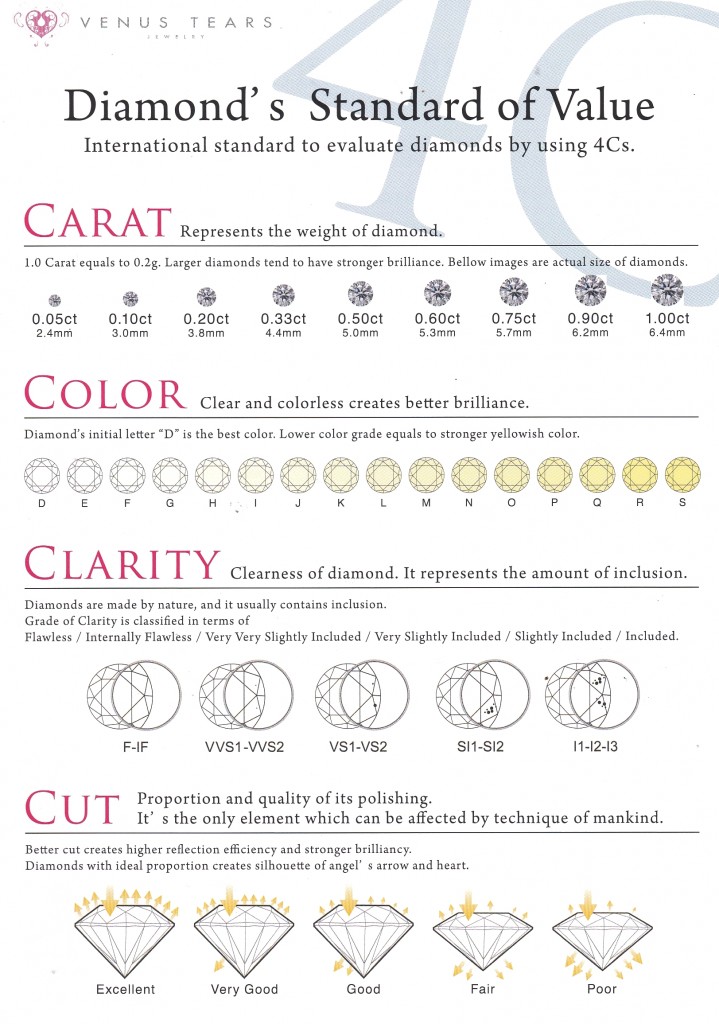 In VENUS TEARS, we let our customers truly understand a diamond's unique qualities, we offer you a wide range of choices for your ideal diamond. VENUS TEARS provided GIA certified diamonds. You can choose the best diamond for your lover according to your preference and demand. Our every rings is handcrafted base on suitable your finger ring size, with desired material and specially made in JAPAN.
VENUS TEARS as a fast-growing jewelry store in Singapore from Japan, we have crafted every engagement ring/wedding ring. We will assist you to choose the perfect engagement ring for your future bride. We use GIA diamonds and K18White gold/Yellow gold/Pink gold/Platinum to create a unique and exquisite diamond ring for each beautiful bride to make a unique engagement ring.
VENUS TEARS is a Cosmopolitan Bridal Jewelry Brand from Japan. We have a variety of engagement rings and wedding bands. Also we can offer GIA certified/high quality diamonds at affordable prices for your ideal gradings of diamonds. For making a reservation, please click page "RESERVE" and select the branch in Singapore, which are at our JEM, Tampines, Wisma Atria and Bugis stores. Please feel free to contact us. We are looking forward to seeing you!
A majority of VENUS TEARS Japanese bridal ring brands come with complimentary engraving services which is a lovely & ultimate way to make your ring feel like it's truly your very own & turning it into a treasured keepsake!
Check out our website : https://venus-tears.sg/reserve
Staff Blog : https://venus-tears.sg/blog/
Follow us on Facebook : https://www.facebook.com/VenusTears.jp/
Follow us on Instagram : https://instagram.com/venustears/
Any Inquiry do drop us a message by WhatsApp: 8518 4875, We shall assist you further. VENUS TEARS Facebook page and Instagram are available!
All VENUS TEARS bridal concept stores are located at Bugis Junction , Wisma Atria, Tampines 1 and Jem. Just a walking distance of about 5min walk from Orchard MRT, Jurong East MRT, Bugis MRT and Tampines MRT.
Bugis Junction Outlet
Bugis Junction #01-22/22A, 200 Victoria Street,
Singapore 188021
Tel: 6250-9962
Wisma Atria Outlet
435 Orchard Road, #B1-28 Wisma Atria,
Singapore 238877
Tel: 6694-1663
TAMPINES ONE Outlet
10 Tampines Central 1, Tampines One #01-35
SINGAPORE 529536
Tel: 6481-2042
Jem Outlet
50 Jurong Gateway Road, JEM #01-54,
SINGAPORE 608549
Tel: 6659-6100