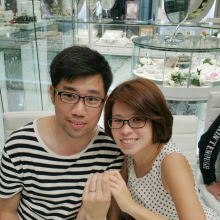 Vast range of rings there!
Mr Allister and Ms Eliza
Purchased branch:TAMPINES 1 Purchased brand:AEI, nocur
After looking at many Websites and bridal forums for wedding bands, we find that the reviews for Venus Tear's rings were generally very positive. Therefore we decided to visit Venus Tears at their Tampines branch to have a look at their rings. Truth be told, we were surprise by the range of rings that they hold and they are a mix of classic and contemporary design. It is as though the rings were "east meets west" - very similar to the pop culture in Japan. The overall experience was that the staff were patient in showing us the rings and we did had an enjoyable time spent looking at the rings. A word of caution is to allocate more time to view the rings due the vast range of rings that the shop carries. Thank you Venus Tears for being part of our wedding journey.
Comments from staff in charge