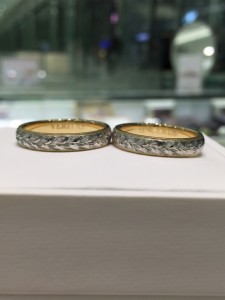 Maile's series wedding band are exclusively crafted and made in Hawaii. In ancient's time, such rings are only for the royal families.
Hawaiian Jewellery is best known for its delicate and detailed hand-carved decorations. Each and every piece of the jewellery are purely hand-made. This particular crafting techniques has been handed down over many generations.
Most commonly carved designs are plumeria, waves, maile leaf and marine turtles. Each design has its own symbolic meaning.
In recent years, Hawaiian jewellery have been gaining popularity for engagement rings and wedding bands. The reason for it is simply being, it's exclusive.
◇◇◇◇◇◇◇◇◇◇◇◇◇◇◇◇◇◇◇◇◇◇◇◇◇◇◇◇◇◇◇◇◇◇◇◇◇◇◇◇◇◇◇◇◇◇
VENUS TEARS is a Cosmopolitan Bridal Jewelry Brand from Japan.We have a variety of engagement rings and wedding bands. Also we can offer GIA certified/high quality diamonds at overwhelming affordable prices. For making a reservation, please click page "RESERVE" and select the branch in Singapore, which are JEM, Tampines and Bugis. Please feel free to contact us. We are looking forward to seeing you!